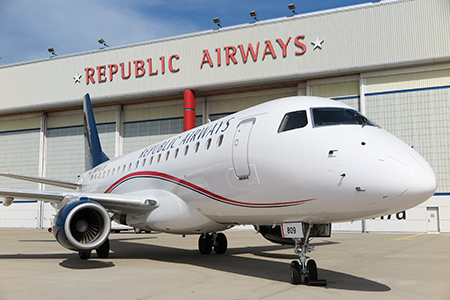 Indianapolis-based Republic Airways on Friday submitted an application for emergency federal grant funding that would enable it to keep employees paid through Sept. 30.
As part of the Coronavirus Aid, Relief and Economic Security, or CARES, Act passed by Congress on March 26, $25 billion in grants is available to passenger airlines that agree to not furlough employees or cut their pay rates through Sept. 30. The funding is designed to keep the airline industry, which is in crisis as a result of the COVID-19 pandemic travel restrictions, afloat.
Without the grant funding, Republic won't be able to continue employing all 6,700 of its employees through the summer, Republic Chief Administrative Officer Matt Koscal told IBJ on Monday.
The pandemic has been incredibly disruptive for the airline industry, and Republic, a regional carrier, is feeling the pain. The health crisis has led to a "rapid erosion" of Republic's daily flight schedule.
In early March, Republic had completed 1,000 flights a day. As of last week, the airline was operating fewer than 300 flights a day, Koscal said. He declined to say what the disruption has done to revenue projections for the year.
"What I can say about the business (is) we do not know when near-term demand will return, and we know it will take some time for domestic and then international travel to return, which will have an impact on our flying," he said.
Applications for the emergency relief funding were due to the Treasury Department by 5 p.m. Friday.
Koscal told IBJ that airlines didn't ask for a specific dollar amount. Instead, the Treasury Department will allocate funding based on how much airlines spent on salaries and benefits in the second and third quarters of 2019. That information was not immediately available to IBJ.
For some airlines, the funding might not be enough, especially for those that have added employees since then or increased salaries and benefits.
Koscal said it's still somewhat unclear how the grants will be allocated and what exactly will be required of airlines asking for the funding (guidelines for the aid state that the department is authorized to receive warrants, options, preferred stock, debt securities, notes, or other financial instruments as compensation for the support). The airline anticipates it will hear back from the Treasury Department mid-week.
"Those dollars are critical," Koscal told IBJ. "Absent those dollars, we absolutely would not be able to maintain our associates even through some mitigation efforts through the summer flying season. We would have to make some immediate very difficult decisions."
"We hope those dollars come in to be able to support as many employees as possible for as long as possible," he added.
Republic is among the nation's more than 60 so-called regional airlines, and it's one of the largest. The major airlines contract with the regionals to fly their small jets on routes that attract fewer passengers.
The word "regionals" might sound small-time, but the industry is sizable. Republic alone employs 6,700 and generated revenue of $1.3 billion in 2018, the latest year available.
The regional airline industry in whole was flying more than 10,000 U.S. flights, or about 40% of  total flights, according to the Washington, D.C.-based Regional Airline Association.
Before the COVID-19-fueled meltdown of the industry, Republic had been operating from a position of strength. The company had recently bounced back from a Chapter 11 bankruptcy filing in 2016 that was caused by labor strife and a shortage of pilots.
When it emerged in 2017, the company was leaner and more efficient. A key change was transitioning from three aircraft types to one—the super-efficient Embraer 170/175 with 70 to 76 seats. On its website, Republic calls the jet "a true business warrior" whose lighter weight "means cost savings that go right to the bottom line."
Koscal said Republic leadership is working to be the same strong carrier it was going into March once the disruption eventually subsides.
Please enable JavaScript to view this content.