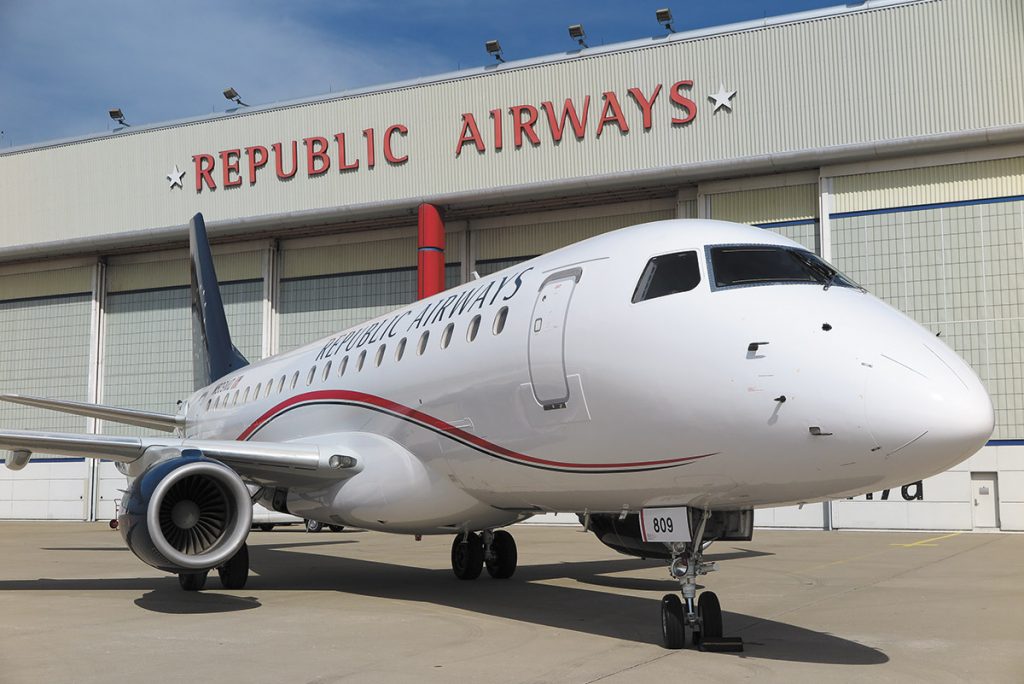 Indianapolis-based Republic Airways Holdings Inc. says it expects to cut more than a third of its workforce—including 293 Indianapolis employees—although it expects most of the layoffs to be temporary.
"On Thursday, we made the difficult decision to issue notices to approximately 2,500 of our associates across our base network, including Indianapolis, warning of expected workforce reductions beginning Oct. 1 of this year," company spokeswoman Lauren Gaudion told IBJ in an e-mail Monday morning.
The company, which provides passenger flights that operate under the flags of major airlines, has about 6,500 employees, about 1,600 of whom work in Indianapolis. The others work out of one of 13 maintenance and crew bases in the eastern half of the U.S., from Texas to Florida to Massachusetts.
Until the COVID-19 pandemic decimated the airline industry, Republic flew 1,000 flights daily for American Airlines, Delta Air Lines and United Airlines.
In a letter sent to the Indiana Department of Workforce Development, Republic said it plans to lay off 132 pilots and 96 flight attendants based at Indianapolis International Airport; 24 employees at its Indianapolis maintenance facility at 2745 Hoffman Road; 40 employees at its corporate offices at 8909 Purdue Road; and one employee at its training center at 5151 Exploration Drive.
Republic's airline partners "have substantially reduced our flying schedules from historical and originally projected levels," according to the letter. "As a result of these unforeseen circumstances, we are significantly overstaffed and must reduce our workforce accordingly."
In that letter, Republic said it expects the furlough will be temporary for its pilots, flight attendants, dispatchers and maintenance facility employees. Other job reductions may be permanent, the company said.
Layoffs will take place in two waves on Oct. 1 and Nov. 1, although the company said in its letter to the state that it "is hopeful that over the next several weeks we can engage in measures that will reduce the number of involuntary furloughs." The letter did not specify what those measures might be.
Please enable JavaScript to view this content.