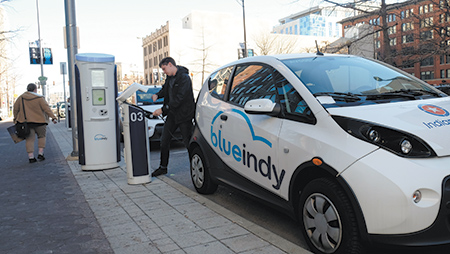 Indianapolis City-County Council Republicans are urging Mayor Joe Hogsett's administration to waive its option to purchase BlueIndy's assets.
The electric-car-sharing service is slated to cease operations in Indianapolis in May, and per its agreement with the city, Indianapolis will have 60 days after that to purchase the above-ground assets, which include charging stations and kiosks.
So far, the administration has not made a commitment to purchase the assets but has acknowledged it's being considered.
Council Minority Leader Brian Mowery told IBJ small businesses across the city were negatively affected when parking spots outside their front doors were taken over by BlueIndy. He said his caucus believes returning those spots to non-metered public parking would be beneficial to those businesses.
He also said the Republican caucus believes it would be irresponsible to spend more money on a venture that has already failed.
"I don't see the point in doubling down on a program that's already failing," he said. "Spending more money on this is not the answer."
Proposal 101 is a special resolution that urges the Hogsett administration to waive the city's option to purchase all the location fixtures installed by BlueIndy; to enforce BlueIndy's contractual obligation to remove all the location fixtures, at BlueIndy's expense; and to revert those parking spots back to non-metered public use.
The proposal was introduced Monday night. The resolution has been referred to the Administration and Finance Committee.
BlueIndy launched in September 2015 with a $6 million investment from the city and a $3 million commitment from Indianapolis Power & Light. BlueIndy's parent company spent another $41 million getting the car sharing service up and running. The service never met its usage goals and, in December, the company announced it was calling it quits.
The price of the above-ground infrastructure would be based on a to-be-determined fair market price. Mobility advocates have said they'd like to see the infrastructure continue to be used in some fashion—especially as Indianapolis seeks to expand its transit options and embrace greener policies laid out in its year-old Thrive Indianapolis sustainability plan, which includes goals of amping up electric-vehicle charging.
The mayor's administration said it is working with advocates and stakeholders to decide the best path forward.
"Following BlueIndy's exit from the Indianapolis market, city leadership is committed to continued collaboration with the broad coalition of advocates who want to ensure that we fully explore financially-sustainable options for the existing electric charging infrastructure," Hogsett spokeswoman Taylor Schaffer said in written comments. "By allowing the city the next few months to explore what programs exist to take advantage of these unique locations, we may be able to bring programs to fruition that can address myriad issues including: accessibility, mobility, as well as social and economic mobility."
Please enable JavaScript to view this content.