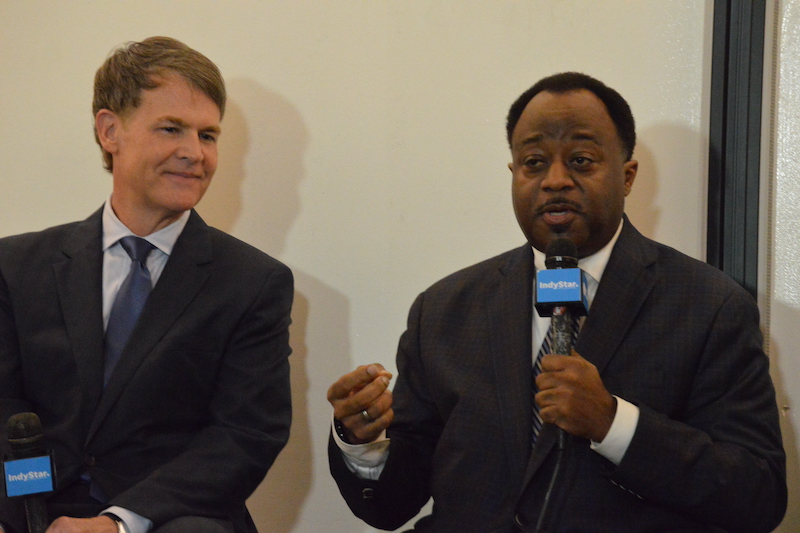 Four candidates hoping to return the Indianapolis mayor's office to the Republican Party made their pitches during a town hall debate Thursday night.
Political commentator Abdul-Hakim Shabazz and businessman Jefferson Shreve are likely frontrunners in the Republican primary. Both have already launched advertising campaigns, with Shreve spending hundreds of thousands of dollars on radio and TV ads and Shabazz beginning radio spots this week. The pair were joined on the panel by the Rev. James W. Jackson and former State Senate candidate John Couch.
Only about a dozen people attended the town hall, leaving a notably emptier room than the Democratic debate that took place Tuesday. Both events were hosted by The Indianapolis Star.
At the start, candidates discussed their ideas for the city's next big risk.
Shabazz said that Indianapolis should "poach" jobs from Chicago—which is set to elect a new mayor next week—to become "the capital of the Midwest."
Jackson advocated for putting a downtown beach along the White River and establishing a rail line from Indianapolis to Chicago.
Shreve said it should not be the mayor's position to take big risks.
Infrastructure
Shreve, who has served two terms on the Indianapolis City-County Council, said that he knows the frustration of hearing constituents ask for road and sidewalk improvements when the city funding isn't there.
"And sadly, you just have to say 'sorry, it's not going to happen,'" Shreve said.
If elected, he would attempt to make work on roads and sidewalks occur more efficiently, but that he would not guarantee immediate progress.
"I won't make the campaign promise that we'll put sidewalks in all the neighborhoods that don't have them around our county, unfortunately," Shreve said.
Shreve cited the road-funding issue in Marion County. Indianapolis' state funding for city roads per vehicle miles traveled is among the lowest in the state.
Shabazz proposed a program like tax-increment financing districts, but for roads.
"We collect a penny from the sales tax, from gas tax, from a gas station and basically draw a mile circle around the gas station, use that for roads," Shabazz said.
Shabazz said his previous work with Indiana lawmakers as a reporter would create an easier path toward creating such s measure or another solution.
Jackson said he also would work with legislators, but would consider combining city and state funding with philanthropic funds.
Candidates say bring back of public safety director, prevent repeat offenders
On crime in Indianapolis, the candidates echoed calls to bring back the director of public safety, a position removed by Hogsett in 2016, when some responsibilities were merged into the newly-created Office of Public Health and Safety.
"It is striking that the Democratic challengers to our sitting mayor have voiced some of these same ideas, and feel like this is clearly a direction that we need to go in with respect to bringing back the director of public safety," Shreve said.
Shabazz compared running the city without a director of public safety to a U.S. president going to war without military leaders.
In discussing a need for changes to early releases, Jackson referenced an incident last year in which a woman was killed outside of a daycare by her former partner. He said the accused murderer would not have killed the woman, Krystal Walton, if he had not been released early.
"I believe that if he had gotten the help he needed, Krystal quite possibly would be alive," Jackson said.
Redistricting, increasing voter turnout
In 2020, redistricting occurred in both the Democrat-led city and the Republican-controlled state. Candidates were asked by moderator Oseye Boyd if the process in Indianapolis was unfair to Republicans.
Most candidates on the forum denied that Democrats on the City-County Council, who hold an overwhelming supermajority, drew unfair council districts. Instead, Shabazz and Shreve said the majorities in the Statehouse and the City-County Council have a right to draw maps however they prefer.
Shreve said the current process is simply following democratic "ground rules."
Shabazz said the idea of establishing a nonpartisan redistricting commission, a common push for voting rights advocates, is impractical because all individuals have political bias. Instead, parties should continue to strive to win elections and draw the maps, he said.
"Unfortunately, in politics, to the victor goes the spoils," Shabazz said.
Jackson had more concern about the process and advocated for a task force to be assembled to ensure maps are fair and to mediate between the two major parties.
The church leader said that redistricting should be about the people, and that drawing individuals out of their districts or into certain districts for political gain is immoral.
"I think what Indianapolis needs is moral leadership," Jackson said.
Candidates were also asked if low primary turnout should be remedied by moving the municipal elections to the same year as presidential elections.
Shabazz declined this idea, but said races for other county offices—such as prosecutor, sheriff, auditor and treasurer—should be aligned with the mayoral election. Shreve agreed.
Jackson said that the amount of primary contenders this year would drive up turnout.
"I think we're going to see the greatest turnout ever in a Republican primary in Indianapolis," Jackson said.
The full town hall is available to watch here. The mayoral primary is May 2, and the deadline to register to vote is April 3.
On the Democratic side, incumbent Joe Hogsett faces State Rep. Robin Shackleford, community activist Clif Marsiglio and business owner Larry Vaughn.
Please enable JavaScript to view this content.