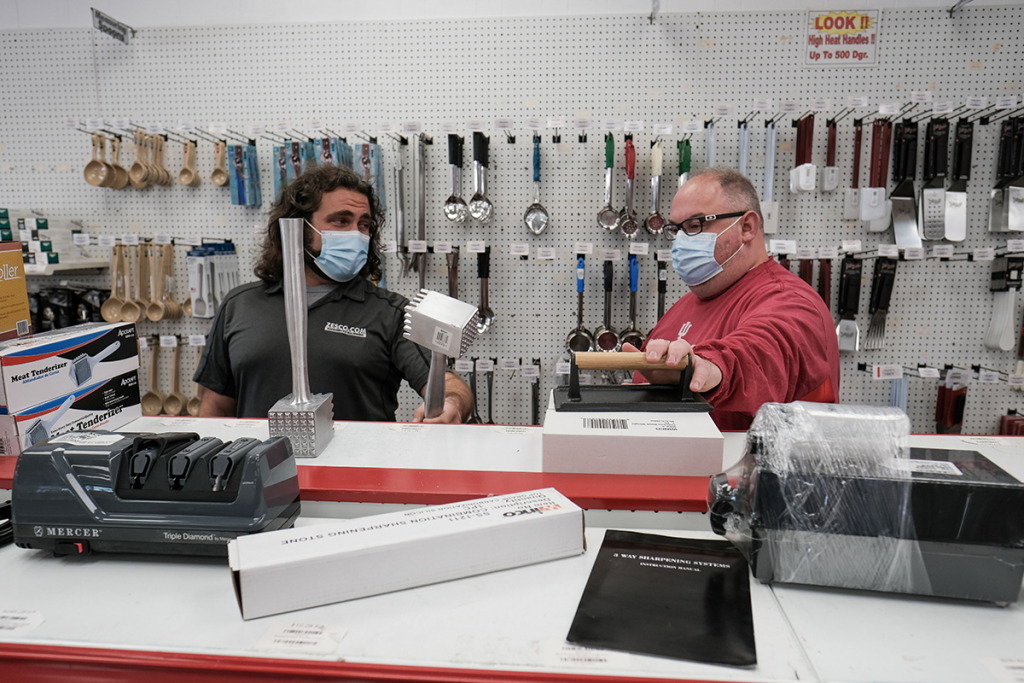 As the pandemic subsides, local eateries are hopeful that a new coronavirus relief program, the Restaurant Revitalization Fund, will help them emerge intact.
The $28.6 billion in federal aid, which is being administered by the U.S. Small Business Administration, launched May 3. Payments are meant to cover pandemic-related losses, and applicants can qualify for up to $5 million per location, or $10 million total.
Aimed at restaurants, bars, caterers and other food- and beverage-focused businesses, the program drew 266,000 applications nationwide in its first 10 days.
Among the applicants is downtown restaurateur Terry Anthony. He and his wife, Tennille, own Stars, a sandwich shop at 443 N. Pennsylvania St. that they acquired in 2018. In February, the Anthonys opened a new restaurant, The Block Bistro and Grill, in the historic Block Building at 115 W. Market St.
As of Tuesday, the Anthonys hadn't gotten word yet that their application had been approved. But they already have ideas for what they might do with the money, although Terry Anthony declined to say how much he applied for.
"I can take care of some things that I haven't been able to take care of," he said.
Anthony wants to use some money for a new exhaust hood and HVAC system at The Block and some to help Stars catch up on its utility payments and other bills. Stars was especially hard-hit, he said, because its nearest neighbors are offices that mostly emptied out when the pandemic hit.
Anthony said he also plans to set some of the money aside to cover rent. Business has improved on the weekends—especially when youth-sports tournaments or other events come to town—but weeknights are still slow, and the timetable for further recovery is uncertain. "I don't know how these numbers are going to go."
Story continues below graphic.
Few restrictions
Part of the Restaurant Revitalization Fund's appeal is the funding can be used in a variety of ways, from payroll, rent and utilities to food and beverage costs and construction of outdoor seating. Recipients have until March 2023 to spend the money, and if they use it on approved expenses, they don't have to repay it.
That wasn't the case for the Paycheck Protection Program. That program offered relief in the form of forgivable loans, but loans could only be fully forgiven if recipients spent at least 60% on payroll. That made it less than ideal for many restaurants, who drastically reduced the size of their staffs last year because of dine-in service prohibitions and overall slow business.
"The PPP was so focused on payroll, and it made it incredibly challenging for restaurants," said Hannah Joseph, an attorney at Jeselskis Brinkerhoff and Joseph LLC who has many restaurant clients.
Joseph expects high interest in the program, especially since restaurants have been so battered by the pandemic that they might be barely holding on. "If they made it through the winter, that's a remarkable feat."
First priority goes to businesses that are majority-owned by veterans, women or people who are economically and socially disadvantaged. The program is also setting aside a portion of the funding for smaller operators.
Joseph predicted that many of her clients will use the funding to get current on their financial obligations. Landlords in particular might be looking for back rent if they know their restaurant tenants have received Restaurant Revitalization Fund relief, she said.
Since the money doesn't have to be spent for almost two years, Joseph said some restaurants might decide to hold on to it for a while as a financial cushion.
"I certainly am telling my clients, 'Don't spend it too quickly,' and people may be coming out of the woodwork with their hands out."
Andy Helmbock, managing partner at Indianapolis-based restaurant supplier Zesco Products Inc., said the fund might be one reason his company is so busy.
"Over the past month, our showroom traffic has tripled. Our phones are ringing off the hook," Helmbock said.
Customers are coming to Zesco looking for everything from new appliances and upgraded bar items to service and repair work that they might have put off last year.
"The projects that were kind of put on hold are all back in development," Helmbock said. "We're hoping for a very, very active year."
About 80% of Zesco's activity right now is coming from existing operators, he said, while 20% is entrepreneurs looking to open a restaurant.
Helmbock said he thinks customers are coming in now because they're seeing business pick up more generally. "I'm hearing my customers say, 'Oh my gosh, I had a really great March.'"
But the launch of the Restaurant Revitalization Fund might also be fueling some of the optimism that's giving restaurant owners the confidence to open their wallets again, Helmbock said.
Expanding staff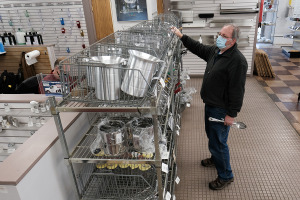 Some local operators say that, if they receive Restaurant Revitalization Fund money, they'll put it toward payroll.
Ed Battista, co-owner of renowned Fletcher Place restaurant Bluebeard, said the restaurant received two rounds of PPP funding and used that on payroll. He hasn't yet applied for the Restaurant Revitalization Fund, and says he's not sure how much the business qualifies for, but it could use the extra money to beef up Bluebeard's staff.
The restaurant currently has a kitchen staff of 12 and could use another four or five people, Battista said. Having the additional help would allow Bluebeard to get back to its pre-pandemic operations, where certain employees specialize in certain kitchen tasks. "It would be really nice to have extra money to slush around to help set everything up."
Hiring new people is "inherently an expensive proposition," Battista said, because new hires aren't as productive when they're still learning their jobs, and a percentage of them won't stick around.
Bluebeard is also resuming indoor dining soon, Battista said, now that all employees have had the chance to be vaccinated. Since the start of the pandemic, the restaurant has offered patio service only. Citing staffing challenges, Battista declined to say when indoor service would begin.
Hotel Tango Distillery has applied for funding for its tasting rooms in Fletcher Place, Zionsville and Fort Wayne.
CFO Mike Leary said Hotel Tango has applied for about $150,000, and if the business receives funding, it will spend the money on payroll.
The three tasting rooms have about 30 employees combined, and they could use another five to 10, Leary said.
Hotel Tango plans to focus on payroll, he said, because "it's one of our largest expenses, in that we try to invest a lot in our employees on [the tasting room] side of the business. They're kind of the face of the company."
Hotel Tango also received funding from the first and second rounds of the PPP program, as well as a rent-assistance program administered by the city of Indianapolis.
Leary said the Restaurant Revitalization Fund application process was "extremely straightforward" and easy to navigate.
That, too, sets this program apart from previous federal pandemic aid programs. The PPP, a hugely popular relief program that rolled out quickly at the start of the pandemic, was plagued by technical glitches and frequently changing rules.
And last month, the $16 billion Shuttered Venue Operators Grant program had to shut down its application portal for more than two weeks after first-day technical problems. That program reopened for applications on April 24.
Anthony, the downtown restaurateur, said he believes the Restaurant Revitalization Fund is smoother because its creators learned from the mistakes of the earlier programs.
"The first time you do it, you're not going to do it right."•
Please enable JavaScript to view this content.