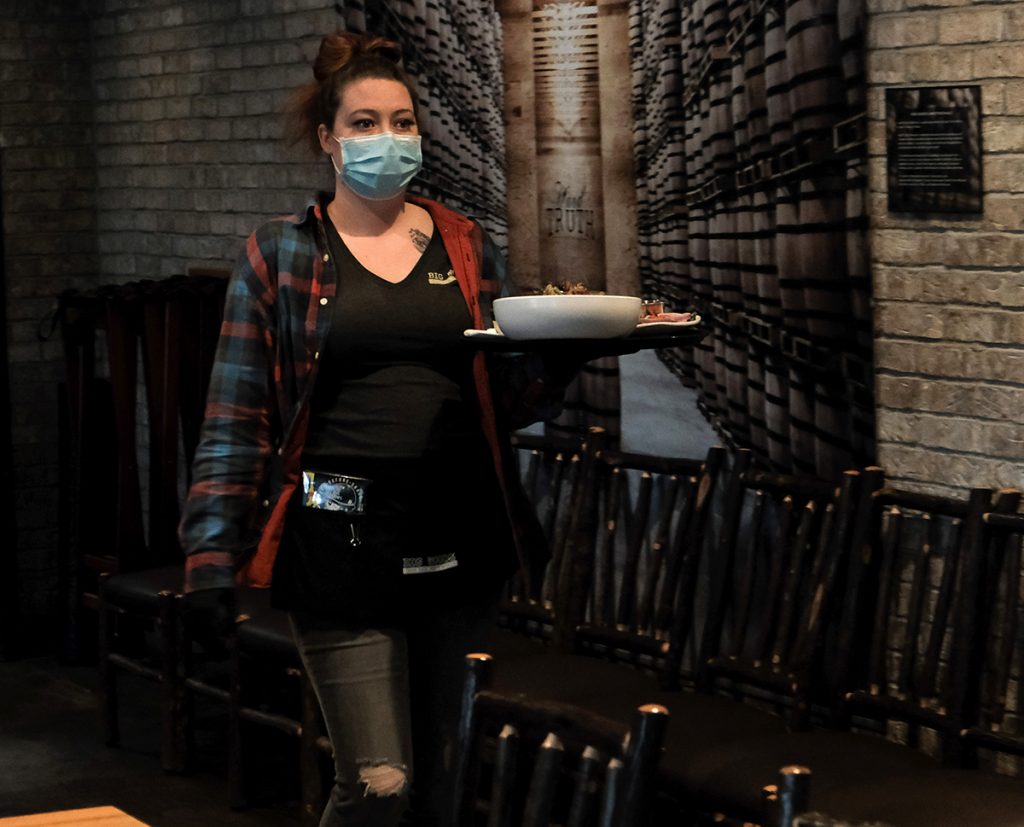 Central Indiana restaurants outside of Marion County reopened for dine-in service on Monday with several restrictions but with cautious optimism that pent-up demand would make it worth their while.
Fishers residents Scott Newby and his wife have already made reservations to eat at two restaurants in The Yard at Fishers District development this week. On Monday, they have reservations at Sangiovese, and on Friday they'll dine at HC Grill.
Since restaurants were ordered to discontinue eat-in dining in March, Newby and his wife have been ordering carryout. Scott said he was last in a restaurant on March 15 and is looking forward to dining out again. With disinfection protocols in place and social-distancing rules that mandate reduced seating capacity, he feels safe eating in restaurants.
"At half-capacity, to me it will be glorious," he said. "The food service could be some of the best ever."
"I can't wait," he added. "It will be the first time we've been to a restaurant in six weeks. I know exactly what I'm going to order. I'm looking forward to getting out there and being able to help people."
Under a gradual easing of statewide stay-at-home orders, restaurants outside of Marion County (as well as Cass and Lake counties) were allowed to resume dine-in service on Monday.
Under the state's reopening rules, restaurants must operate dine-in service at no more than 50% capacity until June 14, when they can ramp up to 75% of capacity. Restaurants can resume operating at 100% capacity beginning July 4.
Restaurant owners in Hamilton, Johnson and other central Indiana counties want customers to know it won't necessarily be business as usual. In some cases, waiting areas have been completed eliminated, staff member are wearing masks, and bar areas remain closed.
Restaurants in Marion County won't be able to reopen until next week, at the earliest. Marion County's current stay-at-home order runs through May 15, and Mayor Joe Hogsett has yet to say whether the stay-at-home order will be lifted.
Adam Aasen, co-owner of Donatello's Italian Restaurant in Carmel, said no restaurateur knows what to expect.
The Italian restaurant, which has been offering carryout and delivery since the governor closed restaurants in mid-March, will reopen for dinner on Monday. Tables in the eatery will be 6 to 10 feet apart; glasses and silverware won't be brought to the table until customers are seated; employees will have their temperatures checked; and dining staff will be wearing masks.
"With a lot of these things we're doing, our No. 1 priority is keeping our employees and customers safe," he said. "We want to rebuild consumer confidence."
To that end, Donatello's posted a video to its Facebook page outlining new policies and procedures. They'll also be posted inside the restaurant, Aasen said.
"We want people to feel safe coming out again," he said.
Many restaurants have taken to social media to share their plans for reopening with consumers. In Greenwood, Tried & True Alehouse reopened today at 11 a.m. and shared the news on its Facebook page.
The alehouse warns that because meat prices have surged, it has put a hold on all daily specials and discounted items until further notice.
Vino Villa, an Italian restaurant in Greenwood, will open Tuesday. (The restaurant is normally closed Mondays). It created a Facebook event for its reopening.
There will be "grand reopening" specials, and, weather permitting, the patio will be open. The restaurant will not be accepting reservations until it can return to 100% capacity.
"In order to accommodate as many of our beloved guests as possible during this time of limited seating, we ask that once you have had your fill of wine, delicious food and lemon blueberry cake for dessert, that you kindly make your table available to be cleaned and re-seated for another guest," the event details read.
In Hamilton County, several restaurants at The Yard at Fishers District planned to reopen Monday. Some are opening for the first time.
Havana Lounge, a cigar lounge, hadn't had the chance to open before the governor's stay-at-home order took effect.
"Havana Lounge is excited to finally open its doors to host and entertain our customers," owner Omar Barham said in written comments. "The decision to open is not entirely economical. We have a social and moral obligation to fulfill a need and serve the community. Even at halfway normal basis, we need to get back to enjoying each other and celebrating humanity again."
HC Grille, 1933 Lounge, 101 Beer Kitchen, Sun King and the Fishers Test Kitchen and Sangiovese will all reopen at The Yard.
While restaurants remain hopeful customers are excited to eat out again, they're remaining cautiously optimistic. Some people might still feel uncomfortable sitting in a restaurant, Aasen of Donatello's said.
"None of us know what the first days are going to be like," he said. "I could be really busy because people are excited to get out again. It's also possible customers aren't ready yet. We don't know."
For now, he's focused on over-staffing the restaurant to be prepared in case it's busy. He's only had a few reservations, but patrons will be able to walk in for service.
Jeff McCabe, co-founder and executive chairman for BWQOHT Inc., which operates the Big Woods Restaurant Group, told IBJ he expects a good showing at the company's restaurants opening this week.
Even over the weekend, while staff members were training for reopening at Hard Truth Hills in Nashville, customers were driving by and peeking in windows to see whether the restaurant was open, he said.
"I think there's a lot of pent-up demand," he said. "People are ready to get out."
Locations in Nashville, Franklin and Noblesville were open for dine-in customers on Monday. Big Woods Bloomington will open Saturday and Big Woods Speedway will open next Monday.
McCabe said staffers at the locations have been excited about reopening and nobody has pushed back on the idea. Servers, cooks and other employees have spent the past week undergoing training about the various protocols in place, he said.
Still, some restaurants aren't immediately reopening. Cunningham Restaurant Group won't reopen its locations outside of Marion County until Wednesday, including Rize at Fishers District.
Please enable JavaScript to view this content.