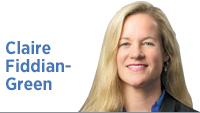 It's hard to feel optimistic about the future of our country these days. Almost hourly, we are deluged with distressing news about gun violence, sex trafficking, the rising U.S. budget deficit, income inequality, global trade tensions, climate change and more.
Finding solutions to these complex challenges feels more unlikely than ever, given bitter partisan battles in our nation's capital and deep divisions among Americans across an array of issues.
At the heart of this loss of optimism lies a fundamental erosion of trust—in one another, in government and in key institutions. If we're going to restore faith in the future and come together to solve our country's pressing problems, we must first restore faith in our fellow Americans.
A new Pew Research Center study finds the majority of U.S. adults believes other Americans' trust in the federal government has been shrinking and the loss of this trust makes it harder to solve the problems facing our country. One study participant summed it up well: "Many people no longer think the federal government can actually be a force for good or change in their lives. This kind of apathy and disengagement will lead to an even worse and less representative government."
Our trust in one another and our ability to get along has also eroded. According to the Pew study, six in 10 adults don't think Americans can have civil conversations with people who hold different views.
Our confidence in key public institutions and leaders is also low. Only 37% of Americans trust elected officials. Our trust in journalists is higher, at 55%, but there is a deep split on this between Republicans (only 30% trust journalists) and Democrats (76% do). We also have limited confidence in our business leaders (43%).
But the Pew study also offers reasons for hope—and a potential path forward: The majority thinks trust in our fellow Americans can be restored, and many believe that building trust begins among individuals within communities. In other words, we have the ability to restore our nation's collective confidence in one another by focusing on what we can control: our own interactions with family, friends, colleagues and neighbors.
To facilitate these positive interactions, we also should exercise better judgment when it comes to the information we consume. In this age of information overload, it's tempting to stick with only one source—be it CNN, Fox News, The Wall Street Journal or The New York Times.
By contrast, I recall my father's stories of his student years at Oxford University, where he and his classmates would read the conservative, liberal and independent papers and then debate the varying perspectives on the latest news.
When we limit our media consumption to only one source or side, we lose perspective on how people who think differently than we do view the same information and events. This loss of perspective deepens our mistrust of one another and frays the social capital that unites our nation.
We are living at a time of high levels of mistrust in institutions and other Americans. At the same time, we are grappling with a multitude of complex issues. Solving these problems requires collective action. That starts with re-establishing trust, and each of us can play a role.
Let's come together despite our differences to restore optimism in our country's future. Only then can we focus our energies on improving the lives of our fellow humans.•
__________
Fiddian-Green is president and CEO of the Richard M. Fairbanks Foundation and a former adviser to then-Gov. Mike Pence on education issues. Send comments to ibjedit@ibj.com.

Click here for more Forefront columns.
Please enable JavaScript to view this content.