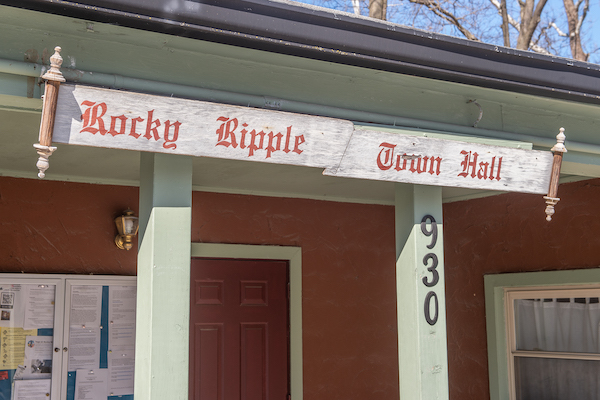 Three years after Rocky Ripple approved a no-demolition plan for a new floodwall, the Indianapolis Department of Public Works announced last week that it needs to cut costs and unveiled a tweaked plan that would involve destruction of as many as 14 houses and the Rocky Ripple Town Hall.
Residents along the White River are asking town leaders to push back against the decision.
"Especially after years of being told, explicitly, that no homes will be removed, it is infuriating," said 28-year resident John Byrne. He said he was initially told his house in the 600 block of West 54th Street would have to go, but later, that there was potential for relocation.
The river has never made it over the aging earthen levee that currently protects Rocky Ripple, an incorporated town inside the city of Indianapolis that maintains its own separate government. But there's a 92% chance the levee will be overtopped at least once within the next 50 years, flooding the area, according to a 2017 assessment by Los Angeles-based engineering firm AECOM.
The proposed floodwall had an estimated $66 million price tag in a 2018 AECOM report. But, beginning in December, DPW began telling residents that rising labor and materials costs had pushed the total to nearly $95 million, across two estimates.
"The upfront costs of this project come out of the Stormwater Fund," said Mike Massonne, a contractor who manages DPW's stormwater program, at a town hall meeting Feb. 9. [The fund] cannot bear that burden and still build stormwater projects across the entirety of the county, and support the bonds that are necessary to do all the work." 
The goal, Massonne told IBJ, is to cut the project cost to $70 million to $80 million.
But residents in houses that would be marked for removal say they feel blindsided by the change in plans.
Daniel Axler, a 34-year Rocky Ripple resident, owns a house in the 5000 block of Riverview Drive that would be demolished. He said he wouldn't have made investments in his property if he'd known it faced demolition.
"The primary things are, we all want flood protection, and we all want to keep our houses, and let's hold the city to account for what they promised," Axler said. "Otherwise, geez, I wouldn't have been putting an almost-$30,000 roof on my house, knowing my house is going to be taken down this year."
The outrage comes with decades of history.
In 1996, town residents narrowly voted against a U.S. Army Corps of Engineers floodwall proposal that would've taken out dozens of houses along the river.
But with the outlook for the current earthen barrier growing more dire, residents have continued to clamor for protection—along their terms. In 2004, the Rocky Ripple Town Council formally asked to be included in a federal flood-protection plan and has asked for protection repeatedly since, according to a 2017 letter from the town government.
Those and other attempts were unsuccessful, and the floodwall idea languished, until Mayor Joe Hogsett's administration announced in February 2017 that it would commit $10 million to a project. The next month, DPW, the town and Butler University signed a memorandum of understanding for some form of flood protection.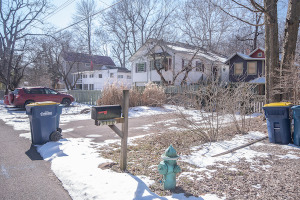 Nearly 76% of surveyed residents in September 2018 voted for a version of the floodwall that would have preserved the river homes and taken out several sheds, according to the survey results. Rocky Ripple's town government approved the plan in November 2018.
In 2019, the Indianapolis City-County Council approved creating a flood-control improvement district, which works similarly to a tax-increment-financing district, to fund the project. DPW would cover the upfront costs. Rocky Ripple would use the expected increase in property values, and therefore property taxes, to reimburse the city.
But DPW says it can't take on the new total, which it says has ballooned due to labor and materials price surges.
To bring down the price tag, the team has proposed swapping more expensive wall types for the cheaper earthen levee, which comes with a larger footprint in a relatively narrow area. It would take out 10 houses downstream and potentially several more upstream.
Byrne and Axler are among the riverside residents speaking out, and asking the three-person town board to stand by a no-demolition alternative.
Town councilors, meanwhile, say they've got too many questions to make a decision now, including on the financial limitations, specific sections of wall and the fate of the town hall at 930 W. 54th St.
"First of all, I'm not even close to a decision on this," said Councilor Randy Sanders, a six-year resident. "There are still so many more questions that we need [answers] from DPW."
"I don't anticipate we're going to have an answer in the very near future," said President Mandy Redmond. "I think this is going to probably drag out several months."
Both said they want to avoid demolitions—Redmond said she'd voted against the 1996 plan—but ultimately have to consider all of Rocky Ripple's residents. If the levee is overtopped, according to Massonne, Rocky Ripple could go under 10 to 13 feet of water.
"It's a little disheartening that we're going back now and having to make changes to that [plan], because I think the thing that really sold that neighborhood on the project was the fact that we didn't take down any homes," said Redmond, a 38-year resident. "Having said that, I was elected on the platform that I would work toward obtaining flood protection for Rocky Ripple, so that's number one on my priority list."
Sanders echoed Redmond's remarks.
"Until the end, I'm going to fight for what's best for the community, push back against DPW and try to get the project back to the point of no homes and no town hall being removed," he said. "And, you know, there may be a point where that hard decision has to be made that we're not going to get back to that point. And we'll just have to figure that out when we get there."
Please enable JavaScript to view this content.