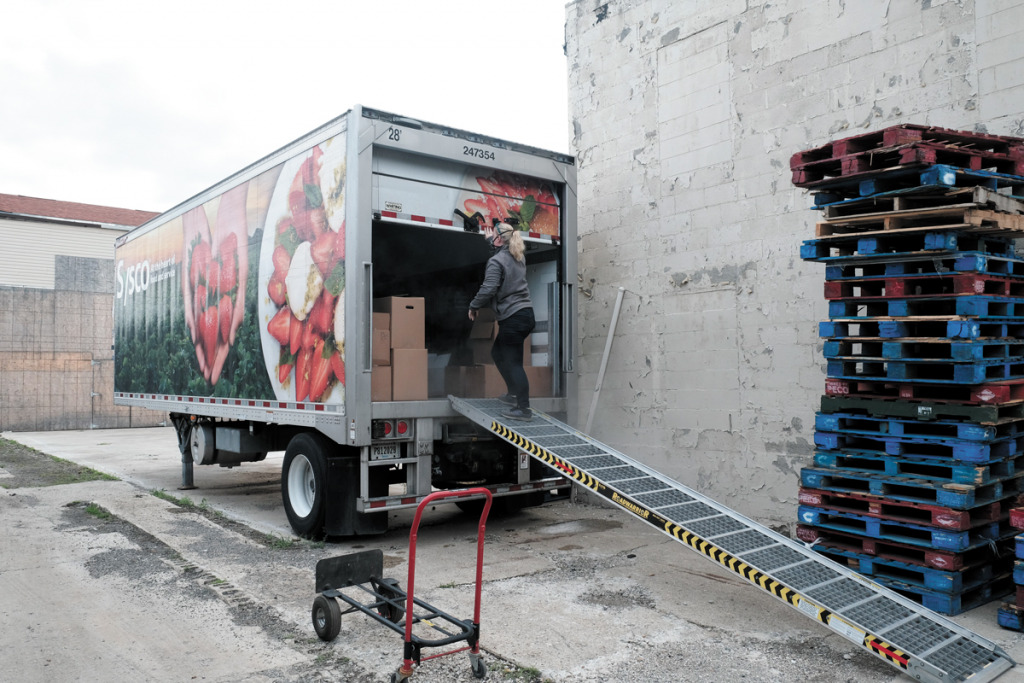 When Gov. Eric Holcomb forced businesses to close their doors in March, not-for-profits providing services to those in need were permitted to remain open.
But being allowed to operate and being able to do so are two different things.
For some, the programs they typically offered involve going into schools or gathering groups of individuals together for in-person activities. How is that possible when schools are closed and families are told to stay home?
In many cases, it's not.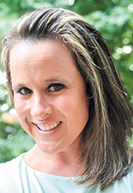 That's why 70% of not-for-profits in Indiana have reduced programs or limited capacity since the coronavirus pandemic hit the state, according to a recent report from the Paul H. O'Neill School of Public and Environmental Affairs at Indiana University and Indiana United Ways.
"It just shows what we all kind of assumed—the nonprofit sector was and will continue to be deeply affected by COVID-19," said Kathryn Habecker, impact and advocacy manager for Indiana United Ways and one of the report's authors.
About 60% of not-for-profits have suspended or ended programs, such as summer camps, after-school programs, mentorships and volunteer programs.
Nine13sports temporarily stopped its Kids Riding Bikes program; the Indiana chapter of A Kid Again called off its monthly "adventures" for families; and Jameson Camp canceled its summer camp and environmental education program.
And those are only a few examples.
Budget constraints are also increasingly pressing on not-for-profits. According to the IU report, 71% of organizations have seen their revenue decline since March and 67% have had to cancel fundraisers.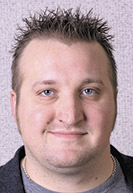 Just this week, the Indianapolis Zoo canceled its biggest fundraiser—Zoobilation—after initially postponing it from July to August, and the Penrod Arts Fair, which raises money for local arts organizations and other not-for-profits, called off its September event.
The report found the median revenue drop so far is 20%.
Jameson Camp Executive Director Jennie Broady said she expects revenue to be down 30% to 40% this year, because, in addition to the educational programs and camps that have been cut, Jameson Camp relies on revenue from renting the property for private events. That business has been almost non-existent for months.
"We are making contingency plans for every scenario and trying to do the best we can with the resources that we have," Broady said.
Shifting gears
When schools closed in March, Nine13sports CEO Tom Hanley wasn't sure what to do. His organization's programs that teach kids how to ride and build bikes are directly tied to partnerships with schools and community centers.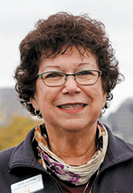 "In March, our world changed just like everybody else's," Hanley said.
He started thinking how his group's assets and skills could be repurposed, and he figured out a new business model—delivering food.
Nine13sports partnered with Gleaners Food Bank of Indiana, Second Helpings and Indy Hunger Network to deliver food to those who are unable to pick up distributions themselves. Hanley said his staff has delivered 2.5 million pounds of food.
The quick shift in strategy allowed Hanley to keep revenue flat and maintain all his staff.
"We're fortunate to be here and still standing," he said.
And Nine13sports is not the only organization to pivot into food distribution.
Broady said, when the pandemic hit, her staff surveyed the families they usually serve for camps and educational programs to ask, what was their biggest need? The answer? Food.
So, Jameson Camp partnered with Gleaners and Second Helpings to become a food distribution site every Thursday. About 100 families every week pick up food from the camp, which is on 125 acres on the west side of Indianapolis.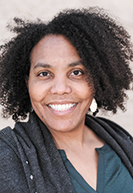 "That's been absolutely amazing," Broady said. "We're really proud of the work that we've been able to do."
Broady said staff is now thinking about ways to reinvent the organization after canceling summer camp and realizing that schools will not be taking field trips to the property in the fall.
Southeast Community Services, which helps families achieve financial stability through a variety of services, also jumped into food distribution.
Terri Garcia, executive director for the community center, said the organization became quite transactional—handing out food and writing checks to help people pay rent and utilities—instead of offering its typical wraparound support that pairs families with financial, income support, education and career coaches.
That's because the volume of requests for housing, food and utility assistance came flooding in. The center usually helps 400-500 individuals annually. This year, 3,000 individuals have already been helped by the food distribution and more than 400 have received support for housing or utilities.
"We couldn't do the kind of coaching, the kind of in-depth work with them that we like to do," Garcia said. "The disparities that we knew were there before COVID hit just exploded once COVID hit."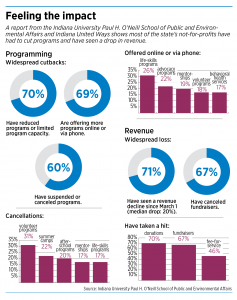 Other not-for-profits have shifted as much as possible to virtual programs. According to the IU report, 69% of organizations statewide are providing more programs either online or via telephone.
But that was a tough switch for A Kid Again, which provides activities for families that have a child suffering from life-threatening conditions. The events usually include going to a sporting event or museum or the zoo—all of which were no longer possible.
Plus, the organization is serving families who have kids in the high-risk group for COVID-19.
"We kind of got the one-two punch here," said Katie Pappas, executive director of the Indiana chapter of A Kid Again.
To adjust to the new reality, Pappas said, the group offered families virtual adventures, including a juggling act and magic show. And it recently created adventures in a box that families could pick up. The boxes include items such as water balloons, popsicle-making kits and tie-dye activities.
"Things the entire family could do together—but at home," Pappas said.
No fundraisers
But the biggest challenge, she said, hasn't been switching to virtual activities—it's been changing fundraising strategies.
The organization, which launched in Indiana in May 2018 and serves 180 families, initially planned a golf outing to connect with donors and raise money.
Pappas said it's especially tough now to be a new not-for-profit, because in-person events would help her build relationships with donors who might consider larger gifts later.
"I've never not hit a fundraising goal, but I think this might be the year," she said.
Of the not-for-profits in the IU report that indicated revenue had dropped, 70% said it was due at least in part to a decrease in donations and 67% said it was due at least in part to canceled fundraisers.
"We know that [not-for-profits have] been rethinking a lot of different fundraising models," Habecker said.
The Stutz Artists Association, which represents dozens of artists who work in studio spaces at the Stutz Business and Arts Center, had to cancel its April open house.
The group typically raises 90% of its funding at that annual event, said Amy Carroll, co-president of the association. The event is rescheduled for October, but Carroll said it is unlikely to happen then, either.
"We're struggling along," she said. "We're trying to make it to next spring … just like every other nonprofit."
Proceed with caution
Some not-for-profits have slowly and cautiously started to reintegrate in-person programs and services.
Nine13sports relaunched ExploreIndy and Kids Building Bikes in early July at local parks but in a scaled-down capacity. The organization is also continuing to deliver food.
"I think it's safe to say we will not have programs in schools until quarter one of 2021," Hanley said. "I hope I'm wrong on that, but that is what we're currently prepared for."
Hanley said he also hopes to open classroom space at the Nine13sports facility on West 29th Street within a couple of months, which would provide another option for hosting programs, regardless of whether schools are open.
Broady said Jameson Camp has started allowing small groups of kids to gather but is following social distancing guidelines. Property rentals have also started again and are available throughout the rest of the year.
Eastern Star Church, which essentially shut down its East 30th Street campus in March, has reopened its food pantry as a drive-thru three days a week and has expanded hours of the ROCK Fresh Market grocery store to five days a week after having to drop it to twice a week in the spring.
And all along, the church has continued to offer housing and utility payment assistance.
"I think that part of the challenge is, when we closed in March, many people thought we stopped providing assistance," said Leigh Riley Evans, Eastern Star's director of community development. "We are continuing to provide services to the community."
The church, which has been offering virtual worship services, plans to offer a parking lot service soon, too.
"We want to continue to be safe," Evans said. "We just don't want to add to the anxiety. … We're definitely taking our time."
Carroll said the Stutz Artists Association is looking into having an artisan market in a parking lot, maybe in September so the heat isn't unbearable.
"We know we need to work quickly, because we know artists really need opportunities to sell art," Carroll said. "I think right now it's the most viable option we have."
Kirsten Gronbjerg, professor at the O'Neill School of Public and Environmental Affairs and an author of the IU report, said not-for-profits' future depends on how the pandemic plays out. If the size of gatherings is restricted again, even more programs might be cut.
"We are cautiously opening back up," Gronbjerg said. "But given what's happening in other states, I don't know if that's going to continue to be our track."•
Please enable JavaScript to view this content.