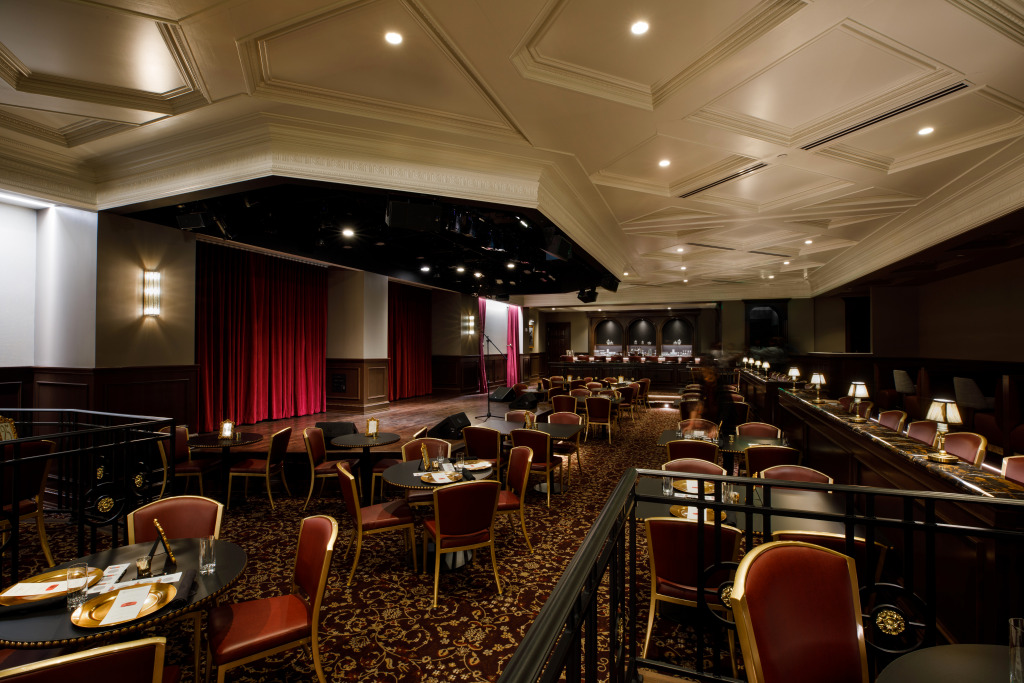 A long-awaited dinner theater from Grammy-nominated performer Michael Feinstein will open to the public this weekend with a sold-out tribute to Frank Sinatra.
Feinstein's at Hotel Carmichael is a 2,775-square-foot, 135-seat venue seated in the first floor of the boutique hotel at 1 Carmichael Square in Carmel. Though the first public performance on April 17 will be at 50% occupancy due to COVID-19, Hotel Carmichael Experience Curator Amber Fitzgerald said there will be ongoing promotions and giveaways between now and the grand opening celebration on May 13 to promote this year's lineup of performances.
"There really isn't a venue like this—especially in Carmel," Fitzgerald said.
The intimate, speakeasy-themed venue will host varied performances and menus catering to each event. This Saturday's "All the Way" Frank Sinatra Tribute performed by Don Farrell will be proceeded by a prix-fixe, Italian-inspired menu and an upcoming Mother's Day performance will feature brunch items. Each will have signature cocktails available through the bar.
Fitzgerald said tickets for the meals and performances may range anywhere from $30 to the $150 range and there's a $25 minimum food and beverage purchase required for each attendee.
In addition to the general seating area, Fitzgerald said there is a private dining room for up to 16 people and the venue can be rented out for corporate or other private events.
The venue is only open and exclusive to those performances, which will initially be relegated to Thursdays, Fridays and Saturdays. Eventually, Feinstein's will start to offer options throughout the week, Fitzgerald said.
"Once we knew when we were opening and what that looked like, procuring artists has been easy," Fitzgerald said. "We are working on booking out the rest of the calendar year."
Though some private performances have taken place at the venue prior to Saturday's first public performance, a grand opening event has been planned for mid-May. At that time, Feinstein will perform music from the Great American Songbook—everything form Gershwin to Carole King—after guests enjoy an Americana Bistro influenced prix-fixe menu before the show.
Construction on the Hotel Carmichael began in 2018. Its opening was delayed due to the pandemic. Feinstein previously opened similar cabarets in San Francisco, California's Nikko Hotel and New York's Studio 54. He's also the artistic director of the Center for the Performing Arts.
In other retail and restaurant news North of 96th:
— Owners Allie Commons and Chris and Stephanie Dillow have turned the former 2,500-square-foot cottage home at 337 Jersey St. in Westfield into Rivet Coffee.
The coffee bar and roastery is scheduled to open May 1 with European fare, featuring open-faced sandwiches and Belgian liege waffles from former Rail chef Toby Miles, as well as baked goods from Cone and Crumb owner Melanie Miles.
Though there's seating for 30 inside, Chris Dillow said he wanted to be able to offer safe alternatives during the pandemic. The business has 40 seats outside, online ordering and to-go windows.
In addition to single-origin and blend coffees roasted on site, Dillow said Rivet will also feature eight taps for nitro cold brews and nitro teas. He said the business is also going through the review process for a three-way liquor license.
"The idea is we want to turn Jersey Street into something similar to Park Street with neat little places, maybe not all restaurants," Dillow said.
— Shake Shack will host a ribbon cutting April 22 for its first standalone restaurant in the state at 9701 E. 116th Street in Fishers, at the northwest corner of the Fishers District mixed-use development.
The popular burger chain confirmed in early 2020 that it planned to open the 4,200-square-foot location by the end of the year, but company officials postponed all design and construction of those new restaurants due to COVID-19.
— Wahlburgers plans to open its first restaurant in the state on April 26 in Carmel's Proscenium mixed-use development at 1200 S. Rangeline Rd.
Jim Oboyski, vice president of operations for Wahlburgers, previously told the IBJ he's considering opening as many as five central Indiana locations. Though Wahlburgers is also popular for its burgers, Oboyski said the chain's local stores might feature Indiana-favorite dishes, including a breaded pork tenderloin, a breakfast burger riff off biscuits and gravy, chopped steak, perch or walleye, fried chicken, and noodles over mashed potatoes.
Please enable JavaScript to view this content.