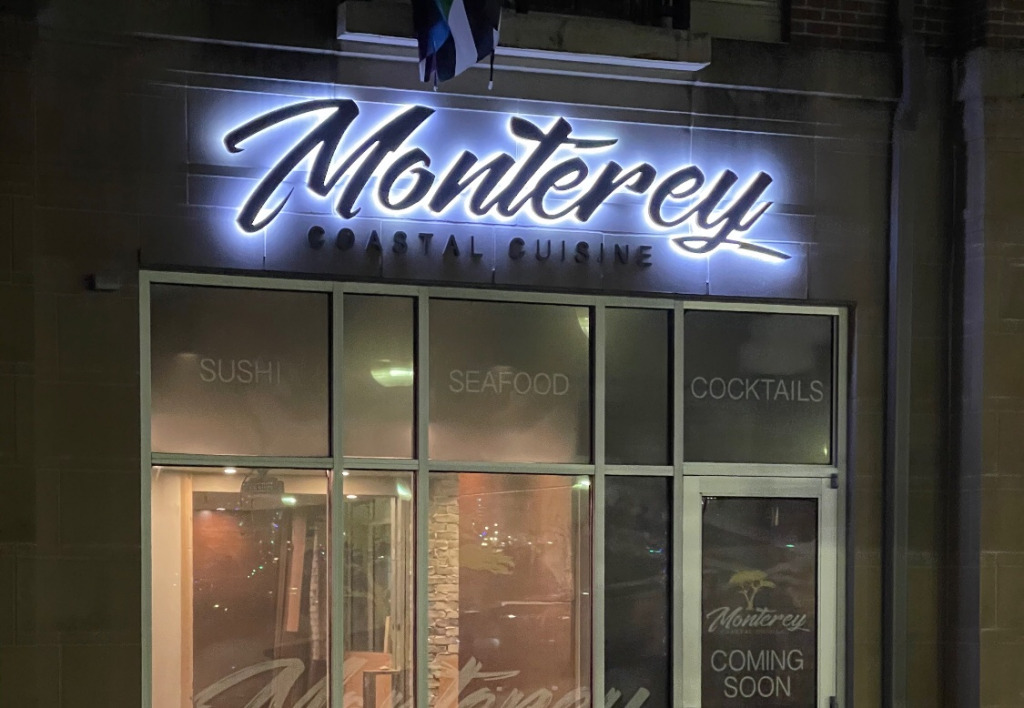 A taste of the coast is coming to Carmel.
Longtime homebuilder Paul Estridge Jr. announced his retirement from Carmel-based Estridge Homes LLC earlier this month and wasted no time moving on to his next project: a seafood restaurant at 110 W. Main St. called Monterey Coastal Cuisine. The former Scotty's Brewhouse on the ground floor of Carmel's Sophia Square building has been reworked so that both the décor and the menu evoke Carmel-by-the-sea, California. When it opens on April 3, Monterey's lunch and dinner menus will offer fresh seafood, sushi, steak, sandwiches, flatbreads and more.
It's Estridge's first foray into owning a restaurant.
"I've been a homebuilder my entire life, but I really don't know how to build a home. I'm really not a craftsman," Estridge said. "What I became was someone that was effective at building great teams of people who have the expertise in a specific area and a culture in which everybody thrives."
He plans to replicate that approach with the restaurant. Estridge met co-owner Chris Thomas, who most recently worked as general manager of Kona Grill in the Clay Terrace Mall, nearly 15 years ago when his son went to study at a winery in Monterey.
Though the two had talked about opening a restaurant highlighting their shared love for the region and sushi years ago, they didn't commit to anything until May 2019. It was then that they decided to renovate the 6,700-square-foot space next to the Monon Trail into a place for fresh tuna, salmon, halibut, oysters, mussels, poke bowls and a few Midwestern staples, like steak and pork chops.
Thomas said the average solo diner might expect to spend $42 to $47 for dinner, and less at lunch. Though, that doesn't mean patrons will need a coat and tie. Thomas said the restaurant will be polished but open to people who are perhaps casually walking in off the Monon Trail.
"The Monon is an incredible situation, particularly at this intersection. It's like being on a boardwalk," Estridge said.
The restaurant's two patios have room for 80 diners, a smart pergola and access to the indoor/outdoor bar. Inside, the former Scotty's has been redesigned to feature coastal and Midwestern elements: a 100-gallon aquarium full of jellyfish, a 400-pound copper barn door, a menu of exclusively Californian wines. There's local artwork on the walls, custom light fixtures, a sushi bar, a private and main dining area with room for up to 224 guests.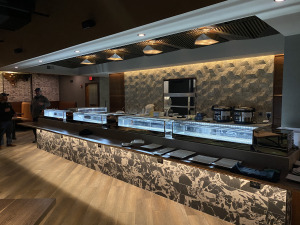 Thomas, the restaurant's president, said Monterey has already started hiring its core staff and is aiming to employ 45 workers when the restaurant is fully operational.
"The foundation of our team has over 150 years of experience in the restaurant business," Thomas said. "They're all very passionate about what they do, and this is an opportunity for all of us to showcase what we can do outside of a corporate setting."
In other real estate news north of 96th Street:
—Carmel City Center will welcome several new stores this summer, including Magic Hat Barber Shop, 317Home and Manelé Café, which IBJ first reported on in  January 2020.
Magic Hat Barber Shop will open at 885 Monon Green Blvd, Suite 101. Owner Justin Virgil Gramelspacher plans to offer premium men's haircuts, beard trims and straight razor shaves alongside grooming products fragrances and other retail items. Select services will range between $25 and $40 and feature complimentary beverages, rinse, shampoo, blow-dry and styling.
317Home, a furniture restoration and workshop studio, is opening at 715 Hanover Place, Suite 140. Owner Rebecca Null will offer exclusive Annie Sloan-branded paints, waxes and brushes. Professionals will also restore furniture and teach decoupage, molding, transfer and other techniques to guests in a series of workshops. Base prices for restoration services will be $60 per hour, plus the costs of materials and workshop costs will range from $50-$175 per class.
Finally, Manelé Café, a Hawaiian inspired cafe, is opening in the former Hubbard & Cravens at 703 Veterans Way. The 75-seat dining room includes outdoor seats under a four-seasons covered patio. The menu includes all-day breakfast items, salads, cold and warm bowls that can be customized with a grain or greens base, proteins, vegetables, sauces and other toppers.
—Aveda Fredric's Institute Indianapolis is planning to relocate from its current Castleton Square Mall location at 6020 E. 82nd St. to 2208 E. 116th St. in Carmel by the end of April. President and owner Patrick Thompson said in a written statement that the state-of-the-art facility combines an upscale and luxurious salon with a top-notch educational facility. The new space includes a salon, color bar, shampoo and rejuvenation room, multiple spa spaces, a nursing room and six classroom spaces.
—Brett Beckner recently opened the Main Street Farmers Market in Sheridan. The market at 305 S. Main St. aims to address a lack of grocery options in the area. The roughly 1,000-square-foot country store and kitchen has pantry staples as well as Amish cinnamon rolls and breads. The deli's meats are hyper-local—having been raised and processed no more than 30 miles away from the store.
Now, a new business has moved in. Christy Johnson on March 3 moved her charcuterie catering business from Cone + Crumb in Westfield to Main Street Farmers Market. The Bountiful Board is now fulfilling personalized orders for individual and corporate clients.
Please enable JavaScript to view this content.