The offseason is warming up at Noblesville's Ruoff Music Center, where Foo Fighters and Keith Urban were announced this week as high-profile additions to a 2022 calendar in which the concert industry hopes to make a big comeback after two seasons limited by COVID-19.
Foo Fighters, recently inducted into the Rock and Roll Hall of Fame, are set to perform Aug. 1 at Ruoff Music Center, 12880 E. 146th St. Country star Urban will perform Aug. 27 at the 24,000-capacity venue. Both artists will be making their first appearances at the venue since 2018.
Owned by Live Nation, the world's largest concert promotion company, the outdoor amphitheater didn't present any 2021 concerts before July because of the pandemic. From July 10 to Oct. 15, Ruoff Music Center presented 25 shows, including a three-night stand by Phish and a two-night stand by the Dave Matthews Band.
In 2020, the venue hosted three socially distanced concerts in its parking lot, where audience members caught performances by Brad Paisley, Jon Pardi and Yacht Rock Revue while viewing and listening next to parked vehicles.
On Nov. 4, Live Nation reported that 17 million people attended events at the company's venues in the third quarter of 2021. Chris Stapleton, who performed Sept. 25 at Ruoff Music Center, was cited as a touring attraction who sold more than 500,000 tickets this summer.
All but three Ruoff Music Center shows were staged during the three-month period referenced in the Live Nation quarterly report.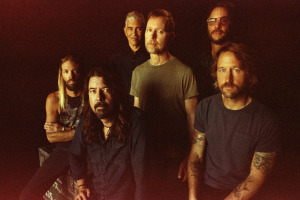 Live Nation subsidiary Ticketmaster delivered a record-setting quarter for operating income at $114 million as Live Nation returned to a profit after two years of losses.
Live Nation CEO Michael Rapino said in his company's quarterly report that the industry was poised to have a record year in 2022.
"As we get close to turning the page on 2021, I remain more convinced than ever on the power and potential of live entertainment, and the strength of our position," he said. "No industry was more impacted by the pandemic over the last two years, and no industry has so proven its durability of demand in the face of such disruption.
"I fully expect we will continue to have bumps in the road in the coming months, and it will take some time for international artists to be touring on a truly global basis, but the fundamental strength of live entertainment and Live Nation has proven out, and I expect we will only continue to grow from here."
On Nov. 5, one day after the quarterly report was released, 10 attendees at Travis Scott's Astroworld festival in Houston died in a crowd crush. Live Nation, Astroworld's promoter, has experienced a 15.7% decrease in stock value, from $122 per share on Nov. 5 to $102.83 on Dec. 1. Shares were trading near $105 on Thursday morning.
The Foo Fighters and Urban concerts are two of 10 Ruoff shows already on the schedule for 2022. More events will be announced in coming weeks.
May 28: AJR
June 16: Morgan Wallen
June 17: Tears for Fears
July 8: Santana, Earth Wind & Fire
July 10: Backstreet Boys
July 14: Doobie Brothers
July 20: Chicago, Brian Wilson
Aug. 1: Foo Fighters
Aug. 6: Matchbox Twenty
Aug. 27: Keith Urban
For information related to proof of vaccination or negative COVID-19 test results required for attendees, visit livenation.com.
Meanwhile, Ruoff Music Center is hosting a drive-through holiday light display for the first time.
Magic of Lights, a one-mile series of displays viewed from an attendee's vehicle, is open through Jan. 2. Tickets per vehicle are priced $35 on weekdays and $45 on weekends.
Please enable JavaScript to view this content.