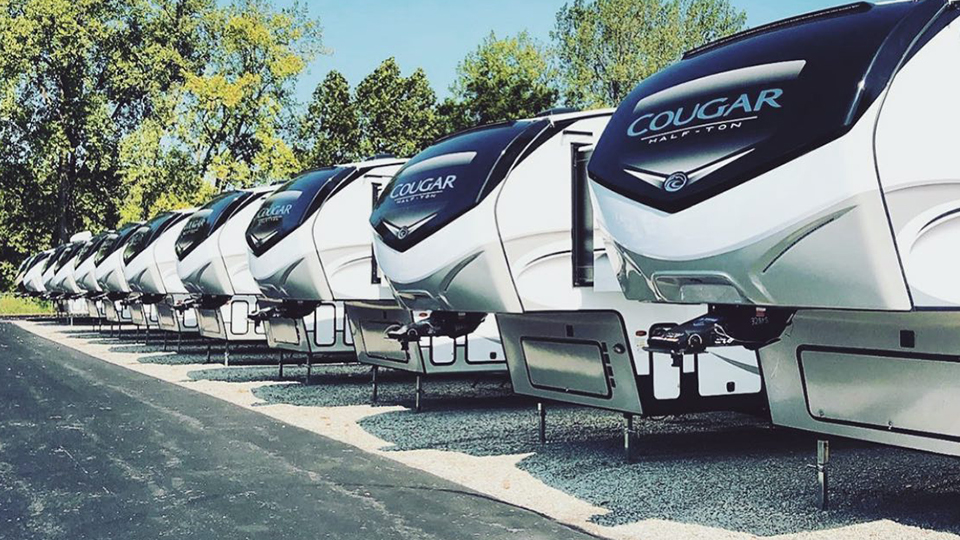 As the recreational vehicle industry approaches the end of 2022, the nation's economic malaise and spiking interest rates have caused buyers to tap the brakes on purchasing RVs.
The latest data from the Recreational Vehicle Industry Association shows year-to-date shipments are down 8.2% compared to the first nine months of 2021. The month of September was especially challenging, as overall wholesale shipments to dealers were down 48.5% compared to September 2021.
RVIA spokesperson Monika Geraci called the decline a "normalization" of the industry following record shipments last year.
"Last year was a record setting year—over 600,000 RVs were built in 2021. That was a nearly 20% increase over any previous year," said Geraci. "Our latest forecast shows that we're going to be just shy of 500,000, which will be the third best year on record, right there close to 2017."
Before last year's record-setting production, 2017 was the previous high with 506,000 units shipped. "We're looking to be really right back there," Geraci said.
Many of the major RV manufacturers are located in northern Indiana. Indiana factories have produced about 80% of U.S. RV units in recent years, according to the association.
Breaking it down, towable RVs ended September down 54% against September 2021, but motorhomes finished the month up 21% compared to the same month last year. Motorhomes account for 10% of all sales.
"This is a double-digit drop, but we were having double-digit increases last year," said Geraci. "Now it's coming back down to where that 40-year, long-term growth line is."
Despite a drop in shipments, RV makers are still posting big gains.
Elkhart-based LCI Industries last week reported third quarter net income of $61.4 million compared to $63.4 million during the same period a year ago. LCI Industries President and CEO Jason Lippert said the company delivered a "strong performance" despite a downturn in recreational vehicle demand.
"During the third quarter, we delivered growth in adjacent markets and leveraged our flexible cost structure to support profitability, as the RV industry adjusts to softened consumer demand and macroeconomic uncertainty," Lippert said.
The company is also reporting Q3 net sales of $1.1 billion, down from $1.2 billion during the same period a year ago.
In September, Elkhart-based THOR Industries reported full-year net income of $1 billion, a record for the company. THOR President and CEO Bob Martin acknowledged a "softening in the towable RV sector" during the fourth quarter, but still posted Q4 net income of $281 million, compared to $230 million during the same a year ago.
RVIA data shows during the first five months of this year, monthly shipments surpassed last year's record-breaking year. But at the mid-point of 2022, as inflation and interest rates surged higher, demand lessened, and so too shipments from manufacturers to dealers.
"The macroeconomic issues are not great, particularly inflation," said Geraci. "But what we know is that RV travel is a more economical way to travel."
Looking to the year ahead, the RVIA is expecting a further drop in wholesale shipments. A quarterly industry forecast, conducted by ITR Economics, puts the estimate at 419,000 units in 2023.
If realized, that would be a 16% decline from the projected 2022 total.
"We're expecting to see these monthly shipments be a little bit lower, like we've seen on the back half of this year. And then we expect it to pick back up," Geraci said.
The RVIA says Indiana factories account for 86% of U.S. RV units. Second place belongs to Oregon with just 3% of RV production.
Please enable JavaScript to view this content.