Construction on Saab's $37 million advanced manufacturing and production facility at Purdue University's Discovery Park in West Lafayette began late last year, and this week the Stockholm, Sweden-based company announced the hiring of its first employee in Indiana.
Indiana native and Purdue graduate Robert Ulibarri, 37, will be general manager of the 112,000-square-foot facility, which will make rear fuselages for the Boeing T-X, the U.S. Air Force's next-generation jet trainer.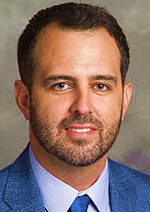 Ulibarri said one of his first duties it to build a staff for the facility. His early emphasis is on hiring engineers and finance employees.
"We expect this to be a factory of the future," Ulibarri told IBJ. "We expect this to be a forward-looking, advanced manufacturing setting. It's going to be high-tech in many ways."
Construction of the facility is scheduled to wrap up in December, with manufacturing set to begin in the fall of 2021. Saab officials said the facility is expected to reach full capacity, with 300 employees, in 2027.
"We're actively recruiting. We think this is a very good area to recruit from with a number of strong educational institutions to draw from, and we feel this facility will be a draw to the area," Ulibarri said. "We're very confident we'll be able to find all the talent we need."
The Saab factory is the first aerospace facility in Discovery Park, a 400-acre, $1 billion-plus development on the western edge of Purdue's campus. The park will include laboratories, advanced manufacturing facilities, offices, retail shops, restaurants, housing, green space, trails and an airport with a 7,000-foot runway.
Ulibarri most recently served as general manager for industrial automation at Columbus-based Eckhart USA. Previously, he held various leadership positions at Lennox International Inc. and Oshkosh Corp.
He is a two-time Purdue graduate, having earned a bachelor's degree in mechanical engineering and technology and an executive master of business administration from the Krannert School of Management.
Ulibarri also has a tie to the plant's biggest customer, the U.S. Air Force. He grew up in the north-central Indiana city of Peru, which is near Grissom Air Reserve Base.
"My dad was an air traffic controller for the Air Force, so I basically grew up at Grissom," he said. "I have a lot of fond memories of those days."
Erik Smith, CEO of Saab's U.S. division, said in a statement that Ulibarri has the right skills perfect match to  grow Saab's Indiana operations.
"With Saab building a state-of-the-art facility in West Lafayette and our partnership with Purdue University, we knew we needed to hire an experienced, forward-thinking general manager with a relevant industry background and an ingrained understanding of the community," Smith said.
Please enable JavaScript to view this content.