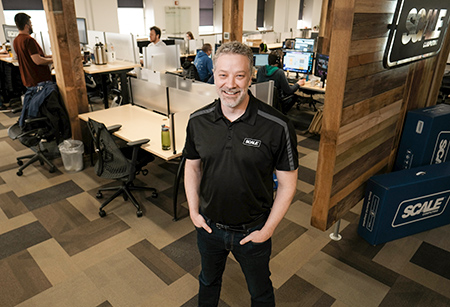 Scale Computing Inc.—a fast-growing information technology company in Indianapolis—has closed on a $30 million funding round led by Elevate Ventures, with participation from existing investors.
The round comes just two years after Scale raised $38 million, which was one of the largest rounds of funding in central Indiana in recent years. The firm has now raised more than $130 million overall.
Ting Gootee, chief investment officer at Elevate Ventures, said the state-sponsored organization was "thrilled" to help Scale accelerate growth with another round of funding.
"Many customers have told us how much time and money Scale Computing has saved them, enabling them to deliver the right IT infrastructure for their business, even in the most unusual of locations," Gootee said. "The Scale Computing platform allows organizations to quickly adopt edge and hyper-converged infrastructure so that anyone can get up and running in a matter of minutes."
Scale sells box-size IT infrastructure that can handle an enterprise's networking, data storage and virtualization needs. It specializes in what's called edge computing, which means computer processing made faster by taking place near the data source.
Although many companies are moving data and applications to the cloud—which are servers run by a third party—some firms still prefer to have their own private servers and data repositories. Some companies use both. Furthermore, industry experts said, Scale's offering can work alongside cloud-based storage technology and can even enhance that technology.
Scale's patented HyperCore technology identifies, mitigates and corrects infrastructure problems in both hardware and software in real time, using machine intelligence and automation to keep applications running without human intervention.
Scale, which is headquartered in The Union 525 building downtown, has more than 200 employees.
It delivered record software revenue in each of the first three quarters of 2020—ending Sept. 30—achieving a growth rate of 65% year-over-year, company officials said.
Scale Computing will use the new funding to further invest in research and development, enhance sales and marketing, and expand delivery, said the company's co-founder and CEO, Jeff Ready. Scale will continue expanding the capabilities of its edge computing, virtualization and hyper-converged solutions to meet increased market demand, he added.
"Scale Computing has been helping organizations with our self-healing, autonomously managed IT infrastructure since our inception. In no area is our technology more important today than in edge computing, where the costs of downtime and management grow exponentially," Ready said in a statement. "We have met the challenges of this new and fast-growing market, and this is driving significant growth as more and more enterprises discover the tremendous cost savings the Scale Computing platform brings to the edge."
Please enable JavaScript to view this content.