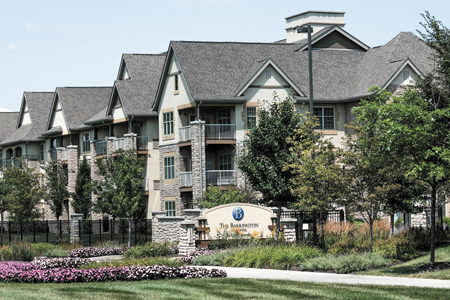 Hundreds of residents at The Barrington of Carmel retirement community can breathe a sigh of relief.
The complex, which slid into bankruptcy in January after defaulting on its bonds, is getting a new owner that is promising to honor their contracts and pay them $52 million in refundable entrance fees.
The residents had paid six-figure deposits before moving in but were listed in the bankruptcy filing as unsecured creditors, meaning they were in danger of losing their money.
The Barrington, which began hemorrhaging money soon after opening in 2013, is being acquired by Indianapolis-based Prairie Landing Community Inc. for $61 million. A bankruptcy judge in Texas approved the sale on July 24. It is expected to close in August, said CEO John Dattilo.
"We're absolutely going to honor the residents' contracts," Dattilo said. "That was incredibly important to our board in any deal with The Barrington. We are a not-for-profit with a Christian heritage. The board wanted to move forward from a mission standpoint to help take care of these residents."
Residents, who had formed a committee to push for their interests, said they were happy with the outcome.
"It's a good plan," said Robert Reynolds, a retired lawyer from Barnes & Thornburg LLC who moved into The Barrington last year, and chaired the residents' committee. "It brings to end a period of uncertainty. Residents don't have to worry anymore."
The sale gives the 6-year-old development another chance at stability under a new owner with decades of experience running retirement communities.
Prairie Landing, through its BHI Senior Living unit, is a fast-growing operation that owns retirement communities in Zionsville, Fort Wayne, Columbus and Frankfort with about 3,000 total residents.
Prairie Landing was the only bidder for The Barrington during the bankruptcy process. Dattilo said he has no immediate plans to make significant changes at The Barrington.
"We've been long admirers of The Barrington," he said. "It's certainly a beautiful property. We think it's in a great market."
The complex, just north of 116th Street on Guilford Road, is surrounded by quiet, high-end neighborhoods.
The upscale complex includes a fitness center, library, salon, spa, arts studio, underground parking and food options from casual to fine dining, spread out on a 19-1/2- acre campus, with walking trails and woods.
Barrington was struggling under debt taken on by its former owner, Mayflower Communities of Dallas, an affiliate of Senior Quality Lifestyles Corp., based in Texas. SQLC owned and operated several other continuing-care retirement communities in its home state. The Barrington was its first out-of-state project.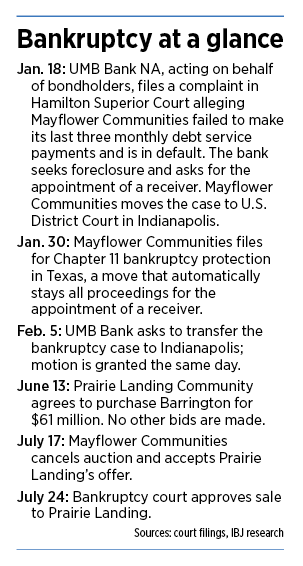 Mayflower, whose sole holding is The Barrington, filed for bankruptcy in January, saying it was struggling under huge debts and trying to compete with four other retirement communities within a 10-mile radius.
At the time of the bankruptcy filing, Mayflower had assets of $97 million and liabilities of $152 million, including $93 million in bond debt.
But when the property changes hands, the bondholders will lose tens of millions of dollars. Under the terms of the sale, Mayflower Inc. will be dissolved, and Barrington will put $61 million into a trust. The bondholders and others with a claim will be paid out of that trust. The original bonds will be retired.
The bondholders "took a little bit of a haircut," Dattilo acknowledged.
Continuing care retirement communities, or CCRCs, are attractive to many seniors because they offer different levels of care—from independent living to skilled nursing—under one roof, meaning residents won't have to move if their level-of-care needs change.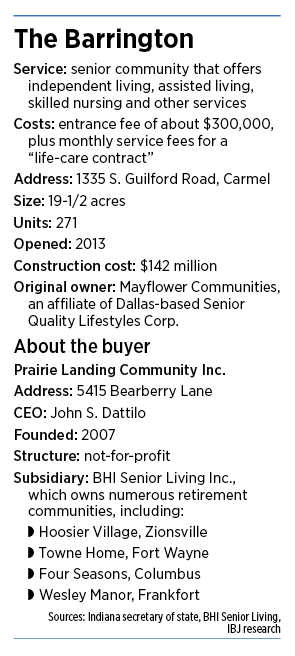 But The Barrington, which cost $142 million to build, was loaded up with debt. In 2016, liabilities exceeded assets by $36 million. By 2018, the project's net resident revenue missed projections by about 18%, while operating expenses soared 27% higher than projected.
At The Barrington, the six-figure entrance fees are the "lifeblood" of the operation, accounting for a "significant portion" of the operating budget, according to a Jan. 31 filing by Mayflower's chief restructuring officer, Louis E. Robichaux IV.
On top of that, residents at The Barrington pay a monthly service fee of $2,800 to $7,600 to cover dining services, housekeeping, laundry, utilities, activities, transportation and maintenance.
The Barrington's new owners seem to have a record of financial stability that could help keep the complex on an even footing.
Prairie Landing's sole operation, BHI Senior Living, is well known in senior-living circles.
BHI (short for Baptist Homes of Indiana) began in 1904 as a church-sponsored orphanage called Crawford Baptist Industrial School, on 185 donated acres in Zionsville. From 1905 to 1951, more than 1,500 children called the complex home.
In the early 1950s, as orphanages began phasing out, the complex changed its name to Indiana Baptist Home and began taking in senior citizens.
Today, the operation runs Hoosier Village in Zionsville, the Towne House Retirement Center in Fort Wayne, Four Seasons in Columbus, and Wesley Manor in Frankfort.
According to its 2017 IRS tax filing (the most recent available online), BHI took in $49.4 million in revenue and had expenses of $47.4 million, for a $2 million surplus. The operation had net assets of $48.6 million.
Dattilo said he is confident that, despite its previous financial problems, The Barrington can be put back on firm footing.
"As we took a look at the financials, there certainly were some previous issues," he said. "But I think with the removal of some of the onerous debt, if you will, I think that helps us operate with more comfortable margins moving forward and it becomes a desirable project for us."•
Please enable JavaScript to view this content.