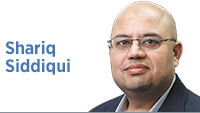 There are an estimated 3.45 million Muslims in the United States, the vast majority of whom were born in the United States or are naturalized citizens. Women represent nearly half that population and are key parts of the U.S. Muslim family, community and civil society.
Many of Indiana's major statewide organizations have long been led by amazing Muslim women. However, we have lacked details about the significant impact Muslim women make in the United States through philanthropy. A new report by the Muslim Philanthropy Initiative at the Indiana University Lilly Family School of Philanthropy reports that U.S. Muslim women's contributions to philanthropy go beyond money and include the five "T's": time, talent, treasure, testimony and ties.
The report suggests that the top three motivations that drive the giving of U.S.-based Muslim women are: 1) their compassion toward people in need, 2) feeling that their gift can make a difference, and 3) believing it is part of their religious duty. Their generosity also includes volunteering.
Muslim women are important contributors of zakat. Zakat is Islamic obligatory giving and considered one of the five pillars of Islam. Muslims are required to give 2.5% of their surplus wealth to specific charitable causes. U.S. Muslims give zakat to both faith-based and non-religious causes.
The report also finds that Muslim women who are registered to vote are more likely to donate money, volunteer and participate in their communities. To paint a clearer picture, 87% of total zakat giving by Muslim American women was contributed by registered voters, and those who are registered to vote are 15 times more likely to volunteer.
Foreign-born Muslim American women on average gave twice as much zakat per capita compared with their U.S.-born counterparts. The report also finds that, among self-identified non-religious women, 68.4% still made zakat contributions.
More than two-thirds (68.8%) of Muslim American women volunteered 20 or more hours for faith-based causes, while more than half (57.8%) volunteered a similar amount of time for non-faith-based causes. In fact, the majority (60.9%) of Muslim American women who reported volunteering were responsible for 93.6% of the total zakat contributions in 2022.
It is important to note that zakat is based on wealth as opposed to income. This practice, however, introduces a nuance that cannot be ignored—men generally possess more wealth than women. This stark inequality is evident in the statistics from the Institute for Women's Policy Research, which highlight a significant gender pay gap, with women earning about 82 cents for every dollar earned by men. This pay gap ultimately results in a wide gender wealth gap, leaving women with a mere 34 cents for every dollar in wealth that men possess (Kent and Ricketts, 2021).
Women of all faiths have long been important figures in making our families, communities, societies and world better, despite having to fight inequality. Imagine what the world would look like if we didn't stand in their way. Imagine a world in which women were not held back by structural inequality, pay inequity and societal norms.
Holding women back holds our society back. We need to find ways to do more to achieve gender equity.•
__________
Siddiqui is assistant professor and director of the Muslim Philanthropy Initiative at the Lilly Family School of Philanthropy at Indiana University. Send comments to ibjedit@ibj.com.

Click here for more Forefront columns.
Please enable JavaScript to view this content.