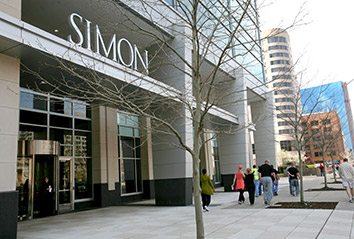 Indianapolis-based Simon Property Group Inc. has been in talks with Amazon.com Inc. to turn some empty store spaces abandoned by anchor tenants such as J.C. Penney and Sears into Amazon fulfillment centers, Bloomberg News reported Sunday, citing a report from Dow Jones.
Dow Jones, citing people familiar with the matter, said the discussions started before the pandemic. The two companies are exploring the idea of buying out occupied space from the retailers in some cases, the report said.
Amazon also has been talking to multiple mall landlords about putting its planned grocery-store chain in former J.C. Penney locations, Dow Jones reported, but it wasn't clear whether that would include Simon malls. There are more than 60 J.C. Penney stores in Simon malls.
The report didn't say how many stores Amazon is interested in, the source said, and it is possible talks could end without a deal.
Simon is partnering with Brookfield Property Partners LP to jointly bid for J.C. Penney, which filed for bankruptcy in May.
If Simon rents the space in prime areas as fulfillment centers, it would probably offer a major discount to what it would charge another retailer, Dow Jones said. Amazon's presence isn't likely to please other tenants, who typically count on big anchors to draw foot traffic to the mall.
Amazon has already bought some failed malls and turned them into distribution centers. And Simon hasn't been shy in recent years about filling empty anchor spaces with non-traditional tenants.
Please enable JavaScript to view this content.