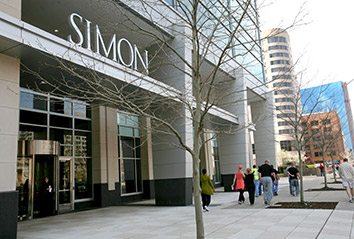 J.C. Penney Co.'s approved new ownership group, which includes Indianapolis-based shopping center giant Simon Property Group, plans to shake up the merchandise selection at the department store chain, Simon CEO David Simon told analysts Monday evening during a quarterly earnings call.
Simon and Brookfield Asset Management Inc., along with J.C. Penney's creditors, signed an agreement last month to purchase the 118-year-old Plano, Texas-based retailer out of bankruptcy. The deal was approved by a federal bankruptcy judge on Monday and is expected to close Nov. 20.
If successful, the acquisition will save about 600 of J.C.  Penney's 800-plus stores and about 60,000 jobs.
It's the latest in a string of retail acquisitions for Simon, which teamed up with New York City-based Authentic Brands Group to acquire men's retailer Brooks Brothers and denim seller Lucky Brand Dungarees in August. The two also teamed up to acquire two teen-oriented retail chains out of bankruptcy: Forever 21 in February and Aeropostale in 2016.
On a call with analysts Monday, David Simon said Authentic Brands will also take an ownership stake in J.C. Penney.
The new ownership arrangement, Simon said, will "absolutely" influence the mix of merchandise that J.C. Penney sells.
"We're going through the vendor matrix now," Simon said. "Eventually, I think Penney will end up distributing those kind of brands that Authentic Brands Group controls, in the J.C. Penney department store. So it will be a win/win for everybody."
As an example, Simon named Juicy Couture—a women's clothing brand that is controlled by Authentic Brands but one which J.C. Penney does not currently sell.
J.C. Penney, which last turned a profit in 2010, filed for Chapter 11 bankruptcy protection in May.
"We believe in the Penney's brand," Simon said, while also acknowledging that "we have a tremendous amount of work to do with our partner Brookfield and the management team at Penney to sustain their turnaround."
Simon also released third-quarter results Monday that missed analyst predictions.
The real estate investment trust said it had funds from operations, or FFO, of $723.2 million, or $2.05 per share, during the third quarter. That compares to $1.1 billion, or $3.05 per share, during the same period of 2019.
FFO is a closely watched measure in the REIT industry. It takes net income and adds back items such as depreciation and amortization.
The average estimate of seven analysts surveyed by Zacks Investment Research was for funds from operations of $2.25 per share.
Profit fell 73% from a year ago, to $145.9 million, or 48 cents a share.
Revenue of $1.06 billion was down 25% from a year ago, also missing Wall Street forecasts. Three analysts surveyed by Zacks expected revenue of $1.12 billion.
Simon said the ongoing pandemic negatively impacted its FFO by $1.10 per share. The impact was partially mitigated by cost-cutting measures that had a positive impact of about 23 cents per share.
The company said occupancy at its mall was 91.4% as of Sept. 30 and base minimum rent per square foot was $56.13, an increase of 2.9% year-over-year.
As of Nov. 6, Simon said, it had collected 72% of its billed rents for the second quarter and 85% during the third quarter.
"Despite COVID-19, we are encouraged by the increases we are seeing in shopper traffic, retailer sales and tenant rent collections across our portfolio," David Simon said in written remarks. "We continue to improve our company through innovative investment opportunities which, when combined with our A-rated balance sheet, sets us apart and allows us to re-define the future."
Company shares closed at $79.10 each Monday before dropping to $74 in after-market trading.
Please enable JavaScript to view this content.