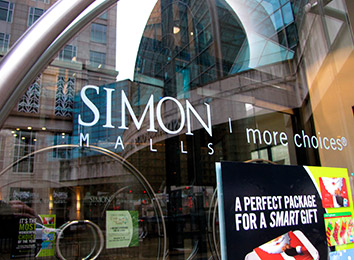 Indianapolis-based Simon Property Group Inc.—the largest owner of shopping malls in the United States—said Monday that business conditions are getting better and raised its financial outlook for the rest of the year.
"Our business is solid and improving," CEO David Simon told analysts during a conference call Monday afternoon after the real estate investment trust released a second quarter financial report that exceeded analyst estimates.
The company said it expects to earn a full-year profit of between $5.47 and $5.57 per diluted share, with full-year funds from operation, or FFO, of between $10.70 and $10.80 per diluted share.
This marks the second straight quarter that Simon has increased its outlook. In May, the company had said it expected a full-year profit of between $4.47 and $4.57 per share, with FFO in the range of $9.70 to $9.80 per share. In February, Simon had said it expected full-year FFO in the range of $9.50 to $9.75 per share.
FFO, an important metric in the REIT industry, takes profit and adds back items such as depreciation and amortization.
Second-quarter FFO was $1.2 billion, or $3.24 per diluted share, up from $747 million, or $2.12 per diluted share, during the same period a year ago.
The average estimate of eight analysts surveyed by Zacks Investment Research was for funds from operations of $2.37 per share.
The shopping mall real estate investment trust posted revenue of $1.25 billion in the period, also surpassing Street forecasts. Three analysts surveyed by Zacks expected $1.18 billion.
The company's second-quarter profit attributable to common stockholders was $617.3 million or $1.88 per diluted share, compared with $254.2 million, or 83 cents per diluted share, during the same period in 2020.
Last quarter's financial results included a non-cash gain of $118.4 million, or 32 cents per diluted share, related to the reversal of a deferred tax liability associated with an international investment.
Occupancy at Simon's U.S. properties stood at 91.8% as of June 30, compared with 90.8% three months earlier.
"We're tickled pink by the demand, by the new retailers and tenants that are surfacing," Simon said.
Responding to a query about the recent rise in COVID-19 cases and the Delta variant of the disease, Simon said the company has not seen an increase in COVID-19 cases among the employees and management at Simon malls in current COVID-19 hotspots, including properties in Springfield, Missouri, and in Florida.
"The mall is safe. Next question," Simon said.
Simon also said the company does not plan to mandate vaccines for employees, but "where we need to mask up, we'll mask up."
The company released its financial report after the stock market's close on Monday. Shares of the company were up 2.4% Tuesday afternoon, to $129.49 each.
Please enable JavaScript to view this content.