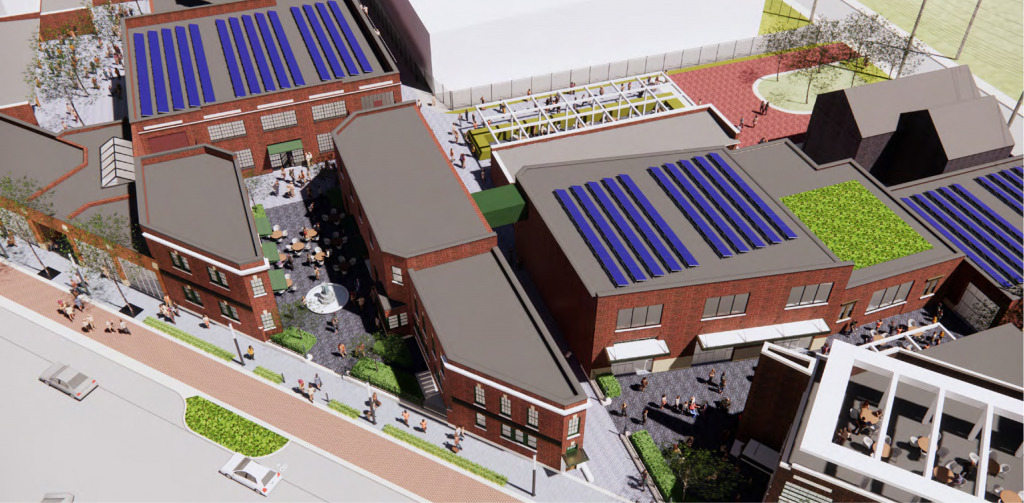 The owner of several buildings directly across from the high-profile Bottleworks District on Massachusetts Avenue plans to redevelop the property in a similar but smaller fashion with courtyards, residential units and new office and retail space.
The project, known as The Jungclaus Mill, is being proposed by the owners of general contracting firm Jungclaus-Campbell Co. Inc., which has called the triangular site in the 800 block of Massachusetts home since 1895.
The development—a cost for which has not been disclosed—is expected to take place in two phases over at least five years, and perhaps even longer.
The project would total about 54,000 square feet of leasable office and retail space, including at least one new, two-story building of about 6,600 square feet. 
Bill Nagler, vice president of Jungclaus-Campbell and the manager of The Jungclaus Mill, said the project as an "adaptive reuse of our existing buildings and spaces, with a limited amount of infill construction" on the property.
None of the existing buildings will be torn down as part of the project.
Jungclaus-Campbell, which was founded in 1875, is expected to be the anchor tenant for the 2.6-acre development. Nagler said the firm also does not plan to cancel any existing tenant leases as part of the project, such as that of Goulding & Wood Inc., which builds elaborate pipe organs and is located in a building off Massachusetts Avenue.
The proposed Jungclaus Mill project would be developed on a "staggered, incremental" timeline, generally broken into two phases.
The first phase would focus on short-term improvements to the Art Bank of Indianapolis building at 827 Massachusetts Ave., exterior improvements to existing structures, and a 45-space parking lot occupying property currently used as a storage yard for Jungclaus-Campbell's heavy equipment.
It would also feature a U-shaped arrival hub for drop-offs and pick-ups to cut down on parking needs.
The second phase would add the infill building, located directly next to the Art Bank, along with the addition of several courtyard spaces, and townhouses and live-work units along St. Clair Street. It would also add another 30 spaces to the parking lot, with the permanent removal of all Jungclaus equipment to a new location.
Jungclaus-Campbell is taking on the project as a solo venture—rather than partnering with a developer—because it wants to retain long-term ownership of the property and control the site, he said.
"We want to control the vision," said Nagler, noting doing so includes retaining the historical components of the existing buildings while integrating more contemporary designs into the site.
The proposed project, which is still in its early stages, would include a triangular park at St. Clair Street and Massachusetts Avenue, three courtyard areas with interior access to retail spaces and two dedicated pedestrian passageways between existing buildings. At least one of the courtyards would be able to accommodate a seasonal outdoor market.
The former mill building, which totals just under 20,000 square feet, is among the buildings that will be repurposed for office and retail space, with concepts that include executive offices or conference rooms overlooking one of the courtyards.
"Preserving the historic character of these buildings, and this campus, is our guiding principle," Nagler said. He added the group hasn't yet discussed the project with city officials, but is open to discussions with the Indianapolis Historic Preservation Commission, which will have to approve any plans for the project. 
He said the project is intended to breathe new life into the property, which has been used largely for construction purposes for more than one-and-a-quarter century.
The redevelopment is expected to be be entirely tenant-driven, rather than comprised of any speculative development. Jungclaus Mill has partnered with commercial brokerage Lee & Associates to handle listings for the property. It's also working with local firm Ratio on the designs for the project.
"The goal is to make sure that we don't handicap ourselves by getting ahead of ourselves, we can be patient and do the right transactions with the right tenants," said Richard King, the listing agent and broker for the development.
"It's really a blank canvas for businesses to come to us and say, 'This is our vision for our business at your property. How can you help us?' Then we can see if we can make it work."
Benjamin Ross, a preservation specialist and architect with Ratio, is the lead on the Jungclaus Mill project for the firm.
"This site has multiple buildings with sort of strange geometries—small streets and courtyards that are really special spaces," he said. "We just don't have a lot of that in Indianapolis. This is a really incredible property because it has survived."
He pointed to the work Hendricks Commercial Properties has done with Bottleworks, which has resulted in the reconstruction of several smaller streets throughout that development, and said the Jungclaus project offers a chance to do the same.
"This is a great opportunity to help … weave the neighborhood back together," he said.
Jungclaus was responsible for the construction of several iconic buildings in Indianapolis, including the Columbia Club in 1925, Circle Tower in 1929 and the Coca-Cola Bottling Plant in 1930.
Nagler's father, Tim Nagler, acquired the Jungclaus-Campbell construction company in 1990 from his father-in-law Bill Campbell, about 33 years after he had bought it from the Jungclaus family.
The properties were acquired by Nagler in 2014 and transferred to his sons—Bill, Jim, John, Peter and Tom—along with the company upon Tim Nagler's death in 2020.
King said several companies have already expressed interest in the site—specifically what he billed as Class A office space—but emphasized the project will largely focus on original concepts and local businesses, rather than national brands. He said there's no plans for fast food dining options at the Mill, but rather on higher-end fare such as chef-driven restaurants and local breweries or distilleries.
Three spaces are already listed for lease at the property, including 3,200 square feet at the Art Bank, a 4,200-square-foot freestanding building at 811 Massachusetts Ave., and a storefront space of up to 3,200 square feet at 849 Massachusetts Ave. The spaces range in price from $30 to $40 per square foot per year.
King said that while it's likely most of the space in the development will fetch similar rates, the focus is less on rent rate and more on whether a prospective tenant is "the right opportunity for the project" to pursue.
He said the project is driven in large part by the success of the $300 million mixed-use Bottleworks complex, which is still under development but has opened a boutique hotel, a large food hall, several other retail components and some of its office space.
"We want to have complementary tenants [to Bottleworks] and add to the neighborhood vibrance," King said. "They are much farther down the road and they have a lot of opportunities, but they're somewhat limited compared to us—we have entire campus and we have structures" to fill up.
One component of the project that hasn't been fully fleshed out yet is the residential spaces. The conceptual plan includes a few live-work units as well as a couple townhouses, but those are still in the early stages of consideration, Nagler said.
He declined to say how much the development as a whole is expected to cost because those figures could fluctuate based on construction costs and development scope, but he said the firm "has the means to finance the project" itself. However, the firm does plan to look into earning some federal historic tax credits for the project.
He said he expects it to take anywhere from five to 10 years for Jungclaus Mill to be completed and reach full capacity—something he said is fine by its owners.
"How do we take our time to slow it down and make it right?" Nagler said. "We don't need to rush anything, especially craftsmanship."
Please enable JavaScript to view this content.