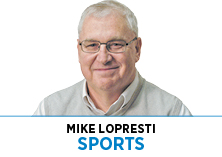 It's become a sports year baby boomers can love as much as their early-bird specials. Remember the replays of the happy codger at the Speedway a couple of weeks ago? The one who is not all that far from being eligible for AARP membership and senior menus at selected restaurants? Remember Helio Castroneves proving that old guys can still climb fences?
Spider-Man, right? Well, Spider-Man was created in the comics as a teenager. Castroneves is 46 and now the fourth-oldest Indy 500 winner on record. When he took his first checkered flag in 2001, Alex Palou—the driver who finished second a fortnight ago—had just turned 4.
But so it has gone in the Year of the Geezer.
Nick Saban coached Alabama to its latest national football championship at the age of 69. The Tide legend to whom Saban is often compared, Bear Bryant, retired at 69. When asked after his final game what he would do without football, Bryant answered, "Probably croak in a week." Four weeks later, he was dead.
A lot of coaches see a moral to that story: Keep working. Saban has now signed through 2028, when he will be 77.
Tom Brady earned a Super Bowl MVP award at the age of 43. Just like he did when he was 24.
Phil Mickelson won the PGA at 50. He is the only man in history who, if he wanted to, could have captured a major one week, then played on the Senior Tour the next.
Novak Djokovic still ruled tennis with his 18th Grand Slam victory, at the Australian Open. He's 34. In tennis, that's like ancient Rome. As this past week began, he was plowing through the French Open, where his main rival seemed to be Rafael Nadal, who is 35.
Back to Castroneves: All race winners take victory laps, but they usually require a car. You might recall how he trotted north along the front stretch to cavort with the crowd, then south. By the time he was done, he had nearly completed the Indianapolis 501.
"People put a number and a label and say, 'The guy is old,'" he said of age. "I still have the fire. I love what I do."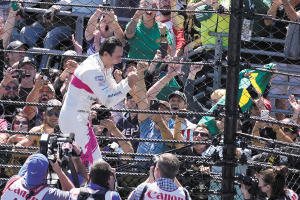 So, who's next to beat the clock? How about Mike Woodson? Indiana University has given him his first college basketball coaching chance at 63. Some have questioned if that might be a bit, uh, mature for a rookie college coach. John Wooden retired with 10 national championships at 64. But as Castroneves was saying, the fire can still burn.
Which brings us to the Mike Krzy-zewski Farewell Tour.
He will turn 75 next February, and one more good run at Duke would fit perfectly into the current golden age of the ageless. This puts into context how long Krzyzewski has been at his Blue Devils post: When he coached his first Duke game in 1980, this year's national championship coach—Baylor's Scott Drew—was 10 years old.
All five coaches he has beaten in the national championship—Kansas' Roy Williams, Michigan's Steve Fisher, Arizona's Lute Olson, Butler's Brad Stevens and Wisconsin's Bo Ryan—are gone. Retired or on different career paths or dead. Duke has played 3,118 games in its history, and Krzyzewski has been the coach for 44.9% of them.
His saga resonates in this state for a couple of reasons.
His first coaching paying job was as an IU graduate assistant for the 1974-1975 season. Quinn Buckner was one of the Hoosiers back then. "I knew he'd be successful. I didn't know he'd be what he is," Buckner said. "X's and O's he was getting from one of the brilliant minds in basketball [Bob Knight], but he also had the ability to get everybody to buy into them without anybody feeling left out. That sense of belonging and commitment to one another. I'm a young man at that time, but you always had that feeling about Mike."
Buckner got to know Krzyzewski better when they worked together with Knight during the 1984 Olympics. "He's as unique as anybody I've ever been around," Buckner said. "There are people who have power who want to let you know they have power. He's not like that, but he exudes it in everything he says and does."
Another Indiana thing about Krzyzewski: An astonishing number of memorable moments in his career have happened within the city limits of Indianapolis. His Duke teams have played 11 NCAA Tournament games in this town. He has lost two.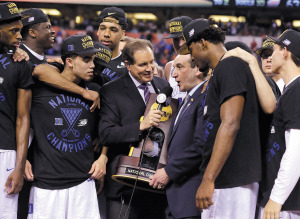 He was here on the first day the Hoosier Dome hosted an NCAA Tournament session in 1987. Duke committed 23 turnovers but held off Texas A&M 58-51 in the first round. "It's a hell of a lot better to win ugly than lose with beauty," Krzyzewski said that day.
He was here in 1991. That was already his fifth Final Four, but the Krzyzewski Era fully dawned when Duke shocked No. 1 and unbeaten UNLV 79-77. The Rebels came in 34-0 and had scored at least 95 points in 22 games. Two nights later, the Blue Devils beat Kansas for Krzyzewski's first national title.
Not every day in Indy has been pleasant. He was here in 1996 when Duke was booted out of the tournament by a 5-5 guard from Eastern Michigan. Earl Boykins scored 23 points in a 75-60 upset of the Blue Devils, the first time in 41 years they had lost in the first round.
But Krzyzewski was back for the Final Four in 2010. That included a 78-57 semifinals breeze over West Virginia, with 23 points from Jon Scheyer. He's the guy who is going to take Krzyzewski's place, and good luck with that one. Two nights later, Duke led Butler by two points in the final seconds and Gordon Hayward's half-court shot was in the air, looking like it might be good. Need we go on?
Krzyzewski was on the losing end here in the 2013 regional championship, a game turned famous when Louisville's Kevin Ware shattered his leg in an awful sight, and the Cardinals responded by outscoring Duke 50-31 in the second half.
And he was here in 2015 for a fifth national championship, his third in Indy. That young coach who celebrated his first championship in the Hoosier Dome in 1991? By the fifth, he was picking up his grandkids after beating Wisconsin in Lucas Oil Stadium, his life's journey partly measured by his stops in Indianapolis.
Now comes Krzyzewski's last ride. By the way, Bankers Life Fieldhouse will host a first and second round next March. He might as well show up one final time in Indianapolis. Just like Saban might have Alabama here for the College Football Playoff championship game in January at the age of 70, and Castroneves plans to chase a fifth Indy 500 victory next May at the age of 47.
"For Mike, that's just a matter of course," Buckner said of championships and the young assistant he once played for. "Mike is into the process."
They are aging champions. Hear them roar.•
Lopresti is a lifelong resident of Richmond and a graduate of Ball State University. He was a columnist for USA Today and Gannett newspapers for 31 years; he covered 34 Final Fours, 30 Super Bowls, 32 World Series and 16 Olympics. His column appears weekly. He can be reached at mjl5853@aol.com.
Please enable JavaScript to view this content.