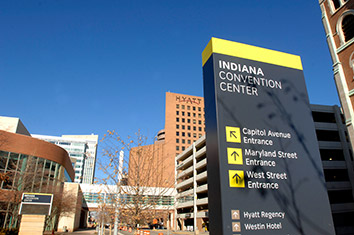 City tourism officials on Friday said the Indiana Sports Corp. is finalizing plans to host multiple college basketball "bubbles" at the Indiana Convention Center before the year's end.
Visit Indy President and CEO Leonard Hoops addressed the topic during the monthly Capital Improvement Board meeting, indicating there are tentative plans for up to three separate bubbles.
The events would run sometime in late November or early December, but it's not known how many teams would be involved in each. Additional details are also being held close to the vest.
"The Sports Corp is very close to nailing down several single site basketball events that we have been working with them on," Hoops said. "There are three that we're hopeful for, in the weeks beginning Thanksgiving weekend, into early December."
A spokesperson for Indiana Sports Corp. confirmed the organization is close on its plans for the bubbles, but declined to comment further because contracts have not been finalized.
Bubbles are controlled environments that rely on stringent testing and monitoring protocols to prevent participants from being exposed to COVID-19. The sports corporation in September sent a pitch to college basketball programs across the United States offering the city as a safe place to host games.
Andy Mallon, executive director of the CIB, said Indiana Sports Corp's effort to support the events includes the development of its own testing protocols, which could be adopted for other events at the convention center and throughout the city.
"We feel that it's very beneficial to not just the sporting events, but opening up that capacity, potentially to other clients of the convention center … to have really reliable tests within hours instead of within days," he said.  "So that is a byproduct that will happen along with these basketball games, which we're really excited about."
Throughout the summer, the convention center has hosted a variety of youth basketball tournaments in highly-controlled environments—something leaders have pointed to as a workable model for college bubbles.
The tournaments have been a boon for the CIB as it's sought to regain footing in the tourism industry during the pandemic, making Indianapolis one of the few cities in the United States to be hosting events.
In September, the CIB saw its best performance since May, bringing in $5.6 million in revenue. The figure was off from budget by about $7.4 million, or 57%, and down from the prior year by $9.2 million, or 62%. Most all of the income—about $5.3 million—was from tax revenue.
Year-to-date, the board has brought in about $59 million in revenue, about $45 million below budget.
In September, hotel occupancy for central Indiana was about 41.3%, including about 25% for downtown properties. Hotel revenue was down about 55% from prior year.
During his comments to the CIB board, Hoops indicated tourism officials still anticipate hosting the Big Ten Conference football championship in mid- to late-December and a slew of other events—including the NCAA Men's Basketball Final Four—in the first half of 2021.
"We feel confident that the Final Four will be happening in Indiana next year," Again, there's a lot of months between now and there to get through, but if anything, we're getting more optimistic."
Please enable JavaScript to view this content.