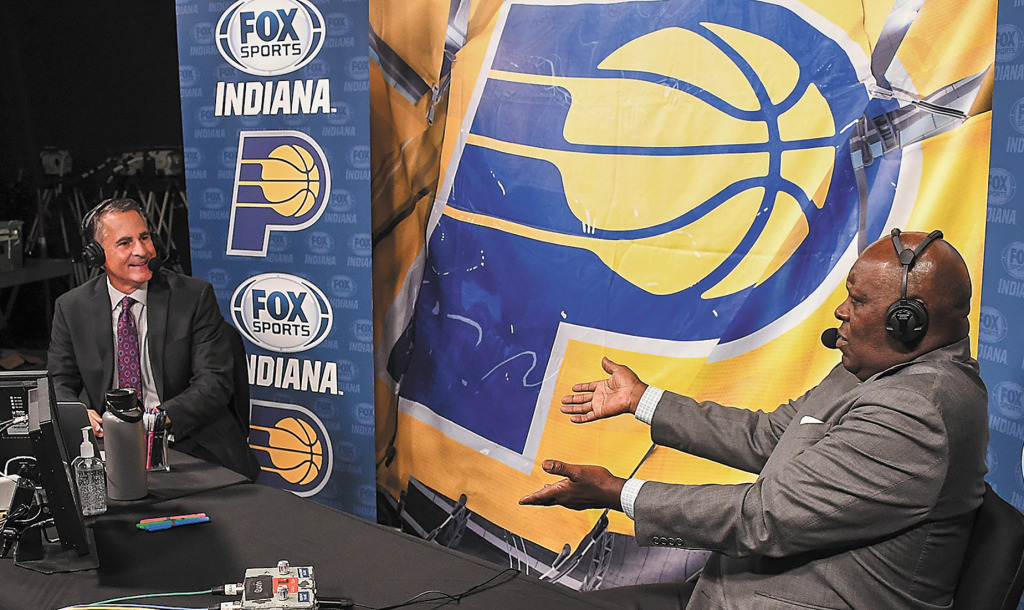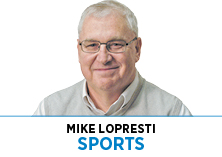 Tipoff is nearing. The Indiana Pacers face the Miami Heat in a playoff game in an hour and all is ready for the TV broadcast team of Chris Denari and Quinn Buckner. There's the huge screen before them, plus additional smaller monitors. There are the chairs each man will use—12 feet apart. The crew is around to help, all in masks.
"The new normal," Denari calls it.
"Life's different now," Buckner is saying.
Isn't it, though? Once upon a time, they would be courtside, calling the action with the roar of the crowd around them as accompanists. This game will be played 970 miles away.
It is 2020. As unusual as NBA basketball in August, or playoff games on weekday afternoons, are broadcasters working from studios, describing plays happening far, far over the horizon—in this case, central Florida. From where Denari and Buckner sit, they might as well be in NASA Mission Control in Houston, discussing the Pacers landing on the moon.
"I've got all the tools that I would have courtside. It's just that we're not at the court," Denari says. "I think we've all proven we can do it. It's not the exact way we would want to do it. Once the game starts, I'm really into the game and I'm watching just like I would. I almost lose myself in the game. You tend to forget that you're just in a studio."
Denari has come up from the grass roots as a play-by-play man, so he's seen a lot. Because of equipment problems, he once had to call an IUPUI-UIndy game looking through a glass window, with wires clipped to a telephone in the athletic director's office. Compared to that, this is cake.
But it is different. The broadcasters are four states away from the team they're trying to chronicle. No catching players for a word or two in the hotel lobby or picking up a nugget on the team bus. No chatting with officials or insiders for the other teams.
"Those are the things that you miss that you don't get where we are now," Denari says. "You lose that intimate relationship that I think is important for a broadcaster. I have people ask me all the time, 'How do you do this and what's it like?' I say, 'We're really no different than you. You're watching the game on a television; we're watching the game on a television. We're just the ones doing the talking and you're the ones doing the watching.'"
It's an odd dynamic, requiring some adaptation. Buckner feels that, too.
"I believe this is infotainment, so I try to make sure I provide information but also entertainment. But I also like to think about it in a holistic perspective, so I'm the one watching what's going on on the benches, who has on shoes that are different, what kind of interaction players are having.
"When you're at a game, you can see that. When you're in this situation, it's just different, because what I have as a perspective may be different [from] those who are onsite, because you're limited in what you can get in terms of cameras. That's just the way that has to be. That's a big part for me. I like to see the game inside the game. And you can see some of that, but you don't get it all."
One thing they certainly don't get is crowd noise, and the onsite vibe of the competition.
"You can feel the game when you're there and you can feel the energy," Buckner says. "You get a sense of that feeling; you just don't get it the same way. I can look in a guy's eyes and tell the intensity. That's the blessing of having played and understanding what that look looks like."
Denari mentions the odd feeling of no crowd noise coming through his headphones. He is wary that he not try to fill the void with too much talking, or too loud a voice. That's why he reviews every game. "I think you really self-critique … more in this situation than you would in a regular broadcast, because it is different."
But here's the thing. They're working, and lots of folks aren't.
Denari: "I think the biggest thing for us is, we're just glad to be able to do it, no matter how you're able to do it."
Buckner: "Three months ago, we didn't have basketball. This was a maybe. So we're way ahead of the curve, the fact we're able to do a game."
This is a 1 p.m. game, and when's the last time you saw that on a Thursday for the playoffs? The Pacers will be playing opposite "Jerry Springer" and "The Young and the Restless" on other channels. Denari says it feels like one of those first-round NCAA Tournament games, or the Maui Classic.
Jeremiah Johnson and Eddie Gill do the pregame show from upstairs at Bankers Life Fieldhouse, with workers occasionally in the background, busy with the facility's renovation project. Nate McMillian is interviewed from Florida, half his face covered by a mask.
The game starts, and Denari and Buckner man their stations. Just down the hall in Bankers Life, Mark Boyle is calling the radio version of the game, from a studio normally used to operate the scoreboards during Pacers home games. The Heat get a quick lead, the two teams start jawing at each other, and Buckner is quick to mention it. Normally, he would have had both eyes on the actual players involved, but this time, he catches it from a monitor. Still, it works.
Matter of fact, what you hear and see coming through the TV screen is not all that different: a credit to the broadcast crew, to technology, to the NBA itself, for managing this damn-the-virus, full-speed-ahead salvation of a season.
"Extraordinary," Buckner calls it. "The things that people had to go through to pull this off, to get the bubble. You're at the heart of what every human being wants. Safety and security are what people want, and the players have that in spades."
He later tells the audience on the air about the NBA, "They basically took a business to Disney and made it work."
Denari has a story.
"The best part of it is, I went to get my oil changed the other day and one of the gentlemen said, 'Hey, when are you flying back down to Orlando?' I told him, 'No, I'm doing all the games from the studio.' He said, 'I had no idea; it sounded just like you were there.' I said, 'That's what we're trying to do.' If you tune into the game, if you didn't know, you'd think we were there."
Makes you wonder if remote broadcasting will stay around in a cost-conscious world once the pandemic ends. Denari and Buckner wonder that, too.
Indiana ends up losing. Afterward, Denari and Buckner exit an empty Bankers Life and go home, a thousand miles away from the team they just broadcast. A few days later, the Pacers would be swept by Miami—time to leave the bubble and their Disney hotel. Denari and Buckner now can think about next season—whenever that starts—wondering if they will still be in that studio to call it, 12 feet apart.•
__________
Lopresti is a lifelong resident of Richmond and a graduate of Ball State University. He was a columnist for USA Today and Gannett newspapers for 31 years; he covered 34 Final Fours, 30 Super Bowls, 32 World Series and 16 Olympics. His column appears weekly. He can be reached at mjl5853@aol.com.
Please enable JavaScript to view this content.