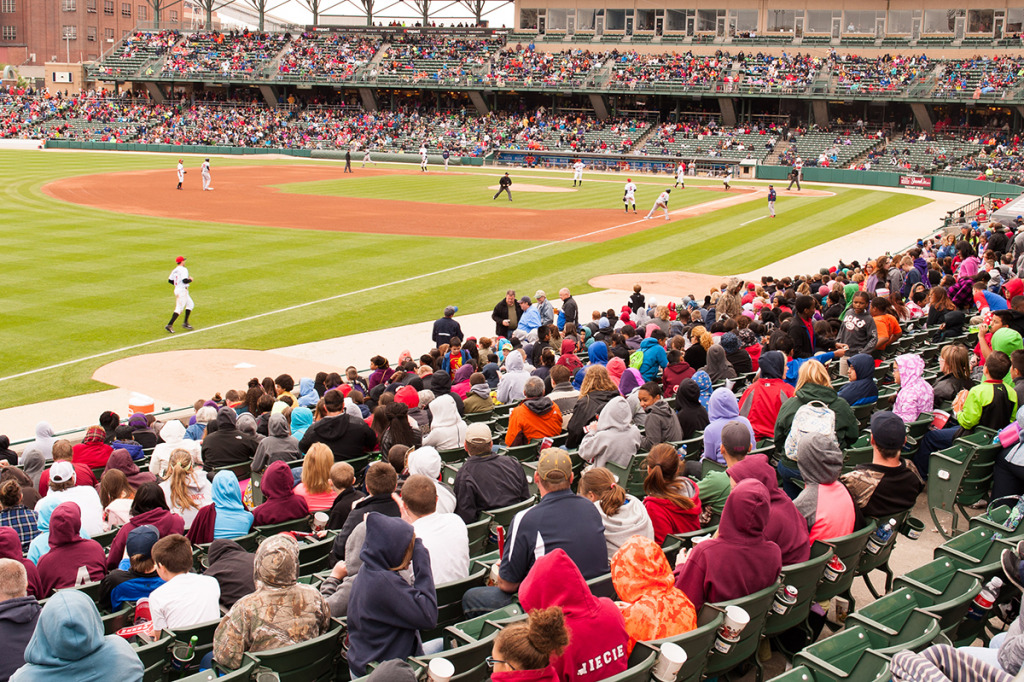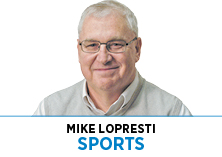 The lights were out most of the winter at Victory Field.
"Dark as this building's ever been," Indianapolis Indians President Randy Lewandowski was saying. The Indians hadn't played a baseball game in more than a year, and the virus still raged.
What do you do when a pandemic is beating at the gates, threatening to roll over your family's showplace? Bruce Schumacher still went to work lots of days. At times, he would walk around the deserted concourses, looking at the emptiness and thinking back on happier summers.
"We need to get back to a point where the field has players on it," he would think. "And the stands have people in them."
Then he would go home and hope that was one day closer to the end of the tunnel. Maybe 2021. Maybe April 13, according to the schedule that just came out. The Indianapolis Indians are to host the Nashville Sounds; when the first pitch is thrown, it will have been 591 days since the last Indians pitch was thrown in Victory Field.
"A lifetime," Lewandowski said.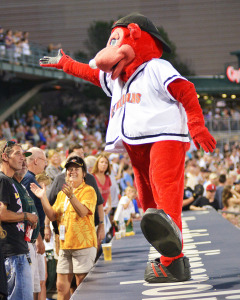 The corner of West and Maryland streets is seeing stirrings of rebirth. The schedule is out. The Indians have reupped their affiliation with the Pittsburgh Pirates into the haze of the future of 2030. The realignment wave that swept through minor league baseball has teams such as the Iowa Cubs and Memphis Redbirds coming to town. The desire to minimize travel because of the virus has dictated that nearly every series be six games, Tuesday through Sunday. On Mondays, the Indians will rest and the grass will grow.
But that's talking baseball. We're here to talk about love.
The love a son feels for the club that has always been the center of his family's lives. Max Schumacher has been around the Indians for 64 years. Bruce came along to work for his father in 1983. He has been there forever, as Indians employees tend to be, be it by blood or passion. This will be Lewandowski's 28th season. The franchise has been in business since 1902, as stable as helium. Well, until last year.
This is the way it was for Schumacher:
"We had the 2020 schedule out, and I would keep it at whatever desk I was working at. And I would look at it and think, 'Boy it would have been a heck of a night for Friday fireworks,' or, 'This would have been a great day for a day game.'"
On July 4—the holiday the Indians always, always spend in Victory Field—Schumacher visited friends and watched fireworks. "I haven't done that for over 35 years, and hopefully, I'll never do it again," he said.
'That was tough on him'
And he often went to see Max. His father, 88, and mother are in a senior citizens' complex now, and with the virus still roaming about, rarely venture out except for doctor appointments. But Bruce knows one place Max wants to go.
"It would have lifted his spirits to get to a ballgame or two last summer, and that didn't happen. Right now, that's one of the things he's pointing toward, that he's going to get to see baseball at Victory Field this summer."
Max suffered a stroke four years ago. Might have slowed him down but didn't dent the franchise he led for eons. He had been around long enough to see everything with the Indians, but he had never seen anything like 2020.
"At this time in his life, you never know how many seasons any of us have left," Bruce said. "When it's been such a big part of your life … I know that was tough for him."
Tough on the Indians as well. Goodness, the money lost. Tough on the son who took his place: "I try not to get too fixated completely on our situation because I know it's challenged everyone one way or another," Bruce said of the pandemic. He has a 91-year-old friend who hasn't been out of the house since March. There are felons not in prison that long.
So now when Bruce Schumacher ponders the chance of baseball in 2021, he thinks of his father. Oh, and he also thinks of the nuns.
The Indians kept Victory Field alive last summer with alternate options. They created a nine-hole par-3, and Lewandowski still remembers how much fun it was to hit a wedge from the new upstairs executive club onto the grass, and to look around the ballpark and see live visitors with hot dogs in hands. "It was just awesome to interact with our fans because we hadn't done it, and that's what we do," he said.
They also showed movies. One was "A League of Their Own," and Schumacher took a call that week requesting a pod of seats for the sisters of some order or another. Alas, the pods were sold out. "The nuns were on the waiting list," he said. Someone canceled and they were able to attend. Schumacher visited them in the outfield grass and admitted there might have been "a beer or two in the group." He told them how happy he was they could come to the movie. They told him how happy they'd be when they could come to a baseball game.
Daring to hope
Schumacher thinks a lot about that these days.
So, is it OK now to hope, with vaccines and dropping infection numbers and spring coming?
"Anytime you hear pitchers and catchers report, those are probably the four best words I hear every late winter," Lewandowski said. "I think they probably resonated a little more with me this year."
He understands how it'll be, selling tickets this season. There are those ready to come to the ballpark, and those who aren't. "I'd still tell you there's some trepidation, and I think anybody else in the sports world would tell you that. People are scarred; we've been told, 'Don't be around people.' That's going to be one of the toughest things to overcome."
That and the continual sense of uncertainty. "I tell people we're probably going to come up with six or seven different plans," Lewandowski said. "But we'll probably have to use the eighth or ninth one."
That's pretty much how it works for everyone. "I'm reasonably confident we'll get started on April 13 as I sit here today, but all our lives are subject to change," Schumacher said. "Being flexible in life is always a good thing. Right now, it's essential."
Speaking of essential, isn't this year that way for the Indians? They made it through 2020 OK, but another lost season is unthinkable. "One year was perilous enough. Two years of it would have caused us to make some really difficult decisions," Schumacher said. "It looks like we're not going to have to find out."
So, he'll look forward to April 13, no matter what attendance the Indians are allowed to have. He's pretty sure he knows two people who'll be there.
"I don't think he and Mom would miss it," Bruce said of his father. "I'm going to be pretty emotional."
Play Ball will mean a lot that day. The Indians are a pandemic story. Like everyone.•
Lopresti is a lifelong resident of Richmond and a graduate of Ball State University. He was a columnist for USA Today and Gannett newspapers for 31 years; he covered 34 Final Fours, 30 Super Bowls, 32 World Series and 16 Olympics. His column appears weekly. He can be reached at mjl5853@aol.com.
Please enable JavaScript to view this content.