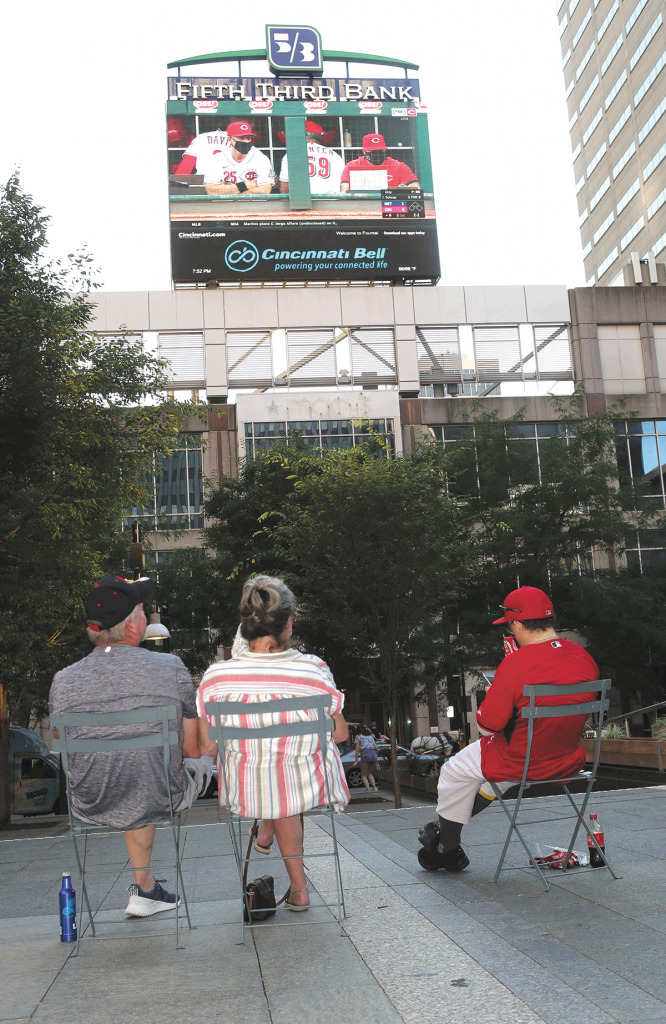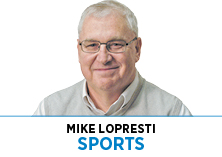 The man sits alone in a blue lawn chair, outside the locked main entrance of Great American Ball Park in Cincinnati. He wears a Reds shirt and has a radio, and is gazing through the bars of the metal gate at whatever he can see inside—the top of the centerfield wall, the left field bleachers, a slice of the scoreboard that reads "Opening Day 2020."
"It's like watching baseball through a jail cell," Kurt Meier says. "But you can hear the crack of the bat."
This is Opening Day—even if it is July 24. Baseball is in Meier's blood, and no pandemic can change that, so he settles in to await the first pitch, to be thrown an hour later in an empty stadium. It is 2020 in America.
Take me out to the ballgame, take me out with the crowd …
A familiar song. Then again, not much this summer is familiar. That gets reinforced by two nights doing what many Hoosiers often do in the summer—spend a night at Victory Field, head to Cincinnati for the Reds.
Take me out to the ballgame …
You must have your temperature taken to get into Victory Field. You buy hot dogs from concession workers behind glass and walk in assigned lanes on the concourse. Two squads of college kids from a summer league are playing—The A Team vs. the Snapping Turtles. This is as close as anyone is getting to baseball at Victory Field this summer.
Upstairs on the suite level, not far from the nifty new Elements Financial Club behind home plate, club President Randy Lewandowski explains what it has been like for his franchise. He speaks through a red Indians mask.
"I think the words that I've used most often are surreal and sobering. But everybody's going through something, everyone's fighting through the best that we can. Baseball players, front office people, we get into a routine in the spring and summer, and we were ready to go March 12.
"We were four weeks away from opening up our season, we had everything ordered, stocked, the ballpark was getting into shape—and then everything just came to a stop. We've done a lot of running-in-place since then," he said.
Victory Field has hosted a blood drive, an ice cream social, a smattering of these college games. The field will be transformed into nine golf holes in late August, with the new club transformed into something of a 19th Hole.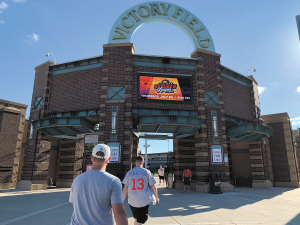 "Most other teams and ballparks are doing exactly what we're doing; hosting youth league games, college games, turning it into a golf course, movie nights," Lewandowski says. "Anything and everything that you can come up with to utilize a ballpark and the uniqueness of it. But that doesn't replace your 70 home dates.
"We hadn't even turned on the field lights until the first college game. Think of that. We didn't turn them on until July 16. The ballpark still looks good, but it's not in its normal shape, just because we've got people working half shifts, or half days. But it's still living and breathing and we've got to take care of it."
What business is not facing moments of truth? That includes the Indians. "The challenge of a lifetime," Lewandowski calls it.
"We've done a really good job in all the years that we've been successful to squirrel some money away, so we believe we've got a plan in place. It'll get lean, don't get me wrong. But if we can come back in April of 2021, it's going to hurt, but we'll be here.
"There'll be some in our industry and a lot of other industries that won't," he said. "We're going to go 18-plus months without our core revenues, and that's hard for any business. But we're in good enough financial shape that we can hopefully weather that storm.
"But it's going to be important that we play in 2021. Right now, there's not a certainty of that."
There is baseball on this night, anyway, and a crowd to watch it. This is not an Indians game, with players on the cusp of the major leagues, but rather a pitcher from Purdue throwing to a hitter from IU. The announcer kindly requests that all foul balls be returned, to defray costs.
"If you had told me we'd sell a thousand tickets for a college summer league game … I just equal that to pent-up demand," Lewandowski says. "People want to get out, they love baseball, they love Victory Field, they want to be here, they want a hot dog."
On March 12, Lewandowski sat near the Pirates dugout in spring training, when his phone started to blow up. The virus was beginning to shut down baseball. In two hours, the Indians season stared into the abyss.
"March 12 will be a date that sticks in my mind forever," he says. "I'm a pretty conservative thinker, I worry a lot. I think about what can go wrong, rather than what's going to go right, for better or worse. I thought of a lot of things. But I never thought that we'd lose an entire season due to a virus.
"I guess I boil it down now to the fact that I don't want to look too far ahead, because everything is still changing so fast. Just try to get through every day, every week, keep our sanity about us. … Sometimes, you don't think it's real."
From where Lewandowski sits, you can see a right field sign in Victory Field that fights to stay relevant in 2020: It's Ballpark Season.
Take me out with the crowd . . .
No crowd at the Reds-Detroit Tigers game. No scalpers, no vendors. There are good turnouts at the bars across the street from the ballpark, many of the customers wearing red, not many wearing masks.
The courtyard leading up the main gate is mostly empty, save for TV camera crews. Gazing over the quiet landscape is a huge sign of Mr. Red in a mask, bearing a message of the times: It's Up To All Of Us! Wash Your Hands. Practice Social Distancing. Wear A Mask In Public.
The stands are barren, but a few live fans gather near the main gate, joining Meier. By game time, there are 28 people, including a couple of families—about half of them in masks. Since the radio broadcast and a TV monitor are always on during games on the Great American concourse, they can listen and see what's happening inside. They stand for the anthem and cheer as Ohio Gov. Mike DeWine throws the ceremonial first pitch—taped the day before, on a college diamond 60 miles away. They hear the public address announcer calling out the names to a vacant stadium.
Cincinnati pitcher Sonny Gray strikes out the first Detroit hitter, and 28 people applaud at the main entrance. Their season is underway. "This is like Christmas," Meier says, watching Opening Day through a locked gate. Inside, Matt Davidson is the designated hitter for the Reds. He would test positive for the virus the next day. By Monday, the Miami Marlins had so many infections, they had to postpone games, and some wondered if this season of making do would have to be quickly aborted. The summer of 2020.•
__________
Lopresti is a resident of Richmond and former columnist for USA Today and Gannett for 31 years. He can be reached at mjl5853@aol.com.
Please enable JavaScript to view this content.