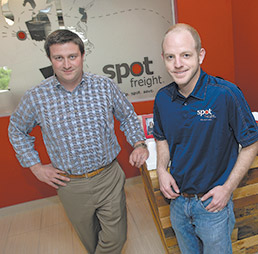 Fast-growing Indianapolis-based logistics company Spot Freight Inc. has spun off the software portion of its business into a new independent company called Red Technologies.
The new company has more than 50 employees, 10 of whom moved over to Red Technologies from Spot Freight. The others were hired after the spinoff, and the company is still hiring. For the time being, Red Technologies is sharing office space with Spot Freight at Spot's downtown headquarters at 141 S. Meridian St.
Spot Freight, established in 2009 by Andy Schenck and Andrew Elsener, is a freight broker—a third party that finds carriers for shippers who need to move freight. The company has more than 250 employees who work both in Indianapolis and in Charlotte, North Carolina.
Red Technologies is both the name of the spinoff and the name of the proprietary software that Spot Freight developed in 2015 to help manage the process of freight brokering.
The software includes a transport management system for shippers, a portal for carriers, and a mobile app that allows truckers to search for freight loads and submit online paperwork.
Red Technologies was incorporated as its own LLC in July 2019. Spot Freight held off on announcing the official launch until last week because it wanted to build its staff and make sure the software platform was ready to sell and demo to shippers, Spot Freight spokeswoman Alexa Amatulli told IBJ.
Spot Freight has grown significantly in the 11 years since its founding. The company landed on IBJ's Fast 25 list of fastest-growing privately held local companies in 2015, 2016 and 2017. Based on the size of its workforce, the company also ranked 11th on IBJ's 2020 list of largest Indianapolis-area logistics providers. According to those lists, Spot had annual revenue of $39 million in 2014, and that number grew to $223 million in 2019.
Please enable JavaScript to view this content.