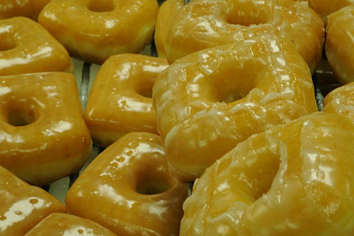 More than half of the Square Donuts shops in Indiana—including two locations in Indianapolis and one in Carmel—have closed because of contract issues, the owner of the parent company confirmed Monday.
Rick Comer Jr., owner of the Terre Haute-based chain, said the three Indianapolis-area stores and two stores in Richmond could reopen if agreements are reached with individual licensees. He declined to speculate on if or when that could happen.
Two Square Donut shops in Terre Haute and two in Bloomington remain open, he said.
The Indianapolis-area stores closed late last week, he said.
"Negotiations with the licensees have not gone as smoothly or quickly as we'd like," Comer said. "Hopefully we can work things out contractually. We'd love to get them back open again."
He said the three Indianapolis-area locations are controlled by one licensee. Any or all of the locations could reopen if things are worked out, he said. Those stores are located at:
— 6416 W. Washington St.
— 9598 Allisonville Road;
— 14 S. Rangeline Road in Carmel.
Square Donuts was founded in 1967 in Terre Haute, originally under the name Tasty Creme, by Comer's father, Rick Comer Sr. It began opening licensed locations outside of its hometown in 2006, starting in Bloomington. It opened its first Indianapolis shop in 2011.
Please enable JavaScript to view this content.