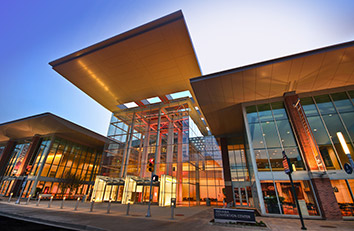 Indianapolis this weekend will play host to visitors from 30 countries as part of a summit meant to discuss economic issues from across the globe and drive new business to the state.
About 800 people are expected to attend the Indiana Global Economic Summit that starts Thursday, including business executives, government officials, foreign dignitaries and leaders from a variety of industries that have a presence—or are considering one—in Indiana. 
The summit, believed to be the first time people from so many countries have converged on the state for a single event since the 1987 Pan American Games, is also expected to attract not-for-profit leaders, and university and research facility executives. 
Scheduled for the Indiana Convention Center, the event will include various keynote speeches and panels tackling topics varying from semiconductors, foreign policy, agriculture, health care and environmental sustainability.
The event will include networking events, sponsor dinners and other engagements, along with a welcome reception at the Indiana State Museum for all participants. Attendees will also be provided extensive hospitality during the Indianapolis 500 on Sunday.
The Indiana Economic Development Corp., a quasi-government agency focused on bringing new business to the state, planned to host the summit in 2020, but the pandemic canceled it.
This year's event could go a long way toward convincing leaders in up-and-coming industries such as semiconductors, renewable energy and other high-tech areas that the state is worth a sizable and long-term investment, a spokeswoman said.
The goal is "to bring the world to Indiana in order to showcase the state's leadership and pragmatic approach to a wide range of topics, including industries of the future, and attract new business and talent to Indiana from around the world," Melissa Thomas, media relations manager for the IEDC, said in an email.
The state this week has already announced two new projects totaling at least $4.6 billion in investment and 1,900 jobs, with another economic deal expected as part of Thursday's activities.
On Tuesday, Netherlands-based Stellantis NV—which owns Fiat Chrysler Automobiles—announced plans for a $2.5 billion electric vehicle battery manufacturing facility in Kokomo, which will create up to 1,400 full-time jobs when it opens. That project is in line for a state-record $188 million in incentives.
And, on Wednesday, Indianapolis drugmaker Eli Lilly and Co. said it would invest $2.1 billion in Boone County to build a pair of manufacturing facilities, which will serve as an anchor for a new innovation district near Lebanon. Incentives for that project have not been made public.
On Thursday, Indiana Gov. Eric Holcomb is expected to sign a memorandum of understanding with the United Kingdom that will focus on new trade and economic development efforts. The endeavor, first made public in April, will focus on low-emissions technology development, sustainability and regulatory cooperation. There are also expected to be provisions for workforce development and talent procurement.
"Indiana's experience of using ingenuity and innovation to compete in the global economy gives it an authentic voice in the global dialogue, and the legitimacy to serve as a platform for dialogue and action," Thomas said. 
The state has not yet shared how much it is spending to host the summit. Hotel rates for attendees ranged from $300 to $500 for only the summit and $600 to $1,000 for individuals going to both the summit and race-related activities over the weekend. Room rates for blocks at the JW Marriott Indianapolis and The Westin Indianapolis are $449 and $350 per night, respectively, for Friday, Saturday and Sunday.
As part of the summit, many attendees will be treated to hospitality related to the Indy 500, including tickets to the race. Participants will be seated in either suites inside the Pagoda or open seating areas in the Tower Terrace areas along the main straightaway.
Please enable JavaScript to view this content.