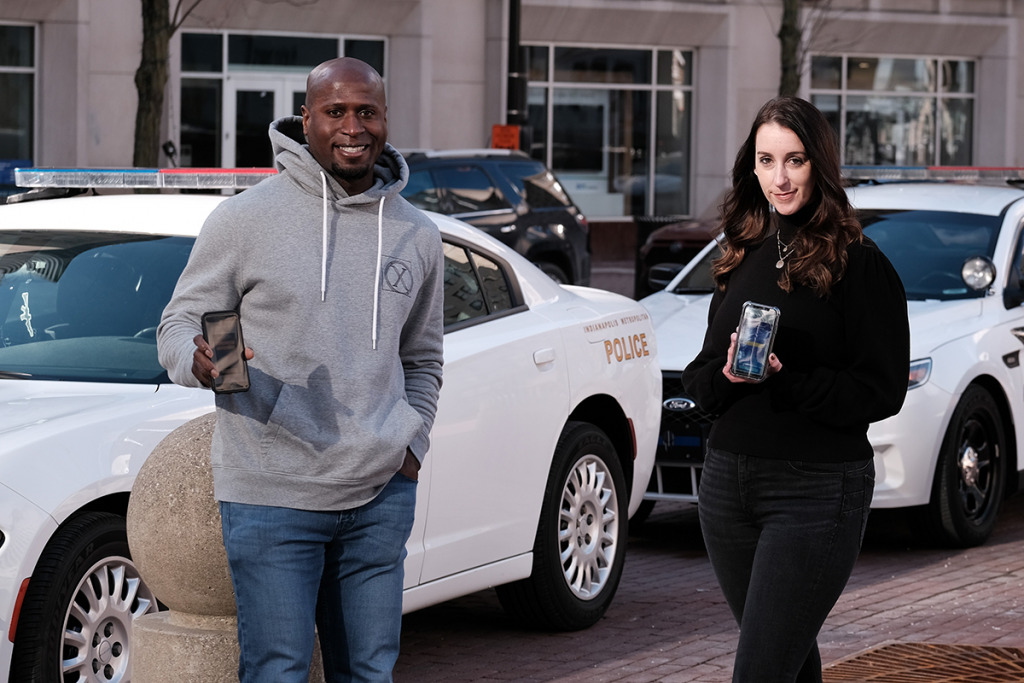 If the name Marlin Jackson sounds familiar, that's because he was a play-making defensive back for the Indianapolis Colts from 2005 to 2009.
But the Youngstown, Ohio, native and Noblesville resident is now making his mark with a unique tech startup that has a timely mission.
Jackson has partnered with entrepreneurial and tech veteran Lisa Mitchell to launch Pulse Analytix, which has developed a digital platform that makes it easier for local residents to report and track interactions with police and other government agencies—and for those agencies to track, monitor and analyze interactions with residents.
The initial focus is police departments.
The platform aims to increase the transparency of police interactions with residents—be they positive or negative interactions.
"Instead of live streaming or getting the word out into a non-productive avenue where it just gets piled on in social media, the app we've developed captures the incident and productively puts it into a channel for resolution," Mitchell said.

Pulse Analytix offers interfaces for civilians and police officials.
Through the app, residents can directly report their interactions with police officers or law enforcement officials. Residents can take photos or shoot video through the app, which will automatically issue an incident report with a tracking number, all with the assistance of artificial intelligence and geolocation.
The incident report is routed to a workflow management system so the police agency—or an advocacy group working on behalf of residents—can track, manage and resolve the incidents. Users will be notified of updates as the incident record is moved through each phase of a resolution process.
Additionally, police officials and advocacy groups will have access to comprehensive data analytics dashboards to not only track and respond to reports, but also to track incident trends in various parts of the community. The data for trends, Mitchell said, could be used to formulate procedures and policies.
The app is free to local residents.
Mitchell and Jackson said the app has been well received by multiple police departments they've had discussions with. They hope to start pilot programs with the Indianapolis and Carmel police departments in the coming months.
"One of the things law enforcement really likes about this is that it helps them get out in front of situations," Jackson said. "They feel like they're always playing defense. They feel like they can mediate a lot of these incidents if they know about them.
"In the discussions we've had with IMPD so far, they've told us they want to provide better customer service, but they don't have the infrastructure and resources to do so," Jackson added. "That's where we come in. This app puts people in the loop. If we leverage technology, we can facilitate where the citizen gets the notifications and updates. People feel like they're being seen and heard when they get updates on the reports they've filed. We feel we have the technology to do that."
Carmel City Council President Sue Finkam became a fan of Pulse Analytix after seeing a demonstration of the software last month with the Carmel police chief.
"That platform offers a lot of interesting aspects not offered elsewhere," Finkam told IBJ. "The real-time reporting of officer interaction is key. I think this is a friendly and helpful option."
The company will generate revenue by charging police departments—or other agencies—that use the system. The cost will vary based on what data and level of analysis the agencies subscribe to and how many users they have. Agencies interested only in raw data would pay $1,500 to $10,000 per month. The analysis dashboard and workflow/customer relationship management tool are additional.
Jackson, who grew up in a rough neighborhood, said Pulse Analytix meets a fundamental need.
"When it comes to the citizens and the police, historically, it's been a bit of a broken relationship. It doesn't need to be," Jackson said. "We look at this company as meeting a societal need."
Not a 911 replacement
The app isn't meant to replace 911 for emergencies, Jackson emphasized, but with "911, 411 and 211, there can be a lot of confusion where to turn and how to communicate with the police. This can be an answer for that."
Importantly, he said, the information driven through the Pulse Analytix app "will engage the hierarchy within the department, so there's accountability within the police force."
"This is a way to make sure there's adherence to processes already in place and that there is transparency about those things," Mitchell said.
Pulse Analytix, which was founded in 2020, is self-funded thus far. In November, it became a portfolio company of local venture studio Next Studios, which is providing advisory and operational support.
Mitchell said Next Studios has not taken an equity stake in the company.
Next Studios' managing entrepreneur, Joe Cudby, is acting as the firm's chief technology officer, while Fishers-based Counterpart (which also worked on another app for Jackson's foundation) is working on digital development. Cudby is a tech veteran who served as the state's chief technology officer before departing that post last April.
"The Pulse Analytix app is a fabulous idea whose time has come," he said. "If 2020 has taught us [anything], it's taught us that accountability and transparency are critical, but we must do this in a way that doesn't merely create an echo chamber."
Cudby is confident investors will be interested.
"This company checks a lot of boxes for people not only looking for a financial return but a social return," he said. "And over the last year, we've seen more and more investors interested in a social return on their investment.
"Lisa and Marlin are fabulous in terms of their commitment to the product. They ask the hard questions, and they're incredibly open to feedback and guidance. They're genuinely interested in making a difference and improving people's lives. Their willingness to go out there and bust it is incredible."
Building Dreams
Mitchell is co-founder and former chief operating officer of Indianapolis-based tech firm Selfless.ly, which has pioneered a corporate volunteer engagement and tracking platform. She met Jackson in 2017 when she became interested in the Fight for Life Foundation, which Jackson founded in 2007.
In 2012, Jackson expanded the foundation—which was aimed at underserved youth in poverty-stricken areas—to work directly with schools. In 2017, Jackson was working on building a digital platform for at-risk children with social and emotional learning. Mitchell, who is also a body language expert and motivational speaker, quickly jumped on board.
The result was Building Dreams, a football-themed, gamified app to help students improve their behavior and performance in the classroom, while giving teachers, administrators and parents a way to monitor children's behaviors—individually, by classroom, grade or school—to get students the help they need. The app also assesses the children's home environment, making sure their needs are met and they are not in distress, and plugging them into social services when necessary.
Jackson grew up in a hardscrabble area on the border of Pennsylvania and Ohio, never knowing his father and being raised by a mother plagued by drug and alcohol addiction. After age 11, he bounced around, living with relatives, family and friends; he even experienced homelessness for a time. During his senior year in high school, Jackson lived with his football coach. He then departed for the University of Michigan, where he received a full scholarship to play football.
"The start of the foundation and later the Building Dreams app came from my own experiences as an underserved youth," Jackson said. "I was one of those people who had a number of adverse emotional experiences as a child. I lacked that family structure. Fortunately, I picked up the skills through athletics, but a lot of children don't have that opportunity."
The Building Dreams app is a finalist for a Mira Award—a tech awards program sponsored by industry group TechPoint—in the Innovation of the Year category. Mira winners will be announced April 22.
While working on the Building Dreams app, Jackson and Mitchell realized it could have broader applications.
"Obviously, seeing 2020 with the death of George Floyd, and me as a Black man seeing over and over again over-policing in Black and brown communities and a lack of accountability, our minds turned to trying to use this as a way to enhance the relationship between law enforcement agencies and the people they serve," Jackson said.
Floyd died last May while being arrested in Minneapolis, when a police officer allegedly subdued him by pressing his knee on Floyd's neck for almost nine minutes. Floyd's death ignited nationwide protests and riots, including some in Indianapolis.
Jackson and Mitchell insist Pulse Analytix isn't meant solely to report negative interactions with law enforcement or to give local residents another means by which to complain about the police.
"We just want transparency and accountability," Jackson said. "I think everybody wants that. I really believe this app is a win-win for everyone."
The opportunity for police to get positive feedback "is possibly the most important piece" of Pulse Analytix's platform, said Finkam, the Carmel city councilor. "In today's environment, when police feel less appreciated than ever, this is a tremendous opportunity to get some positive feedback. It would be a very positive boost to morale to the police to know an interaction led to joy in a citizen's life."
Mitchell and Jackson hope to grow Pulse Analytix beyond central Indiana next year and eventually to expand its use to fire departments and other emergency responders as well as other agencies that interact with the public.•
Please enable JavaScript to view this content.