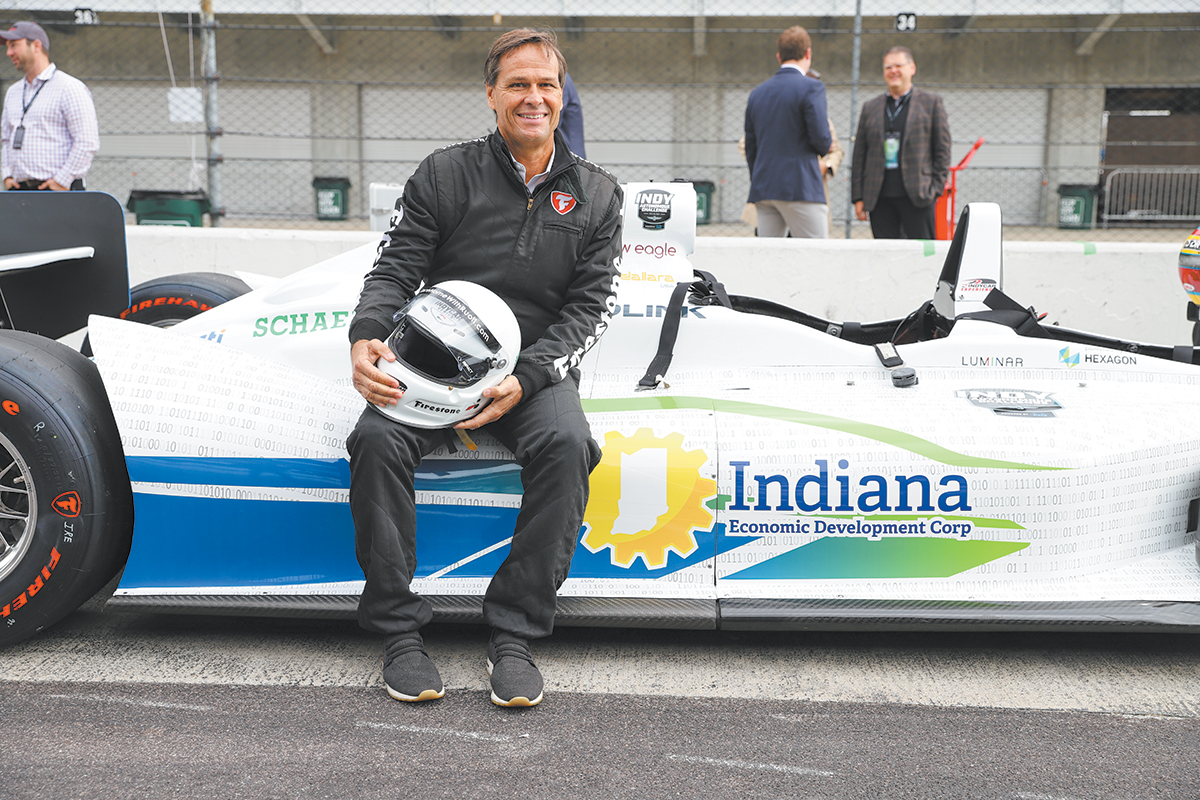 Indiana Secretary of Commerce Brad Chambers last month laid out an aspirational strategy for the state's economic development efforts called the Five E's. IBJ recently met with Chambers to ask him to explain how that strategy will be put into practice as the Indiana Economic Development Corp. focuses on his themes of Environment, Economy of the Future, Entrepreneurship, Energy and External Engagement.
Here's an abbreviated look at our conversation.
You've said you will be emphasizing quality over quantity. Are you going to focus more on bringing in high-paying jobs versus just reporting that we have a lot of new jobs?
The answer is yes. … In Indiana, we need to lean into these higher-growth industries. Advanced manufacturing is our fixed-income portfolio, and we are so blessed to have a strong, vibrant manufacturing economy, and we certainly want to take care of that. But … I think it's important that we really lean into, what are the higher-paying jobs in the next 10 or 20 years. Is it robotics? Is it micro-electronics? Is it hypersonics? And so, add more of that to our already strong manufacturing base, you know.
Most states in the country are jealous of our manufacturing base, and we zealously protect that. But we can add to that portfolio mix by adding these higher-growth industries, and that will over time bring up average wage and provide really interesting jobs for our young people. And so that's where we're focused … the quality of those jobs, and not necessarily the quantity.
Indiana ranks high for business climate, but there was a journal article by [Indianapolis urban policy analyst] Aaron Renn in "American Affairs," and it said Indiana's economic development is overall disappointing, citing low wages, slow population growth. Do you disagree or agree with some of the points he made? How does the state work on those issues?
Every day is how we work on them. So let's be fair on population growth. … The United States of America is struggling with a declining birth rate in our population size, and numbers are going down. So population growth is everybody's challenge, right? I don't care if you're in Indiana or you're Utah or you're West Virginia. It's everybody's problem. There are some states that are receiving in-migration—that is, Florida and Texas and Arizona and a few others. But I will tell you, Indiana is punching above its weight on population growth. We had 4.7% [last year], which is better than all the states that we touch. And we had in-migration numbers. That moved up significantly in 2021.
So, I mean, [Aaron] is correct. And population growth is a really important issue. But I will tell you, it's got top billing here in government leadership, because we understand we're a Midwestern state. We don't have the mountains or the oceans, so we [have] got to work hard on it. And that's why hats off to the governor, hats off to the Legislature for passing [the READI regional grant program]. It's an investment in the built environment. It's an investment in workforce and population growth. And I think you're going to continue to see momentum in that area.
And that's directly addressing population growth, which, by the way, is workforce growth. So [Aaron] brings up some interesting and good points. But … I will tell you [that] last year, our new economic wage growth was better than it ever has been. And so it's relevant, but there's some progress being made. And I'm thrilled about it, because wages are important to me, too. And it's important to the governor. So we are hard at work on it, and we're talking about it every day.
I also wanted to talk to you about the Indiana Economic Development Corp.'s incentive toolkit and how it will change under Senate Bill 361, which is moving through the Legislature. Could you kind of explain what these four tax credits would do and how modernizing them would help attract different or more businesses here?
The IEDC toolkit has been in effect for a very long time. And Indiana, again, we're No. 1 in manufacturing … and, you know, there's 10-plus different categories where we are super competitive on a national basis. But the tools were enacted, you know, really over the last 20 years, and I like to use the analogy that every winning team needs to put in new plays, right? And sometimes they put them in every season. And so, the markets are changing and evolving into 2018 and beyond. And so we need as a state … to be nimble. And so the bill that's in front of the Legislature is, you know, adjustments to some current tools and maybe a few new tools that will give us the ability to be more nimble and to address the current market conditions and in the hope to continue to grow our economy, play some offense.

Part of the bill would allow the IEDC to give incentives or tax credits more upfront, instead of the back end or long term. How does that help with attracting certain businesses, industries, higher-paying jobs?
We're not using the word incentives anymore. At the IEDC, we like to use the term investment or investing in these businesses with them. And there's consideration for that investment and that is, you know, higher wages, meeting their capital investment requirements. There's a dual contract, right? But the marketplace, which is interesting, is speeding up. And so it's important that we have the flexibility to really structure our investments with these companies in a way that works for them, much as it worked for us. And over the last number of years, the IEDC's tools have been somewhat formulaic. … So when you have a rigid formula and the market changes, you're stuck with a rigid structure. And so what we're asking for is flexibility to meet the market, the speed of the market. And the speed of the market has increased, or it's condensed. And so we need to be able to structure these investments to meet the needs in the market.
Are there any concerns that the IEDC would invest in a company upfront and then [the company] wouldn't fulfill its promises in the end? How does that work?
No. There are still going to be performance attributes to our investments so we're not … simply incenting people to be in our state. There are performance attributes to our investment tools.
So speaking of new industries, what is the state's interest in the electric vehicle industry and building the infrastructure to support electric vehicles? Is this the type of industry that you want to see come here?
Our Five E strategy has two E's that are focused on this. One is industries in the economy of the future, but also the energy transition. So not only do I want to see Indiana participate, I want to see Indiana lead in the energy transition. And I think it can lead not only in its thoughtfulness around clean energy, and how we provide affordable clean energy to our state, but I think we can lead on the production of goods and services.
There are 88 companies right now in Indiana that are producing goods and services, generating profit in the energy transition in the clean-energy space. And, you know, the United States as a whole is behind in the production of goods and services for the energy transition, and the goods and services necessary for that. I mean, Asia is leading. I think over 80% of goods and services come out of Asia. And I think there's a rethinking of that, right? Why shouldn't that be on U.S. soil and in Indiana? It's got, I think, a unique value proposition with our manufacturing history and DNA. So I aspire to really be a leader in the production of goods and services in the energy transition, and we may need some legislation to help stimulate that. But, man, I'm excited about that opportunity.
This summer will mark one year since you became secretary of commerce. What are your goals for 2022?
It's a good question. 2021, it was head down. Understand the business, understand the national competitive environment for economic development, understand the various strengths of the state. Build a dynamic team around me. And I think we were super successful on that. You know, I'm super excited about the team here at the IEDC. We are focused. And we're aspirational. We want to play offense, and we're asking the Legislature to give us some tools to go play offense. Then our goal would be to start demonstrating that Indiana can be competitive in industries of the future, adding industries to our economy that maybe have never been here before, higher-growth industries. And figure out how we can more support and grow and expand our manufacturing base. And … continue to focus on population workforce, too. So '22 is off to a really interesting and dynamic start. We did a lot of heavy lifting in '21 to put us in position to come out of the gate strong in '22. •
Please enable JavaScript to view this content.