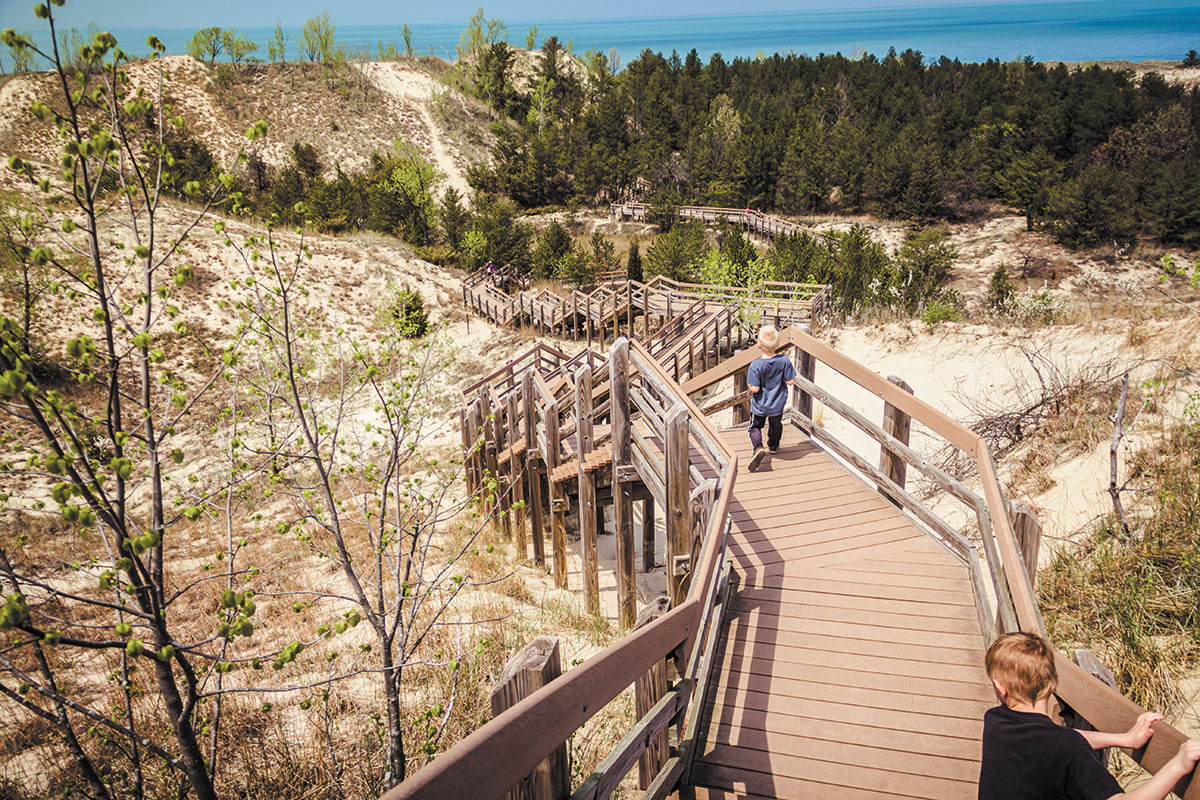 Indiana tourism officials are betting big on efforts to bring more visitors to the state, in part with a campaign they hope will set the stage for a significant funding increase from the General Assembly next year.
The Indiana Destination Development Corp. on June 8 began rolling out a $5.6 million "IN Indiana" campaign, the first large-scale tourism effort for the state since the pandemic began in early 2020.
The campaign is meant to be the state's answer to successful tourism marketing efforts in neighboring states, such as "Pure Michigan" and Ohio's "Find It Here," both of which have been around several years. But those states allocate tens of millions of dollars for tourism annually, while Indiana has traditionally spent $3 million to $5 million a year.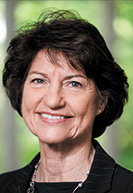 Elaine Bedel, CEO of the Indiana Destination Development Corp., said the quasi-governmental agency is leaning heavily on the IN Indiana campaign to be successful enough to justify a planned request for an annual $35 million to $40 million budget from the General Assembly next year when it meets to write the state's two-year budget.
That budget would rival the tourism spending of most surrounding states, except Illinois, which allocates $70 million a year to promoting tourism. Wisconsin is the lowest-funded Midwestern state after Indiana, at $17 million a year.
"I'm hoping we can get something that's comparable to what other states around us are doing," Bedel said. "That way, we can get our message out regionally and then take it more to a national level, as well. If we don't do that, we're going to be sitting here in another 10 years and still wondering why we haven't gotten better perception" and more visitors.
To launch the effort, the Indiana Destination Development Corp. this summer will launch "IN Indiana" promotions across the state, as well as in three major Midwestern metropolitan areas—Chicago, Louisville and St. Louis—through print, digital, television and radio ads.
Bedel said the agency wanted to place promotions in additional markets—but it just doesn't have the cash.
The $5.6 million that will be used for the campaign came not from the state budget but from a federal Economic Development Administration grant focused on reviving the tourism industry post-COVID.
"We can't do a major campaign and communicate with everybody we'd like to … unless we have a bigger number to do that," she said.

Still getting started
The Indiana Destination Development Corp. was created in 2019 to replace the Indiana Office of Tourism Development, which had operated with a relatively tiny budget for decades. The new quasi-public corporation was modeled after the Indiana Economic Development Corp.—the state's economic development and jobs-creation agency—which can raise private money to supplement some of its efforts.
But the Legislature did not significantly boost funding for tourism when it created the agency, and Bedel said she's not sure whether lawmakers will be ready to do so now.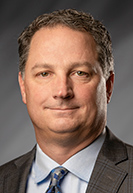 "I have no idea where that will come down," said Bedel, who served as IEDC president before being named the state's first CEO and secretary of the Indiana Destination Development Corp. "But we're willing to … make that ask, then see where we go from there."
Legislative leaders told IBJ they are willing to listen as tourism officials make their case for more funding. But they stopped short of guaranteeing more money will be awarded.
House Speaker Todd Huston, R-Fishers, said that, while he believes the new campaign will go much further than past efforts to bring a cohesive marketing strategy to each of the state's 92 counties, it's too soon to know how much the state can set aside for tourism in the next state budget.
"I think there's certainly an appetite to listen and hear them out," he said. "I don't know what the numbers will look like … but I do think it'll be well-received and thoughtfully considered."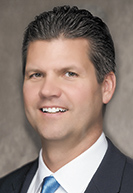 Senate Appropriations Committee Chairman Ryan Mishler, R-Bremen, agreed.
"Everybody's got a wish list of what they want," he said. "I think tourism is important because it brings in a lot of revenue—and it could bring in a lot more if we marketed [the state properly]. For me, it's just a matter of seeing how much support that my colleagues have for it, to increase it in the budget."
A $10 billion business
According to the development corporation, tourism generates nearly $10 billion in revenue for businesses across the state every year. In the 1980s, that figure was $2.5 billion ($7.2 billion today, adjusting for inflation).
Mishler said a strong performance by the IN Indiana campaign is critical to the Indiana Destination Development Corp.'s winning legislative support for more money, particularly after other marketing campaigns over the years have largely fallen flat—or at best tapered off more quickly than state officials would have hoped.
The most recent case was the "Honest to Goodness Indiana" tagline that launched in 2014 but was quickly met with fierce resistance by residents and some tourism organizations across the state.
The state largely dropped the campaign after the Legislature passed the controversial Religious Freedom Restoration Act in 2015—a move that led to a national outcry from the LGBTQ community, which said the law allowed discrimination against gay and transgender people. The Legislature revised the law—although not enough to satisfy many critics—and tourism officials decided that "Honest to Goodness Indiana" didn't necessarily help the state's image.
The state's tourism agency ceased all use of the slogan by 2018. Since then, it has used the innocuous Visit Indiana moniker, which will now be replaced by IN Indiana.
Bedel said the committee that oversaw development of the new campaign didn't consider building on past slogans—including "Honest to Goodness" or the 1980s tagline, "Wander Indiana"—because it was clear they didn't work.
"I think we already knew what the issue was—that we needed to do something that was more appealing and something that [groups across the state] could make their own, while still serving the purpose of telling everyone about Indiana," Bedel said.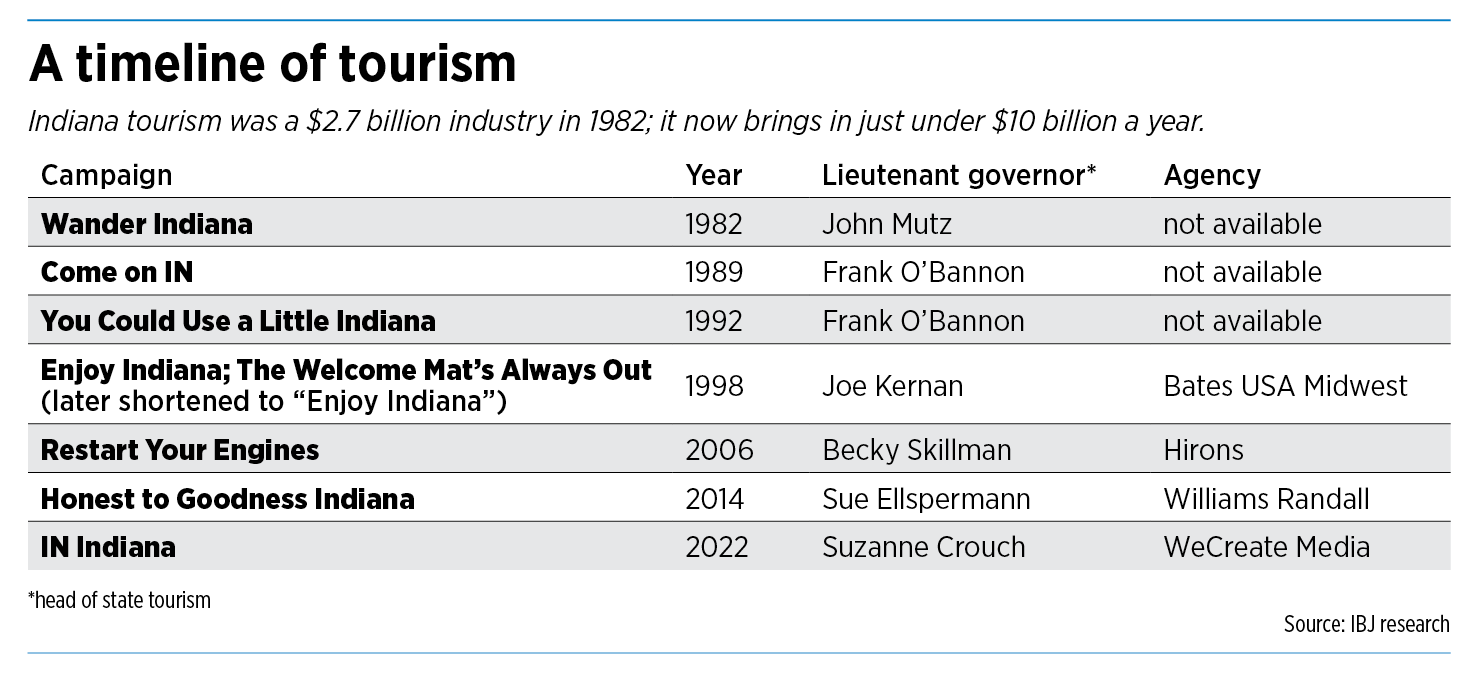 The state's 'cheerleaders'
Indiana Dunes Tourism, which promotes the Lake Michigan shoreline, is among those that could benefit from the new approach, particularly as the area continues riding a wave of publicity stemming from a portion of the dunes' being designated a national park in 2019.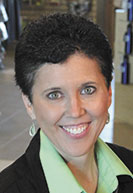 Lorelei Weimer, executive director of the Porter-based entity, said her organization sees millions of visitors every year—5 million in 2021—but, even with a potential decline coming in 2022 due to inflation and rising gas prices, there's likely to be plenty of opportunity for marketing efforts as part of the new campaign.
"I talk to a lot of people that are not from our area, or from our state, and a lot of them don't have a firm grasp on what Indiana has to offer—they really don't associate the state with much," she said.
"It's really important that we get that positive image of Indiana out there, and the way we're going to move that needle is through a state branding effort like the state tourism office is doing," she said. "They're the cheerleaders for the state of Indiana and they're the ones that are going to put Indiana on the map in terms of getting people excited to come here and changing perceptions."
She said the IN Indiana campaign, which the state created alongside Valparaiso-based WeCreate Media, isn't just a good approach to short-term efforts but also has long-term potential because of its simplicity.
"I think that is important," she said, "because we haven't been able to really land on a brand that has had that ability to stick around."
That's exactly what the tourism agency is hoping for, Bedel said. In fact, Pure Michigan, which began as a regional campaign in 2006 and went national in 2010, had a big influence in the considerations for Indiana's new brand.
"As we were trying to come up with our campaign, certainly Pure Michigan was there," Bedel said. "That's what you need … longevity."
Bedel said the IN Indiana brand is in the process of being trademarked—a year-long endeavor—that will protect the product from being misused or sold for a direct profit. Even so, the state is making branding toolkits freely accessible to all businesses, universities, municipalities and tourism organizations across the state.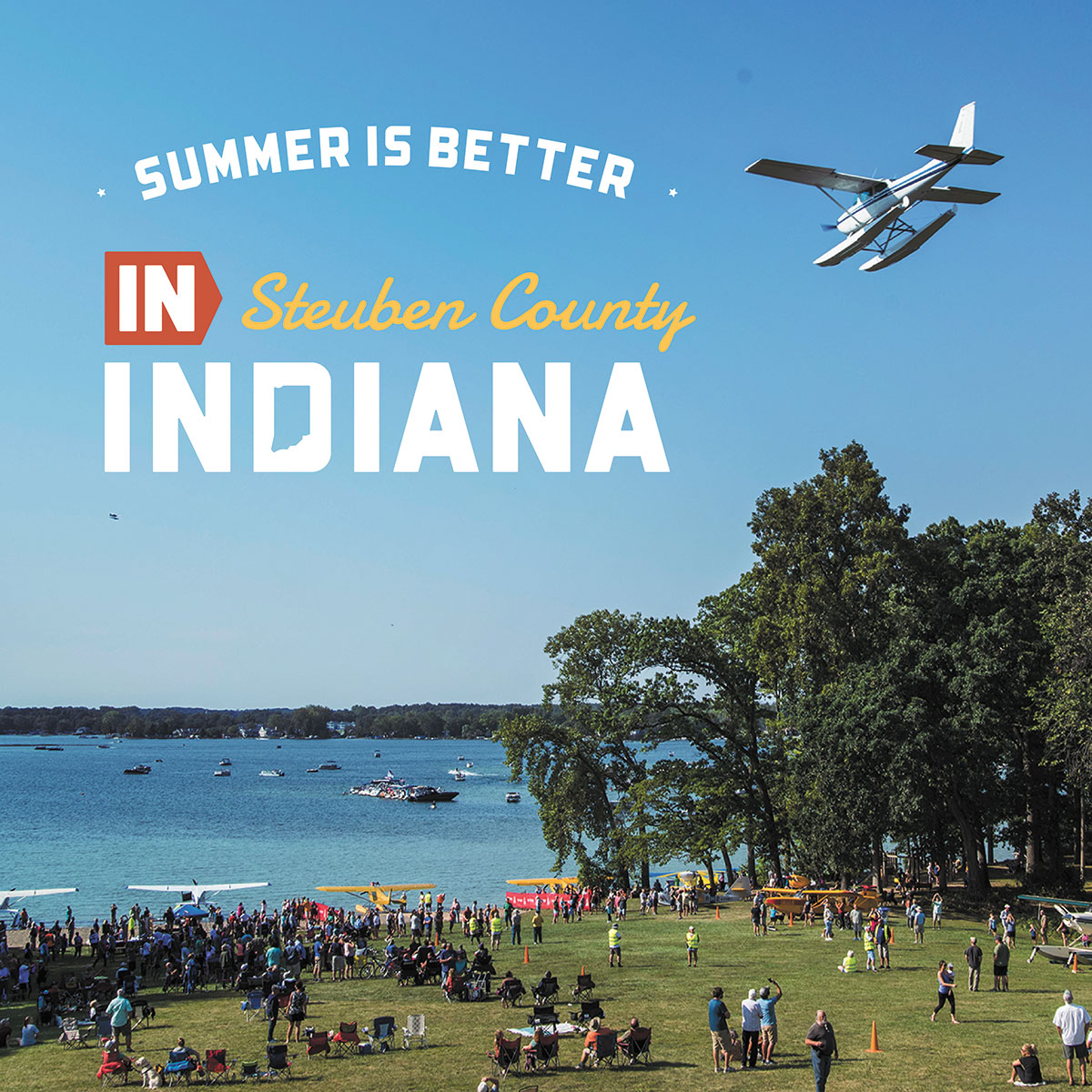 A new approach
The approach is decidedly different from the way the state has operated in the past, which generally required would-be partners to pay to use the state slogan in materials. The state views the IN Indiana campaign as a more crowdsourced approach to marketing—offering logos, colors, typefaces and design guidelines groups can use to create their own promotional materials.
State officials say the approach should draw in more partners, even as the tourism agency tracks who is using its marketing materials. That information is expected to give the agency a better idea of what it can ask for come budget season, she said.
"We're hoping to gather lots of data in this next six months … so that, when we do go to the Legislature, they'll see what we can do, and [what] return we can get on our investment," Bedel said.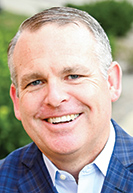 The state is also working directly with various organizations on specific media spots and other partnership opportunities. Those spots could feature companies and organizations such as the Indianapolis Motor Speedway, Visit French Lick, The Hoosier Gym in Knightstown (where the 1986 classic movie "Hoosiers" was filmed) and universities across the state.
Patrick Tamm, president of the Indiana Restaurant and Lodging Association trade group, said he and his group's constituents support the new tactic.
"It's putting the right tools in the right hands in order for communities and businesses to tell their story," he said, which is particularly helpful for entities that couldn't afford to "buy in" to past state tourism advertising or campaigns. It will also allow those groups to better use their own resources and amplify existing marketing efforts.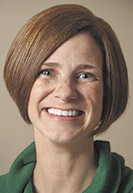 Carrie Lambert, executive director of the advocacy group Indiana Tourism Association, said it's "always a positive" when local groups can more easily access marketing materials. She said she's enthusiastic about the state's commitment to help smaller organizations market themselves.
"This is probably the largest-scale resources tourism toolkit without a buy-in that has ever been available in Indiana," she said. "I think it really gives the state and communities great legs for this effort and some great opportunities, especially as you think about some areas that might not have the ability to work with an advertising agency or have the financial resources to dedicate to a full-scale marketing campaign."
Still 'playing from behind'
Indiana Dunes Tourism has a $1.3 million annual operating budget, with about one quarter of that dedicated to marketing, including print materials. It also runs the national park's official welcome center.
Weimer said being able to co-brand campaigns as both local and statewide through IN Indiana is "a brilliant move" by state tourism officials, because it helps mitigate costs and allows smaller groups like hers to tap into resources they previously couldn't have.
Even so, she said, Indiana is playing from behind because it hasn't been willing to spend big dollars to market itself. Until that approach changes, she said, the new brand can only take the state and its amenities so far.
"Right now, we're not really in the game because we just don't have the financial ability to compete with Michigan, Ohio, Illinois and others," Weimer said.
"We have to figure out a way to increase the funding. It's a mindset change you have to make. … People look at it as an expense in the state budget—but I don't look at it as an expense. I look at it as an investment. You're investing in your state's future."•
Please enable JavaScript to view this content.