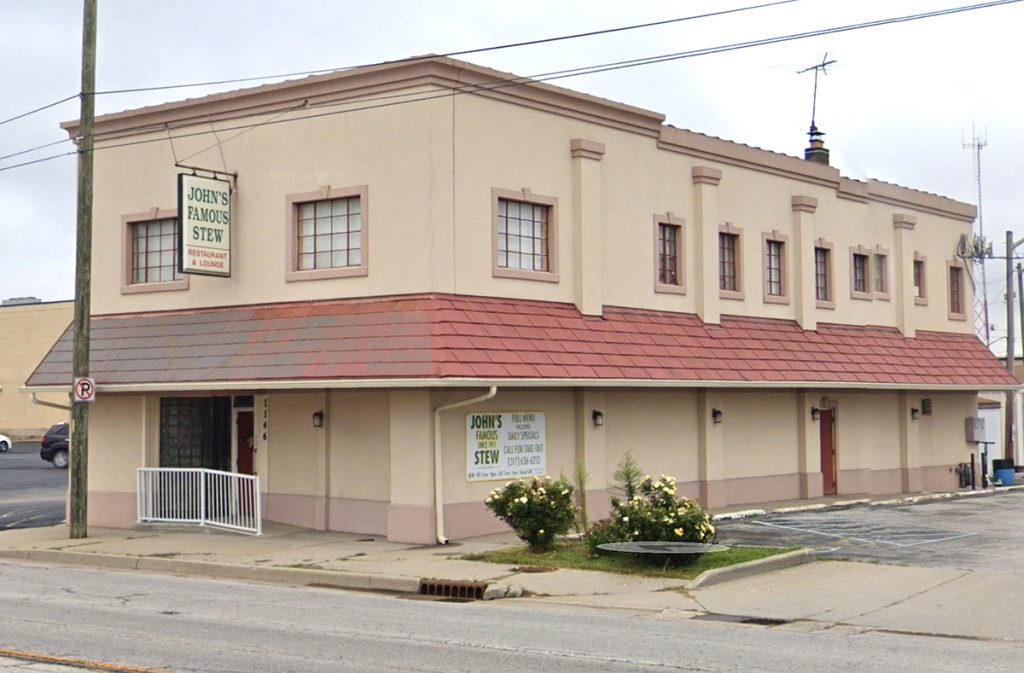 John's Famous Stew, a meat-and-potatoes eatery with a history in Indianapolis going back to 1911, announced over the weekend that it would not return from a coronavirus hiatus.
"It is with a heavy heart I share that we will not be reopening," read a message posted Saturday on the restaurant's Facebook page. "It has been our pleasure to serve you over the past 40-plus years. Thank you for all of the memories."
Owner Tom Caito passed away in November 2018, but the restaurant continued under the ownership of his daughter, Mary Caito. She told IBJ via email that closing the restaurant earlier this year was meant at first to be temporary.
"However, weeks turned into months of being closed, and I was left with making a really difficult decision to not reopen," Caito said. "The business and real estate are for sale, and my hope is a passionate buyer reopens and the legacy continues."
The restaurant was founded in 1911 at 535 W. Washington St. by brothers Steve and Mike Strangeff, who immigrated from Macedonia, according to "Reid Duffy's Guide to Indiana's Favorite Restaurants." They featured their mother's recipes for stews and goulashes.
After World War II, a nephew named John Ziats moved the business to 411 E South St. He ran it with his father, Steve, as John's Hot Stew. Caito, in partnership with Betty Kassing, took over in the mid-1970s and relocated to 1146 Kentucky Ave., where the eatery operated as a bar and restaurant.
The restaurant earned some unexpected renown in 1995 when David Letterman mentioned it in a "Cool List" that he compiled for Entertainment Weekly.
Staples on the menu included the eponymous stew, made primarily from beef, potatoes and carrots and offered in mild, medium and spicy-hot versions. The offerings also included a giant breaded tenderloin and "John's Famous Tenderloin Supreme," smothered in stew.
The restaurant announced on March 17 that it would close temporarily due to the coronavirus crisis.
"Although my dad owned many businesses throughout his life, this was his favorite," Mary Caito said. "I am thankful for all the love and support from the Indianapolis community."
Please enable JavaScript to view this content.