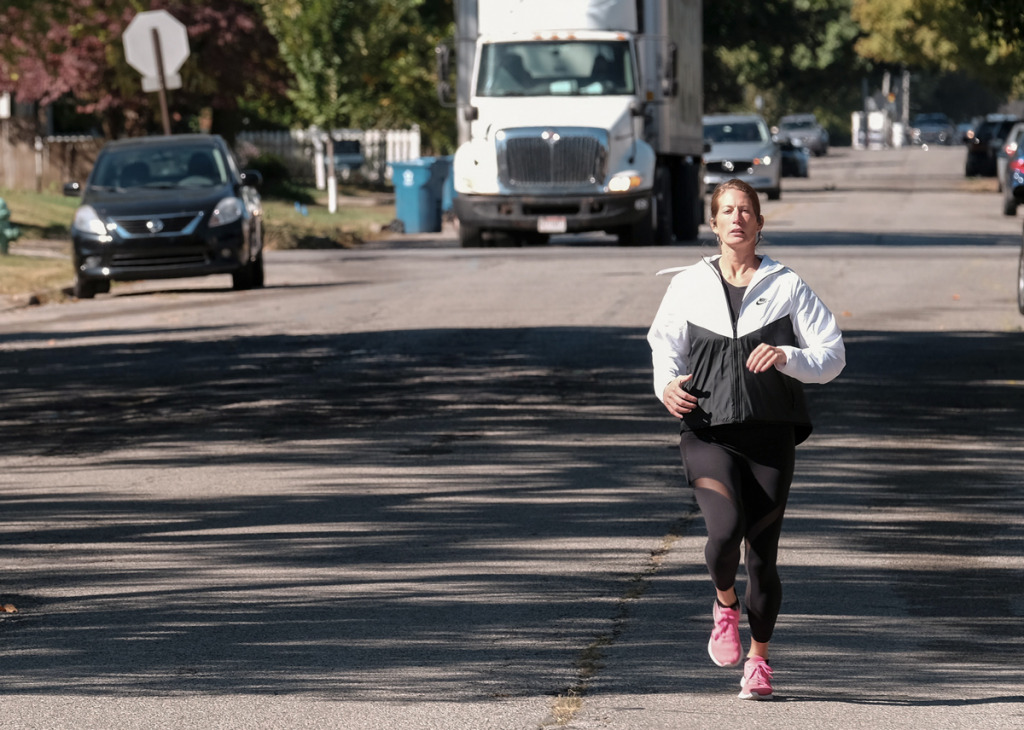 Tabitha Przybyla of Indianapolis is no stranger to marathons—she's run one each of the past nine years in locations across the United States—but next month's CNO Financial Group Indianapolis Monumental Marathon will be a whole new experience for her.
The race, like most others nationwide, has moved to a virtual format because of the pandemic. Rather than crossing the finish line amid a cheering crowd, participants will be on their own as they run or walk the 26.2 miles on a November date and route of their choosing.
The shift has led to steep drops in participation, which in turn means that both race organizers and the cities that host the events are losing out on much of the revenue those events ordinarily generate.
Last year, 6,100 people registered for the marathon. This year: 500.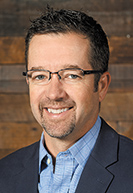 The 26.2-mile race is accompanied by two shorter races that normally take place the same day: a 13.1-mile half marathon and a 5K race. Last year, 20,500 people signed up for one of the three races. Even with the addition of an event aimed at beginners, organizers expect only 2,500 to 3,000 total registrants this year. (Registration is still open for the beginners' event, called Marathon in a Month.)
"This year, we expect to lose upwards of a quarter of a million dollars," said Beyond Monumental Executive Director Jed Cornforth. Beyond Monumental is the Indianapolis-based not-for-profit that puts on the Monumental Marathon, along with several other races in the summer and fall.
Ordinarily, the organization nets about $200,000 a year after expenses. Most of its revenue comes from race entrance fees.
The group's total budget hovers around $1 million, making the expected $250,000 to $300,000 loss significant.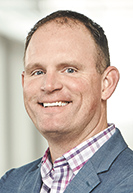 The city, too, will lose out.
"Just like all these other events that aren't coming to Indianapolis [because of the pandemic], this is just another one," said David Pierce, associate professor of sports management at IUPUI's Department of Tourism, Event and Sport Management.
Pierce, who has been involved with academic research projects and consulting for the Monumental Marathon, said the event typically generates an economic impact of $6 million to $8 million. That includes hotel stays, restaurant meals, shopping, entertainment and other spending by the 25% to 33% of race participants who travel here in a typical year.
In 2019, the race attracted participants from all 50 states, and a full 40% of runners were from outside of Indiana. This year, only 28% live outside the state.
And because of the virtual format, no one needs travel to Indianapolis to participate.
In addition to the Monumental Marathon and its associated half-marathon and 5K races in November, Beyond Monumental also produces the Indy Half Marathon and an associated 5K, typically held at Fort Benjamin Harrison in October; and the Indianapolis Monumental Mile, which took place in June. All the races went virtual this year.
Participation was up for the smallest of the three signature races, the Monumental Mile. But that's not the case for the others.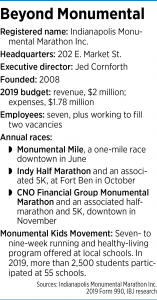 Whereas the Monumental Marathon and its associated races will likely draw 10% to 15% of normal attendance, the October races are faring marginally better.
The Fort Ben half-marathon and 5K, which typically draw a combined 3,000 participants, will attract about 20% of that number this year, Cornforth said.
Same tale everywhere
The organization is encouraged by response to its virtual-only program geared toward beginners, Marathon in a Month. As of last week, several hundred people had signed up for the program, which requires participants to log a total of 26.2 miles during November.
IUPUI's Pierce said most races have seen similar declines this year. "If they got a quarter [of normal participation], I'd give them a big pat on the back and say, 'Congratulations.'"
Beyond Monumental had considered hosting stripped-down, socially distant races, Cornforth said, but came to realize that would not be feasible. Participants would likely find the races lackluster. Moreover, the events wouldn't make sense financially.
"From a cost perspective, we knew that—if we tried to have it in person, but with a fraction of the people—it just wouldn't be financially possible," Cornforth said.
Going virtual meant Beyond Monumental could eliminate some of its race expenses this year, he said. It didn't need to hire contract employees to manage the races, for instance; it didn't have to buy post-race refreshments; and it didn't have to rent tents and finish-line furnishings.
But the organization still had to buy race medals, T-shirts, bibs and participant goodie bags, which contained a few extra items this year. Then it had to pay postage costs—a new expense—because packet pickup was canceled.
"We weren't able to save a lot without having to reinvest it in something else," Cornforth said.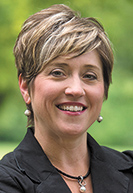 The organization also had to cover salaries for its nine-person staff. Cornforth said the organization chose not to eliminate any positions, and in fact is hiring to fill two vacancies.
"We decided that we need to invest in building a complete staff," he said. "We're moving forward under the assumption that we're going to hold in-person races in 2021 and beyond."
To weather the downturn, Beyond Monumental will tap into its cash reserves, which totaled $1.4 million at the end of last year.
"It's definitely a blow this year, but because we have a strong, healthy, fiscally conservative organization, we can weather it—and we do believe we will have an opportunity to go back to large-scale events, hopefully in 2021 and beyond," said Beyond Monumental board member Katherine Coble.
Survivors
IUPUI's Pierce agreed that Beyond Monumental is "very structured and run very well," which should help it get through the current disruption. "The [race organizers] that are more structured, that have a strong board and professional leadership, they've got a strong chance to survive."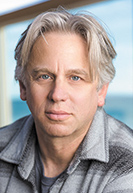 But not all race organizers will make it through the pandemic unscathed, said a race industry insider.
"The industry will be changed because of this," said Jeff Matlow, board president of Detroit-based Running USA. The organization is the nation's leading trade group for the running industry.
Many organizers of smaller races are "going dormant" for the time being and will re-emerge when conditions improve, Matlow said. Likewise, the nation's largest races should do fine. But it's the midsize races—big enough to have a staff and other overhead—that might not fare so well.
"It's the ones in the middle that are experiencing challenges," Matlow said. "'How deep are their pockets?' is essentially what it comes down to."
Matlow said he expects some races to fold under the pressure, but he predicts a boost in participation when in-person events resume.
People participate in races because the events provide them with a sense of accomplishment, camaraderie or competition, Matlow said.
"Experiencing it with other people has the impact," he said. "The energy of the crowd can amplify your own feelings."
For her virtual race, Indianapolis marathoner Przybyla plans to re-create some of the Monumental Marathon race spirit by running along the actual route. The 37-year-old has recruited supporters who will offer her water breaks and cheer as she goes. "I'm having my own Monumental Marathon with my family and friends set up along the course."
Przybyla said she wanted to run a marathon this year because the training provides her with much-needed normality during an uncertain time. And in a year where any marathon was going to be an at-home race, she wanted to support a local cause.
Beyond Monumental also runs a youth program that offers extracurricular health and fitness instruction to students at local schools.
"If I was going to do anything with my money, I needed to funnel it back here," Przybyla said. "Our community needs that extra support from each other."•
Please enable JavaScript to view this content.