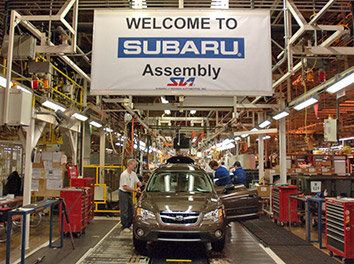 Subaru of Indiana Automotive will invest $158 million in its Lafayette plant, adding up to 350 jobs at the facility by the end of 2023, the company announced Wednesday.
More than 6,000 people already work at the 4.7-million-square-foot facility, which produces about 410,000 vehicles each year and is Tokyo-based Subaru Corp.'s only U.S. assembly plant.
The automaker plans to build a new service parts facility and expand its plant to add a transmission assembly shop.
"We're proud to continue investing in Indiana," Subaru of Indiana Automotive Senior Vice President of Administration and Quality Scott Brand said in a prepared statement. "… Our production levels have tripled over the past 10 years. These new projects are exciting growth opportunities to help us meet increasing customer demand."
Pending approval from the Indiana Economic Development Corp.'s board of directors, the IEDC will offer Subaru up to $2.65 million in conditional tax credits based on its planned capital investment, and up to $350,000 in training grants based on the company's job creation plans. The incentives are performance-based, which means Subaru can claim the incentives only after adding jobs.
The city of Lafayette and Tippecanoe County will offer additional incentives, the IEDC said.
This is the latest of several investments Subarau has made at the Lafayette plant in recent years.
Among them: The company announced in 2017 that it would add $140 million in equipment and hire 200 people to prepare the plant to begin producing the Subaru Ascent crossover vehicle. The Lafayette facility also produces the Legacy, Impreza and Outback models.
In 2019, Subaru opened a $4.2 million on-campus training center.
Please enable JavaScript to view this content.