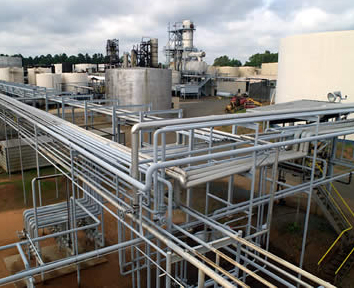 Indianapolis-based Calumet Specialty Products Partners LP suffered a loss of $78.4 million, or 97 cents per share, last quarter, despite high demand for the company's products.
In comparison, the company earned a profit of $3.6 million, or 5 cents per share, during the same period a year earlier.
Calumet has lost more than $1 billion over the past eight years. It last turned an annual profit in 2013, when it earned $3.5 million.
The company makes nearly 3,400 specialty petroleum-based products, including fuels, lubricating oils, solvents, waxes and other items. It operates 10 production and packaging facilities around the United States, including six in Texas and Louisiana.
In the company's second-quarter financial report, released Friday, CEO Steve Mawer said Calumet saw "exceptionally strong demand" for its products during the quarter, but that ongoing supply-chain disruptions hurt its financial performance.
Difficulties in sourcing raw materials, Calumet said, forced the company to make products in short and inefficient batches and to reconfigure its production line more than four times the typical amount.
"These [supply-chain] disruptions created manufacturing process inefficiencies and drove unit operating costs higher as we absorbed excess switching costs to meet customer needs," the company said in its report.
Calumet reported second-quarter revenue of $807 million, up from $453.7 million a year earlier. But the cost of producing those products also swelled, to $787.9 million, compared with $389.2 million during the year-ago period.
The company's production volume during the second quarter was 77,384 barrels per day, down from 80,229 barrels per day a year earlier.
Shares of Calumet were trading at $6.47 each Tuesday, up 9 cents from Monday's closing price.
Please enable JavaScript to view this content.