The Indiana Supreme Court has cleared a well-known attorney and former federal prosecutor of misconduct charges stemming from a nearly decade-old matter. The court found Thursday "that the allegations of misconduct were not proven" in a one-page judgment in favor of Barnes & Thornburg partner Larry Mackey.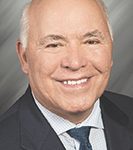 The order concluded a more than year-long disciplinary case involving Mackey's relationship with the ex-wife of a former client, Fishers hedge fund executive Keenan Hauke of Samex Capital Partners. Hauke committed securities fraud by masking investment losses at Samex, where 67 investors lost more than $7 million.
Mackey began representing Hauke nearly 10 years ago, and Hauke pleaded guilty in December 2011 to securities fraud and was sentenced to 10 years in federal prison. 
Mackey "did not engage in misconduct," the Supreme Court found.
Mackey and Keenan's then-wife Sarah Hauke began a relationship that eventually became romantic, and the two eventually wed after she and Keenan Hauke divorced. But the Supreme Court Disciplinary Commission took years to bring a case against Mackey, a partner in Indianapolis' largest law firm who made a name for himself prosecuting major federal cases including the 1995 Oklahoma City bombing.
The commission accused Mackey of violating two rules of professional conduct: Rule 1.7(a)(2) for representing a client when there is a significant risk the representation may be materially limited by the attorney's own self-interest, and Rule 8.1(a), knowingly making a false statement of material fact to the commission.
But, in October, hearing officer Robert Reiling wrote in his recommendation to the court that the case against Mackey lacked merit. "This matter should be dismissed and no action should be taken" against Mackey, concluded Reiling, a name partner of the Lafayette firm Reiling Teder & Schrier.
Keenan Hauke had asked the commission for an investigation of alleged misconduct by Mackey multiple times. Hauke went public with his accusations against Mackey in 2017, after filing a petition with the court alleging he had received ineffective assistance of counsel during his securities fraud case. At that time, Mackey and Sarah insisted their relationship did not commence until after Mackey no longer represented Hauke.
But the disciplinary commission said that wasn't so, stating that in its initial investigation of Hauke's claims against Mackey, the attorney "downplayed the romantic nature of his interactions with Sarah and stated he and Sarah became friends" during his representation of Hauke. Hauke accused Mackey of having an affair with his ex-wife, a charge Mackey denied.
Mackey insisted that he and Sarah did not have a sexual relationship during his representation of Hauke. Reiling said the commission had not proven its case that Mackey failed to be candid with the commission by failing to call the relationship "romantic," or that Mackey had a conflict of interest.
"There is no Indiana case imposing discipline for a personal, non-sexual relationship with a client's spouse in a context where the client and his estranged spouse's interests are aligned rather than adverse. Making new law where no precedent exists is inappropriate—especially with an inherently subjective rule like Rule 1.7(a)(2)" regarding conflict of interest, Reiling wrote in his report.
Further, "At the time (Sarah) and (Mackey) recognized their mutual interest in each other, (Hauke's) legal representation was relatively inactive and close to conclusion. On the federal criminal side, (Hauke) had already given the July 6 proffer to federal authorities, and (Mackey) already had made clear the need to transition to new counsel based on (Hauke's) inability to pay fees."
Reiling noted that Hauke filed two prior disciplinary complaints against Mackey in November 2013 and September 2018 that were dismissed before the commission reopened its case in December 2019 after receiving a referral letter from Southern Indiana District Court Chief Judge Jane Magnus-Stinson based on evidence Hauke raised in court.
Hauke testified at Mackey's disciplinary hearing, but Reiling noted Hauke "was not a credible witness due to his felony conviction and inconsistent testimony" and "… made several accusations against (Mackey) that were untrue and/or unsubstantiated."
In its order concluding the case Thursday, the Supreme Court agreed.
"The Court incorporates by reference the hearing officer's findings of fact. The hearing officer concluded the Commission failed to meet its burden of proving that Respondent committed any professional misconduct. After reviewing the evidence and considering the parties' arguments, the Court concludes that the hearing officer's findings of fact are supported by the evidence, and based on those findings we likewise conclude that the Commission has failed to prove by clear and convincing evidence either of the two charged rule violations."
The decision was unanimous except for Justice Mark Massa, who did not participate.
Keenan Hauke separately filed a pro se lawsuit in Marion Superior Court alleging attorney misconduct against Mackey and "lack of appropriate oversight" by Barnes & Thornburg. That case was dismissed in July.
Attorney Wayne Turner of Hoover Hull Turner represented Mackey in his discipline case and issued a statement Friday on his behalf in response to a request for comment.
"Mr. Mackey is grateful for the careful and deliberate review of the evidence by the Indiana Supreme Court which confirmed the hearing officer's conclusions that he acted properly—both in his representation of Mr. Hauke nearly a decade ago, and in the information he provided in response to requests from the Disciplinary Commission," the statement said. "A disciplinary complaint takes a significant toll on a lawyer and impacts his reputation even when it is ultimately found to be without merit. Mr. Mackey is grateful to have been vindicated and to have this matter behind him."
Please enable JavaScript to view this content.