Taft Stettinius & Hollister is continuing to widen its footprint in the Midwest by merging with the seventh-largest law firm in the Detroit metro area, the firms announced Sunday.
The merger with Jaffe Raitt Heuer & Weiss P.C. will take effect Dec. 31 and will grow Taft's presence to 12 cities and about 800 attorneys. Founded in 1968, Jaffe employs more than 120 attorneys in more than 25 practice areas.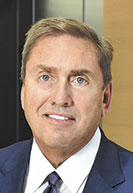 As part of the combination, Jaffe will change its name to Taft, said Robert Hicks, the Indianapolis-based chairman and managing partner of Taft. The firm employs about 150 attorneys in Indianapolis, according to IBJ research.
The move marks the sixth combination Taft has completed in the last 15 years, part of the firm's strategy to fill out the Midwest, Hicks said.
When Taft merged with Indianapolis-based Sommer Barnard in 2008, it adopted a regional strategy to be a middle-market regional law firm, Hicks said, serving the private sector while charging less than Wall Street firms. Having a presence in Detroit fulfills a crucial part of that mission.
"It's kind of hard to be in the Midwest and say you're a dominant Midwestern firm like us and not be in Chicago, Minneapolis and Detroit," he said. Taft expanded into Chicago in 2014 and into Minneapolis in 2020.
Taft had been looking for a partner in the Detroit market for a while, Hicks said.
"They were just a really good fit," Hicks said of Jaffe. "But we would not have merged with them if we didn't want to go to Detroit. Detroit was the draw for us."
Taft said the merger with Jaffe—as with its previous mergers—is a "simple combining of two balance sheets" and that it is not paying or receiving any money as part of the deal. Equity will be redistributed using the same formula for both legacy and new partners.
Hicks said Taft will mimic in Detroit what it did in Minneapolis in 2020—when it merged with Briggs and Morgan, then that market's fifth largest firm—by lighting up the hiring market. The firm lured new attorneys and laterals with a "very transparent and market-based compensation system," Hicks said.
Mark Cooper, CEO of Jaffe, said the combination will give his attorneys more resources to serve their clients.
"Jaffe is starting a new, modern chapter by joining Taft," Cooper said in a media release. "Taft shares our entrepreneurial mindset, Midwestern values, and commitment to culture, community, and client service. Our ability to leverage Taft's resources and expertise will provide an opportunity to drive even greater value and results to our clients."
Taft employs what it calls a "non-headquarter model" with no one city or office designated as its base of operations.
Hicks, who plans to serve as managing partner through 2026, expects Taft will do one more merger in the next four years. In particular, he is looking at St. Louis, Pittsburgh and possibly Kansas City.
"We will be looking at those markets," Hicks said. "And we'll be opportunistic if we find the right firm, but it's got to be the right firm."
Taft had a strong 2021 financially. Hicks described it as the best year in the history of the law firm and he is anticipating revenue in 2022 will be "at least 10% higher than 2021 because of our growth." The combined revenue of Taft and Jaffe will reach about $525 million this year.  
Please enable JavaScript to view this content.