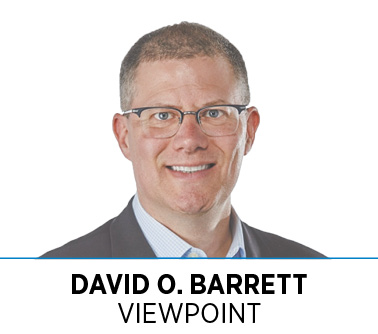 As the COVID-19 pandemic continues to affect virtually all aspects of our lives and work, everyone's first priority should be staying safe and healthy.
For central Indiana's business leaders, these unprecedented times also demand we take decisive action to safeguard the health of the companies we lead. As employers race to batten down the hatches and brace for the impact of COVID-19, taking care of the people we all employ—the heart and soul of our organizations—is critical to surviving the crisis.
While we cannot control the economic impact of the virus, we can respond in ways that are responsible to our people and the communities where we operate. Central Indiana's philanthropic sector has shown tremendous leadership in this regard through efforts such as the COVID-19 Community Economic Relief Fund, the Neighbor Relief Fund for Marion County and the Indy Arts & Culture COVID-19 Emergency Relief Fund. But philanthropy cannot go it alone; we must all join forces to ensure that our workers are supported during this period of uncertainty and instability.
Fortunately, employers have several options to consider when it comes to aiding employees who are directly or indirectly affected by COVID-19. Under the federal government's national emergency declaration, employers, corporate foundations and public charities have been granted more flexibility to issue financial assistance to employees facing hardship as the result of the pandemic.
This added flexibility enables both private foundations and public charities to operate employee relief funds for hardships associated with the virus, and they can establish these funds without the approval of the Internal Revenue Service. These changes are especially critical for companies whose philanthropic activity is managed by a private foundation, which are typically prohibited from issuing financial assistance to employees.
What's more, the presidential declaration also empowers employers to issue direct, qualified disaster relief payments to affected employees and treat the payments just as they would any other tax-deductible business expense.
Companies are leveraging the national declaration to ensure that their employees are supported. For example, the Gene B. Glick Co., one of the nation's largest providers of multifamily housing, recently announced a $1 million contribution from Glick Philanthropies to support Gene B. Glick Co. employees and their families if they are adversely impacted by the novel coronavirus.
We did this not only because it is the right thing to do, but also because we know we cannot get back to "business as usual" without helping meet the basic needs of our most valuable players: our people.
The coming weeks and months will be a test of our collective patience, leadership and mettle. The true scale of COVID-19 is only starting to emerge, but one thing is clear: Employees across central Indiana face a turbulent and stressful future. Now is the time to show them our commitments to our people are not platitudes, but a core part of our values as corporate citizens and members of our community.
We have the tools we need to take care of one another and pave the path to economic recovery.•
__________
Barrett is chairman, president and CEO of the Gene B. Glick Co. and vice chairman, president and CEO of the Glick Family Foundation.
Please enable JavaScript to view this content.