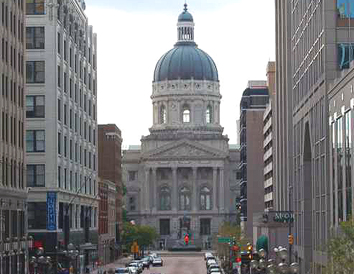 Indiana House and Senate leaders set a tentative timeline Tuesday for the Legislature to approve the new state redistricting maps.
The process starts Sept. 14, with the House Republicans' unveiling of the Congressional and Indiana House district map drafts online. The proposed Senate district maps will post online Sept. 21. Here is the current timeline:
Sept. 16: The House Elections Committee, chaired by Rep. Tim Wesco, R-Osceola, will convene in the House Chamber at the Statehouse for a standard committee hearing taking in public feedback on the two map drafts.
Sept. 20: The House Elections Committee will reconvene to amend and vote only on the two map drafts.
Sept. 21: Senate Republicans post Senate district map draft online.
Sept. 22 and 23: The full House will reconvene to consider amendments on second reading and vote on the maps.
Sept. 27: The Senate Elections Committee, chaired by Sen. Jon Ford, R-Terre Haute, will host a committee meeting open for public comment.
Sept. 28: Senate Elections Committee meets again to amend and vote on the proposed Senate districts map.
Sept. 30 and Oct. 1: The full Senate will reconvene to amend and vote on the map.
Exact times for these meetings are to determined.
Earlier this month, lawmakers took in hours of public comment from around the state during a listening tour through each congressional district. Those who spoke at the hearings commonly asked for a fair process, competitively-drawn districts and to keep communities of interest together. There was also a plea for an additional round of statewide hearings once the maps were drafted, but that is not happening with the current timeline.
Republican leadership in both chambers have said they will commit to a fair redistricting process. A public map-drawing portal has been launched on the General Assembly website, iga.in.gov/redistricting, where the public can use a software to draw their own district maps to submit to lawmakers. The program is the same software and data lawmakers will use to draw the maps.
Senate President Pro Tem Rodric Bray, R-Martinsville, and House Speaker Todd Huston said in written statements Tuesday that this tool is another way for the public to give feedback for lawmakers to use.
"Our new census data shows many changes to our state's population over the last 10 years and that's why the redistricting process is so important," Huston said. "As a representative democracy, we need to make sure constituents' voices are heard."
Informational resources, including instructional videos on how to use the software, can also be found on the website. In addition, 19 Ivy Tech campuses are offering free, on-site assistance to anyone who needs help using the portal.
Please enable JavaScript to view this content.