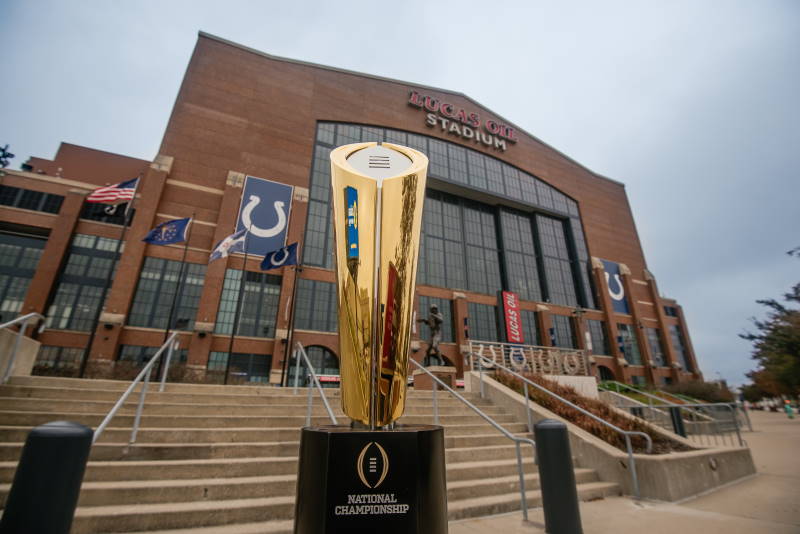 Fans attending the College Football Playoff National Championship in Indianapolis will not be required to wear masks, but will be strongly encouraged to do so, the county's top health official said Tuesday.
Dr. Virginia Caine, executive director of the Marion County Public Health Department, told reporters that fans are being asked to wear masks, be vaccinated and take a COVID-19 test about 72 hours prior to Monday night's kickoff to ensure they are negative for the virus.
However, proof of either vaccination or a negative test will not be required for entry into Lucas Oil Stadium or any of the various fan events planned throughout the weekend. And while masking indoors is being stressed upon, stadium officials will not be enforcing any mandates.
"My understanding is that they're strongly encouraging every ticket holder … to be vaccinated to attend the game, and to get themselves tested within 72 hours of the game," she said. "We [are] strongly encouraging that they be masked inside the stadium during the game."
Caine said the health department has been in close contact with the Centers for Disease Control and Prevention about the event, and there are no concerns about it being a super-spreader event, based on experience from previous big local sports events like the NCAA Men's Basketball Tournament and Indianapolis 500.
She said "vaccination is our best, most important tool" against the spread of the virus, said Caine, who didn't share whether more stringent requirements were considered for the game.
A health plan was not required for the event by the health department because government pandemic restrictions are no longer in place. However, Caine and her staff offered best-practices guidelines and recommendations to the organization's officials.
Indiana and the rest of the United States are experiencing a surge in new cases of COVID-19 driven by the omicron variant, which studies indicate is more contagious but less severe than other variants of the virus.
Caine said individuals should not go to emergency rooms to be tested for the virus, but rather look online for clinics where tests are being offered, or to take an at-home test. Those seeking rapid tests, however, might face difficulties. The state on Tuesday took steps to limit the availability of rapid tests due to a national shortage. At-home tests also are difficult to find.
PCR tests, which are the most accurate tests, are offered at state testing sites, but results typically take two to three days.
"People know what it takes in order to be safe," she said. "Wear that mask while indoors, get vaccinated with the boosters, [and] get themselves tested before the game."
Please enable JavaScript to view this content.