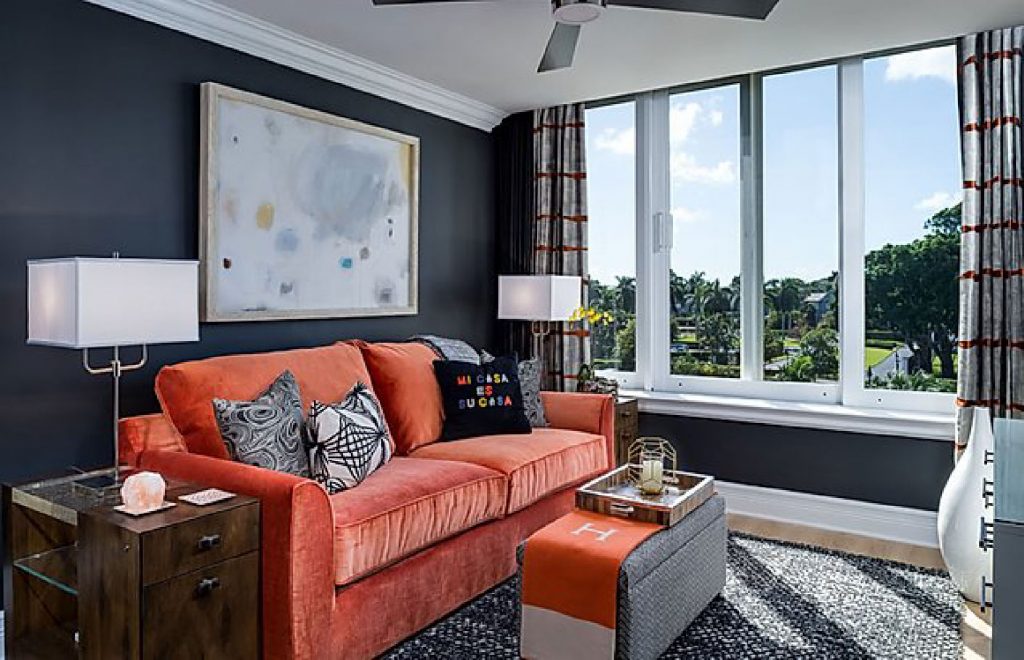 Like the lyrics to the song "That Old Black Magic," black rooms have me under their spell. Lately, it seems that black has assumed the role of the new neutral color for interiors. White, beige, gray and greige rooms step aside to make room for a dark, bold change. Classic rooms have always known the allure of black accents, both in traditional decor and contemporary design. Now it seems black has hit an all-time high in popularity with entire rooms swathed in black.
Black is a color that is stable; it symbolizes order and control. It is sophisticated and authoritative. In the furniture world, dark, almost-black finishes such as ebony or wenge have been popularized for casegoods and even wood floor finishes. Kitchen and bathroom cabinets have also embraced black, which harkens back to a retro look. Black finishes or almost-black, oil-rubbed bronze on plumbing fixtures have become mainstream when paired with almost any color cabinet for a very custom look.
Contrary to popular belief, dark rooms, especially black ones, make the walls recede, and the occupant loses the sense of depth perception. A great example of this is in black box theaters, where the volume, even in a small theater, is lost. The same trompe l'oeil occurs in almost any room that is painted black. Some may view a black room as an expression of sadness or depression, but nothing is further from the truth.
Black rooms do tend to temper light. Almost any light, whether coming from a natural source, such as a window, or from an artificial source, such as a lamp, is absorbed by the dark color. If the finish on the walls or trim is gloss, the light will refract a bit, but not in any significant way as to contribute light into the room.
The magic of a black wall or room is that almost anything you place on it tends to stand out and look its best. In fact, some museum and exhibit spaces use dark walls to offset and show off works of art. Gold, silver, copper and white frames can make even an ordinary, everyday item seem special. Most light colors tend to show up well against black, but none shows up better than white. Bold colors like red, pink, purple, emerald and orange also work beautifully with black. These can be colors used for accessories or details to make the room overloaded with color.
Front doors to homes are often black to show sobriety and elegance. Think how elegant the door of the British prime minister's home is at 10 Downing Street in London. Painting interior doors in a dark color, such as black or dark gray, can add an extra pop of color to your home. Black doors are more dramatic when painted in gloss or high-gloss finish. For a dose of that old black magic, you can even paint the ceiling black and install a shiny crystal chandelier, which will sparkle.
Joseph Pubillones is the owner of Joseph Pubillones Interiors, an award-winning interior design firm based in Palm Beach, Florida. 
Please enable JavaScript to view this content.