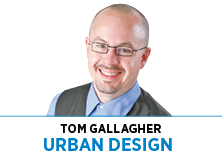 Not that long ago, American cities, Indianapolis included, lost their faith in the urban condition. Some 70 years later, we are still trying to recover. While there were a multitude of interrelated factors, the speed of change after World War II and the consequent fears of "the other" in its many forms, changed attitudes about urban places and, along with it, the form of our cities.
A walk through the central core of downtown, bounded by New York, Delaware and Maryland streets and Capitol Avenue, and taking a closer look at some of Indy's most prominent buildings, tells the story.
Indy's first tall buildings, perhaps best exemplified by the 1909 Merchants Bank Building (now the Barnes & Thornburg Building) at Washington and Meridian streets, were built to be an integral part of downtown's center of activity along Washington Street, and to engage in its vibrant street life. They were built up against the sidewalk, with human-scaled detailing on the lower levels and multiple stories of clear glass revealing interior activity to the public realm outside.
The following era took a strikingly different tone. Nearly every major building constructed from 1962 (marked by the City-County Building) to 1987 (Pan Am Plaza and office building) shared the same, far more inwardly focused characteristics.
They were significantly set back from the public right-of-way and raised above it, set on platforms and further separated by walls along the sidewalk edges. The form of the building was shaped to make an impression on the skyline. At the street level, if there were windows at all, they were dark tinted or reflective glass, concealing interior activity from "prying eyes" outside.
They were designed to facilitate a completely internalized daily experience, completely disengaged from public life beyond their protective confines. Three of the clearest examples—Regions Tower (One Indiana Square, 1970), Hyatt Regency/PNC Center (1977) and the OneAmerica Tower (One American Square, 1982)—took things further, removing an entire block of three of our four diagonal streets (Massachusetts, Kentucky and Indiana avenues, respectively) altering one of the defining features of the city.
Major buildings in the core area post-1987—like BMO Plaza (First Indiana Plaza, 1988), Market Tower (1988) and Salesforce Tower (Bank One Tower, 1990)—show evidence of trying to recapture some of the urban characteristics of their turn-of-the-20th-century counterparts. But their designs still suggest an idea perpetuated in the isolationist era: that downtown is a place for business, not a neighborhood.
If asked what a city is, answers are likely to include something about skyscrapers, density, maybe busy streets. It would be rare for that answer to be, "a collection of great neighborhoods." But that is exactly what the best cities are.
In fact, this is the whole reason we create cities in the first place, to gather enough people together in close enough proximity and with adequate opportunity for interaction to build a network of relationships strengthened by social cohesion and shared experience. These are our family, friends, colleagues and acquaintances—our neighbors.
The idea of cities as a collection of great urban neighborhoods is a thread through local contemporary developments like CityWay and Bottleworks District. Walking through them, you will see they share a wholly different set of characteristics from those of the developments in the 1960s and 1970s—ones that encourage socialization, connection and collaboration:
◗ They are likely to be a collection of buildings rather than single, block-size buildings, creating a finely grained character with human-scaled details.
◗ They have a rich mix of uses, including residential, workplaces and leisure activities.
◗ They are built fronting public space, not parking spaces, engaging the pedestrian with transparency and permeability.
◗ There is, to the extent possible, a mix of old with the new and buildings that are good neighbors, fitting in as part of the collective tapestry.
◗ They include natural systems, trees and plant communities that are integral parts of the urban condition.
◗ They provide a balance of both public and private spaces.
Though complicated and imperfect, cities are the natural habitat of human communities, the manifestation of our innate social behavior. While we are focusing currently on social distancing, it's important to remember it is a temporary necessity but not a long-term strategy.
True resilience is not found in isolation but with community—simply put, in a crisis, you want to know that there will be people, neighbors, who will come to your aid. In the end, we are all better together.•
__________
Gallagher is a principal and urban designer with Ratio and a professor-in-practice of urban design at Ball State University. Send correspondence to TGallagher@ratiodesign.com.
Please enable JavaScript to view this content.