When Brian Schutt received an unsolicited letter back in January from a couple looking to buy the home he owned with his wife, he had no idea the already-hot housing market would soon get even hotter, with some houses selling hours after going on the market for thousands more than their asking price.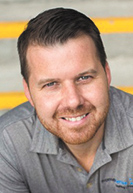 Schutt, co-founder of Indianapolis-based Homesense Heating and Cooling, moved into the four-bedroom, 2-1/2-bathroom house in Carmel's Plum Creek neighborhood in 2013. He and his wife had bought the home in a bit of a panic because they had a second child on the way and needed the space, but they've since come to love the school system.
Still, when the Schutts received a letter from a couple looking to buy and an offer that was 30% higher than the home's appraisal, they jumped at the chance to make a little money while avoiding the pains of listing and staging their home.
"We'd always envisioned it as a temporary home before landing in a more strategically, thought-through, longer-term home," Schutt said. "I always joked we were eight years into our three-year house."
Still, Schutt took care to negotiate a timeline with the buyers that would allow his family to wait to move until school was out for the summer. The deal closed just before Memorial Day. But the extended timeline didn't help the Schutts find a new house before they had to exit their old one.
"While maybe predictable, the absurdity of the market wasn't as clear when we said yes," Brian Schutt said. "The reality of the market started to become clearer after we accepted. Week after week, we looked for the new listings. Quantitatively and qualitatively, we were underwhelmed. There weren't as many as we expected, and the ones that did come to market were objectively terrible."
The National Association of Realtors recently announced the cost of buying a home hit a record high in June due to low inventory, with the nation's median home price reaching $363,300 after 112 months of year-over-year gains. Locally, professional real estate brokers' association MIBOR found median sale prices in Indianapolis jumped from $219,000 to $250,000 year-over-year.
At the same time, the original listing-price-to-sale-price ratio hit 101.9% in June—the highest on record. That means the average sale is above listing price.
"I've got several buyers who we've written home offers for in the $250,000 to $350,000 range offer as much as $30,000 over list price," said David Brenton, owner of Indianapolis-based real estate agency David Brenton's Team.
In Indianapolis, the average house is on the market for just four days before the sellers accept an offer, according to residential real estate research firm Zillow. That means buyers like Schutt are facing fierce competition for their dream homes.
As a result, local real estate agents say, homebuyers are taking more risks to sweeten their offers. They're waiving inspections, agreeing to pay more than appraised values and acquiescing to sellers' timelines.
"It's just a sign of the times and the market we're in that buyers are trying to write the cleanest offer they can write. They want to be sure to at least get a chance to be up to bat," said Jim Litten, president of F.C. Tucker Co. in Indianapolis.
Risky concessions
While selling a house in a hot market might seem easy, there's actually some risk, uncertainty and often inconvenience on both sides of a transaction.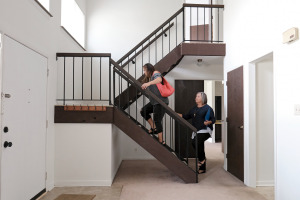 Take the act of stringing together transactions, like when the buyer of one house is depending on the sale of his house to make the original sale happen. That's fairly common and easy enough to accomplish in normal times, said Greg Cooper, a broker with The Cooper Group at Keller Williams in Carmel. If a puzzle piece falls out of place, buyers and sellers typically agree to postpone the transaction.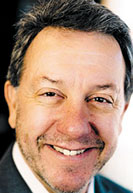 But today, because sellers are entertaining so many offers, they might be more inclined to take another offer instead of waiting.
"The bottom line is, sellers have to have a realistic understanding of where they're going to go" after they've turned their house over to a buyer, Cooper said. "Very few people are able to slide seamlessly from one house to the next, unless your cousin Walt is going to sell you his place. For most people, you're going to have to have temporary housing."
And the panic that comes with that uncertainty can make people frantic.
David Short, a broker with Century 21 Scheetz, said the current housing stock has made buyers desperate. Brokers largely agree that a healthy market has four to six months of inventory—meaning that's how long it would take to sell all the houses on the market if no new ones came on. Right now, central Indiana has inventory of only about 1-1/2 months, which has had buyers pulling out all the stops to nab a property.
And that can be problematic if the offer is more than the lender decides the house is worth.
Buyers are "making excessive offers over the asking price and struggling with appraisal," Short said. "It's a feeding frenzy. I would hate to represent buyers looking for product out there."
Offering thousands more than asking price or agreeing to pay for a home's yet-to-be-appraised value could overextend buyers, Brenton said, especially if the sale of a previous home falls through and they're suddenly on the hook for two house payments.
Beyond just bloated offers, Short said some homebuyers are agreeing to forgo home inspections to make their bids more attractive, which opens them to even greater risk.
"That strategy with selling as-is and not making any repairs, I think you'll see some lawsuits start to come down where sellers have not disclosed that the furnace is a busted furnace or the roof has hail damage," Short said.
Home after home
Though Schutt admits he's backed himself into a corner by limiting his search to homes within his children's school district, he said there simply aren't many homes available that meet his family's requirements.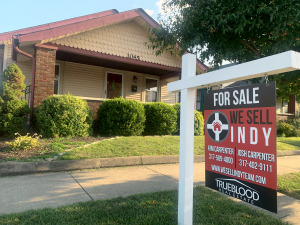 Schutt and his wife have looked at just five houses in seven months, so they've decided to temporarily rent a nearby town house. Even though they're now spending more to rent a space that's one-third the size of their previous home, Schutt said he's just not going to engage in the risky market.
"If we have to be in a town home for another year, it's not going to be ideal, but we're going to be fine. That's sort of our disposition," Schutt said. "We're going to hang out and not play the game."
Having to find temporary housing in such a volatile market isn't uncommon. Cooper said he recently had cash buyers offering $20,000 over list price who were willing to give the seller 60 days to vacate. On day 48, the sellers said they hadn't found anywhere to go. With movers and painters already hired under the original timeframe, Cooper said the seller was forced to sign a six-month lease for a nearby apartment.
"You've got to have a plan on where you're going to live, because you want us to sell your house, and we're going to do that," Brenton said.
And finding a landlord willing to do a short-term lease can be a challenge, especially since the current Indianapolis-area rental market is feeling its own squeeze.
"The rental market, generally, is a pretty tight market. There's not a lot of availability for homes for rent," Litten said.
That could leave an unprepared home seller with few desirable options—like living in an extended-stay hotel or finding a short-term rental through services such as Airbnb, which can be more expensive than traditional apartments.
"You don't want to spend two grand, three grand a month on a short-term rental," Brenton said.
Alternatively, remote work has opened up the option for some home hunters to stay with family elsewhere until the market normalizes—but that's assuming it does so sometime soon.
"That could've been good advice three years ago, when we didn't think the hot seller's market was going to sustain, but it keeps going. And Mom or Sister is probably tired of you being there," Brenton said.
Different approaches
Even though it seems like selling a house in a hot market might be a way to turn a quick profit, Short said he's not seeing a lot of homeowners putting their house up for sale for that reason. For the most part, his clients aren't moving unless they were already planning to do so.
"I have a lot of friends that talk about it," Short said. "Every comment out of their mouth is, 'Houses are selling for ridiculous prices in our neighborhood, but I can't find something else without over-paying.' Consequently, they're staying put."
Instead of selling, Short said, financially motivated homeowners are taking advantage of low interest rates to find value in the homes they already occupy.
"I see more and more people doing the refinance thing, pulling their equity out of their house and taking that equity and investing it somewhere else for a bigger return," he said.
Cooper said some homeowners might think they'll make a quick buck by downsizing, but that's an unrealistic expectation.
"I have told 100 people in the last 12 months, that there is no such thing as financial downsizing," he said.
Inevitably, he said, homeowners looking to move into a smaller space often wind up paying the same amount they currently pay because they are accustomed to a certain quality. The value in downsizing, he said, is in downsizing the responsibilities that come with a bigger property.
Local agents agree that the best decision-making about property occurs alongside lifestyle choices, such as a family's decision to have another child.
And building an addition to your home isn't as financially safe an alternative as it used to be, Brenton said, because current material costs and the tight labor pool make it harder and more expensive.
Though it might seem counterintuitive for a real estate agent to acknowledge, Brenton said waiting might be the best option.
"I'd rather give people a good, honest assessment of what they should be considering when they make that decision. If they don't make a move today, that's all right."
But how long buyers will have to wait to get back on equal footing is up in the air.
"A lot of agents would tell you that these times are so unusual," Litten said. "How long they'll last, God only knows."
Litten said if you're taking the plunge, take an expert with you.
"Real estate transactions are getting more and more complex," he said. "I think the important thing is to have a competent real estate broker representing you, so they can navigate the transaction and keep you totally informed as to what is going on."•
Please enable JavaScript to view this content.