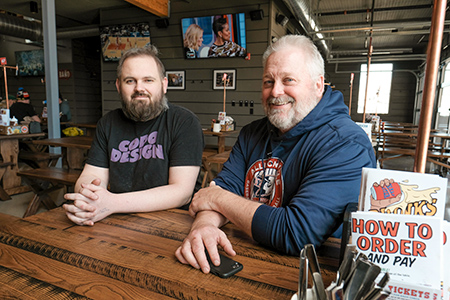 Sahm's Ale House along the Monon Trail in Nora is receiving a makeover, with plans to emerge this spring as breakfast-and-brunch spot The Roost.
Sahm's Restaurant Group has operated Sahm's Ale House and its Big Lug Canteen brewery as compatible next-door neighbors at 86th Street and the Monon. COO Eddie Sahm said it's time to break the redundancy of similar menus offered at the two restaurants.
While construction happens inside the former Ale House, signage encourages visitors to go to Big Lug for the same dining options and service from the same staff.
"The idea is, 'We're still open, you just don't sit on this side. You sit on the Big Lug side,'" Sahm said. "It's technically one operation. It just has two storefronts."
With The Roost, which debuted as a Sahm's concept in Fishers in 1996, changes in menu and hours of operation are on the way.
The Roost, expected to open by April 1 with hours of 7 a.m. to 3 p.m. daily, will focus on egg and omelet selections as well as pancakes. In a departure from what's available at The Roost in Fishers, Sahm said the Nora location will offer a breakfast pizza and a full English breakfast.
Sahm's Ale House in Carmel will remain open. "We like the concept," Sahm said, "just not right next door to our brewery."
Founded by Sahm's father, Ed Sahm, the Sahm's Restaurant Group is made up of 13 restaurants and a catering business.
Please enable JavaScript to view this content.