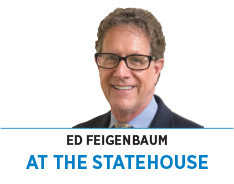 You've heard three successive governors effectively brag about how Indiana is now conducting "government at the speed of business."
What you need to watch during the first half of the 2020 General Assembly session is how quickly lawmakers choose to conduct legislative business, lest you get left behind.
Legislators returned Jan. 6. Even though, as of that morning, only 11 House bills had been filed, committee hearings were underway in earnest (especially in the Senate, where the file list topped 200 bills).
Republican Gov. Eric Holcomb was also already dropping hints to expect some surprises on spending—if not this session, then next—in his Jan. 14 State of the State address. That caught some legislative leaders off guard, particularly after they turned tail on his $50 million Indiana State Fairgrounds new swine barn proposal—something Democrats derided as pork (yeah, you could see that one coming), instead looking to fund higher ed capital projects.
This session is running at 5G speed.
Few sessions start off so quickly and substantively—many early hearings are often for courtesy purposes only, reviewing bills that make a statement, but possess no chance of passage. When we've seen early hearings with merit it usually has been on heavy lifts, such as when then-Gov. Mitch Daniels, a Republican, would demand December hearings to hit the ground running in January on complicated and controversial key initiatives.
Once the ball started rolling on those Daniels programs, it was difficult to stop the momentum. When he lost big (his high-wage-earner income tax surcharge and township government reform), it was because solons wouldn't hear the bills or reviewed them late in the process, after critics had time to line up opposition.
A basic legislative precept is that bills are easier to kill than to enact. A concept must vault perhaps as many as two dozen hurdles from introduction to gubernatorial signature, and any stumble can kill a bill.
So speed can be a weapon, and it might be deployed this year by Republican leadership—albeit not necessarily for partisan purposes. There might be greater agreement between the parties on issues that come to a vote than you expect—particularly if Holcomb offers some education funding surprises in his speech.
The key difference between parties comes on priorities and funding for some of them.
After teacher salary funding, the area with the greatest separation is funding for what Democrats label "human infrastructure." But the two sides will come to agreement at the margins on important matters such as health care cost transparency, surprise billing by medical providers and out-of-network medical care.
One bill to watch will be introduced by Senate Committee on Tax and Fiscal Policy Chair Travis Holdman, R-Markle.
Holdman was surprised to learn the top six not-for-profit hospitals in Indiana had $27 billion of their assets invested on Wall Street (close to $12 billion alone by Indiana-based not-for-profit hospitals). He wasn't happy to see those "profits"—or at least net assets—growing annually, and will author a bill mandating them to invest at least 30% of those assets (we're not sure yet how that corpus will be defined) in projects or companies in Indiana.
If you didn't know the attorney and community banker was a rock-ribbed conservative, you'd think this was a Democrat's bill. But Holdman is concerned about not just the numbers, but also that Hoosier projects and companies can't attract institutional investors. He doesn't want dollars derived by Indiana not-for-profit hospitals from Hoosiers diverted to fund projects around the country competing with Indiana.
Expect the measure to be assigned to the fiscal panel Holdman chairs. This item—which wasn't among the first batch of about 300 bills released early last week—could have legs … fast ones.•
__________
Feigenbaum publishes Indiana Legislative Insight for Hannah News Service. He can be reached at EDF@hannah-in.com.
Please enable JavaScript to view this content.