Events held during the pandemic and in its immediate aftermath may look a lot like a conference the Indiana Society of Association Executives and two partner organizations hosted just last week at Muncie's Horizon Convention Center.
The meeting—"Getting Back to Business: Planning Live Events During a Pandemic"—provided clues about what can be done to bring people together for events while COVID-19 rages on.
The event lasted only four hours and was limited to 60-75 people in person (plus a virtual audience). But "it's an important step to get back to business and give our members and our partners a chance to see what it feels like to be at an event in person," said Stu Kushner, ISAE's director of communications and membership. "It's a unique program and something we're proud to have put together as a group of organizations and take this chance for our members."
Everyone who registered had to sign a liability waiver acknowledging that an inherent risk of exposure to COVID-19 exists in any public place where people are present. By attending, guests voluntarily assumed all risks related to exposure to COVID-19 and agreed not to hold the Indiana Society of Association Executives or any of its partners or their affiliates, directors, officers, employees, agents, contractors, or volunteers liable for any illness or injury.
The plan was to have no more than four people at a table. Everyone was required to wear a mask. Questions for the panel were written on notecards—no one ran around with a microphone—and handed to someone wearing gloves. Panelists stayed at least 6 feet apart. Afterwards, attendees did have the opportunity for some socially responsible networking—including no-contact hors d'oeuvres and bar service.
The carefully planned protocols may sound like a legal nightmare, but event professionals say they're necessary to bring back an industry that's been brutalized by the coronavirus. In Indianapolis alone, as of Oct. 1, the city had lost 340 conventions tallying a stinging $535.7 million in lost convention and hotel business, said Chris Gahl, senior vice president of Visit Indy.
Some conventions are still going on, but in different forms. Oct. 28-31 would have been the annual FFA convention in Indianapolis, an event that was expected to bring 65,000 or more people to Indianapolis and generate $30 million in economic activity. Instead, the event was a live broadcast of the general sessions from a studio in Texas and via a virtual platform in California that included workshops for students and teachers, an expo and shopping mall, and community service projects.
"We've managed to pull together what I think is still going to be a pretty spectacular virtual experience," said Mandy Hazlett, FFA's associate director of conventions and events. "I hope that the students, even though they're not together, still feel connected, still feel that they're learning from each other and get to celebrate with each other. We've really tried hard to incorporate things that are very meaningful to them, even though they can't be together face-to-face this year."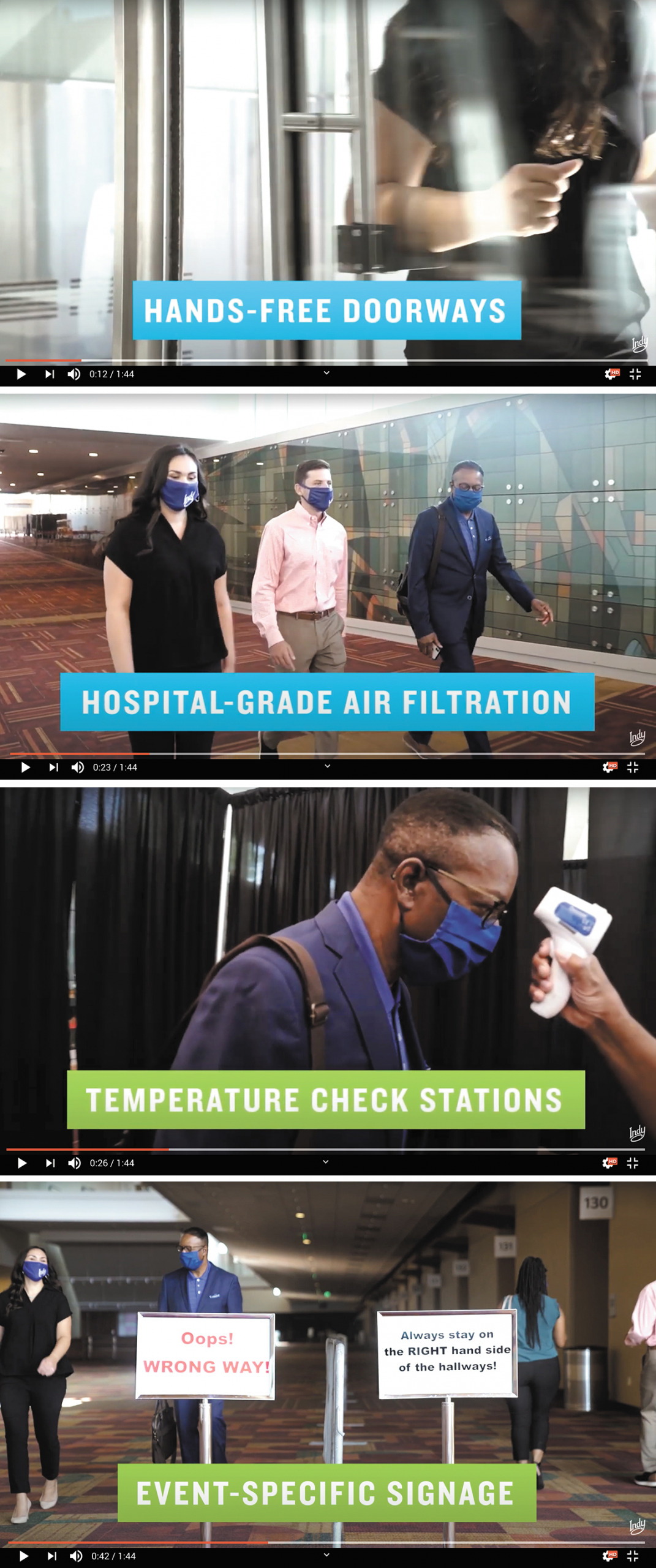 New contracts
But for every FFA, there are hundreds of events that have simply been postponed or canceled due to the pandemic. Carol McCormack, senior national account manager for Maritz Global Events and one of the scheduled speakers at the Getting Back to Business Conference, said her job since March has been canceling, postponing and rebooking events. At last count, that was 58 events, including an 8,000-hotel-room conference in Honolulu and 2,000 rooms in Seattle.
McCormack, who's spent more than three decades in the hospitality industry, said she doesn't have any groups meeting in person through April 2021.
These days, instead of talking about bookings, McCormack spends a lot of time discussing "force majeure," the unforeseeable circumstances that prevent someone from fulfilling a contract.
"While there's always been cancellation clauses built into contracts, when you go through what we've been going through, that kind of goes out the window and it becomes a whole new negotiation," she said. "You've got to figure out what works for the hotel and venue as well as the organization to make it financially feasible. What can you do to regroup?"
McCormack said one of the biggest changes going forward for event planners will be in the contracts. After 9/11, terrorism clauses were added. For groups that want to do something in 2021, they're looking for force majeure language that not only includes language covering pandemics but recommendations from the CDC and verbiage about non-essential travel.
"Language that includes a little more flexibility than a standard force majeure clause," she said.
Returning slowly
In the last month or so, a few local organizations have staged live events. The 29th annual Heartland Film Festival, Oct. 8-18, offered a hybrid of virtual events and live film screenings at Tibbs Drive-In Theatre and Conner Prairie. The Suburban Indy Home and Outdoor Living Show (Oct. 16-18 at Grand Park in Westfield) went on as scheduled with a host of precautions, including limited capacity, wider one-way aisles, temperature screening for employees and exhibitors, mandatory face coverings, eight-foot drapes between exhibitors, hand sanitizer everywhere and online ticketing only.
The Indy Chamber moved its annual Monumental Awards from the Indiana Roof Ballroom to the Tibbs Drive-In. On Oct. 7, instead of a formal dinner, participants and guests had hotdogs and popcorn and tailgated by their cars as the awards for construction, real estate development, neighborhood revitalization and public art were handed out.
"It was a bit of a change for the groups typically involved in this event," said Joe Pellman, the Indy Chamber's director of marketing and communications. "Everyone was looking for some way to engage but be able to stay distant and stay safe. We felt pretty good about being able to put something on that was in person but still gave us the flexibility to keep everybody safe."
Pellman said the chamber has only held virtual events this year, but they've emphasized audience participation and featured breakout sessions designed to involve attendees in the conversation.
"Even after the pandemic subsides, we're going to continue to do some version of this and we're going to offer a lot of virtual options that we probably wouldn't in the past," he said.
Quick pivot
Erica Shonkwiler, a lecturer in the tourism, event, and sport management department at IUPUI, said she expects a lot of hybrid events in the coming years as organizations and planners figure out how to make it safe to get people back in the same room again.
But in the meantime, she's been impressed with what meeting planners have done with virtual delivery. She said many organizations have been able to reach wider audiences than they would have with in-person events. There have been some savings for both organizations that put on events as well as attendees, though not as much as might be expected, because savings on room rentals and food costs can be eaten up by virtual platforms that can cost from $10,000 to $75,000.
Online conferences were also able to bring in speakers from around the world whose fees and travel expenses may have been cost-prohibitive before the pandemic.
"The virtual pivot was huge, fast and extremely difficult," she said. "People who were accustomed to designing experiences had to become IT professionals overnight."
But as well as virtual meetings and even hybrids have gone, "people are desperate for face-to-face contact, deal-making experiences, etc.," Shonkwiler said. "Everything I've heard about the next year or two, while everybody is eager to get back to as much face to face as possible, it's going to be dependent on the attendee or the company—sponsor, partner, exhibitor—it's going to be dependent on their policies, the legal implications, on even how safe they feel."
The lesson everyone in the industry has learned, Maritz Global Events' McCormack said, is that "we all have to be good partners with one another."
"When we do get through this, we all need to work together again," she said. "Between the hotel and the supplier, the group, third-parties, we all need each other at the end of this and we need to work together to make sure we can be responsible and respectful of one another, but do what we can do to make it work for all parties involved. We want things to come back and be like they were before."•
Please enable JavaScript to view this content.