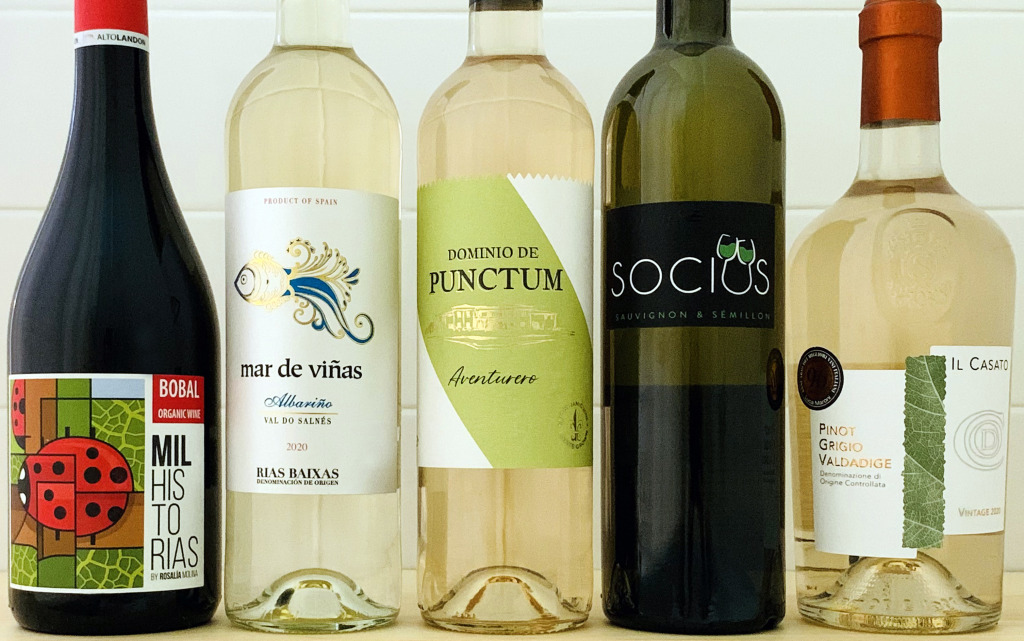 Three standout wines from Spain highlight our list this week: a delicious albariño from Rias Baixas in Galicia and two natural wines from central Spain. We round out the list with affordable whites from France and Italy.
– – –
Mil Historias Bobal by Rosalía Molina 2018
Three stars (Extraordinary)
Manchuela, Spain, $18
This lively natural wine from central Spain is practically joyful in its expression. The fruit brings a smile upon first sip and a song an hour or even a day or two later. Flavors of tart cherry and pomegranate seem to dance out of the glass, accompanied by a rhythm section of spice. Certified organic, no added sulfites. Alcohol by volume: 14.5%.
– – –
Mar de Viñas Albariño 2020
Three stars (Extraordinary)
Val do Salnés, Rías Baixas, Spain, $19
Citrusy, with a hint of salinity from the ocean breeze off the Atlantic, this wine brightens your palate the way a squirt of lemon lifts the flavors of any dish. The fish on the label suggests the perfect food pairing. ABV: 13%.
– – –
GREAT VALUE
Dominio de Punctum Aventurero 2020
Three stars (Extraordinary)
Castile, Spain, $13
The pale color of this wine had me thinking of rosé, but this is a white wine, apparently with a little skin contact. The blend is sauvignon blanc, viognier and macabeo, an indigenous Spanish variety. It's a garden walk after a spring rain, with flavors and aromas of passion fruit, jasmine, chalk and oregano floating through each sip. It's also another reminder not to drink your white wines so cold that these subtle flavors are obscured. Certified biodynamic, organic and vegan. ABV: 14.1%.
– – –
GREAT VALUE
Socius Sauvignon & Semillon 2019
Two and a half stars (Excellent/Extraordinary)
Périgord, France, $14
The Périgord region of France is known for truffles, foie gras and historic castles from the Thirty Years' War. Wine – not so much. But it is, after all, just a hop, skip and jump east of Bordeaux. This delicious blend of sauvignon blanc and sémillon fits the classic bordeaux style, with flavors of peach, apricot and fig braced by bright acidity and a mouth-filling texture. ABV: 13%.
– – –
GREAT VALUE
Il Casato Pinot Grigio 2020
Two and a half stars (Excellent/Extraordinary)
Valdadige, Italy, $12
The 2019 vintage of this inexpensive beauty ranked among my greatest values of the year last year. Too many pinot grigios in this price range are innocuous white wines, but the Il Casato manages to combine crisp acidity with ripe flavors of apricot and a fairly rich texture. It's ideal for sipping on its own or with antipasti before a feast. ABV: 13%.
– – –
Prices are approximate. Check Winesearcher.com to verify availability, or ask a favorite wine store to order through a distributor.
Please enable JavaScript to view this content.