The clock is ticking for workers at large hospital systems across central Indiana to get vaccinated for COVID-19 or risk losing their jobs.
Thousands of hospital workers have yet to get vaccinated, despite mandates that have been in place for weeks or months. And the window to meet various deadlines in August and September is quickly closing.
In recent days, many hospital systems across the region have reported that about 70% of their workforce has been vaccinated, a number that matches national figures at health care institutions.
But that means nearly one-third of hospital and clinical workers are still unvaccinated, a number that easily translates into tens of thousands of employees in hospital wards, operating and recovery rooms, outpatient clinics, laboratories, cafeterias, billing centers and administrative offices in the Indianapolis area.
As the highly contagious delta variant swarms across the country, hospital administrators and infection control experts say it's critical that health care workers get their shots to reduce the risks to patients and other workers.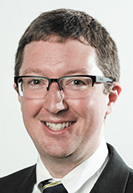 "We have a responsibility to protect our workers, and we have a responsibility to protect our patients," said Dr. Cole Beeler, an infectious disease physician at Indiana University Health, the first hospital system in the region to mandate, on June 1, that all its workers get vaccinated.
Nationally, pressure is mounting for hospitals and clinics to get their workers vaccinated. On July 26, more than 50 medical groups representing millions of doctors, nurses, pharmacists and other health care workers called for mandatory vaccinations of all U.S. health workers.
"Vaccination is the primary way to put the pandemic behind us and avoid the return of stringent public health measures," the statement read. "Unfortunately, many health care and long-term-care personnel remain unvaccinated. … We stand with the growing number of experts and institutions that support the requirement for universal vaccination of health workers."
Many hospital systems already require employees to get vaccinated for influenza, hepatitis B, pertussis and other illnesses.
Health officials say the virus that causes COVID-19 has shown an uncanny ability to spread quickly and attack unvaccinated or weakened people.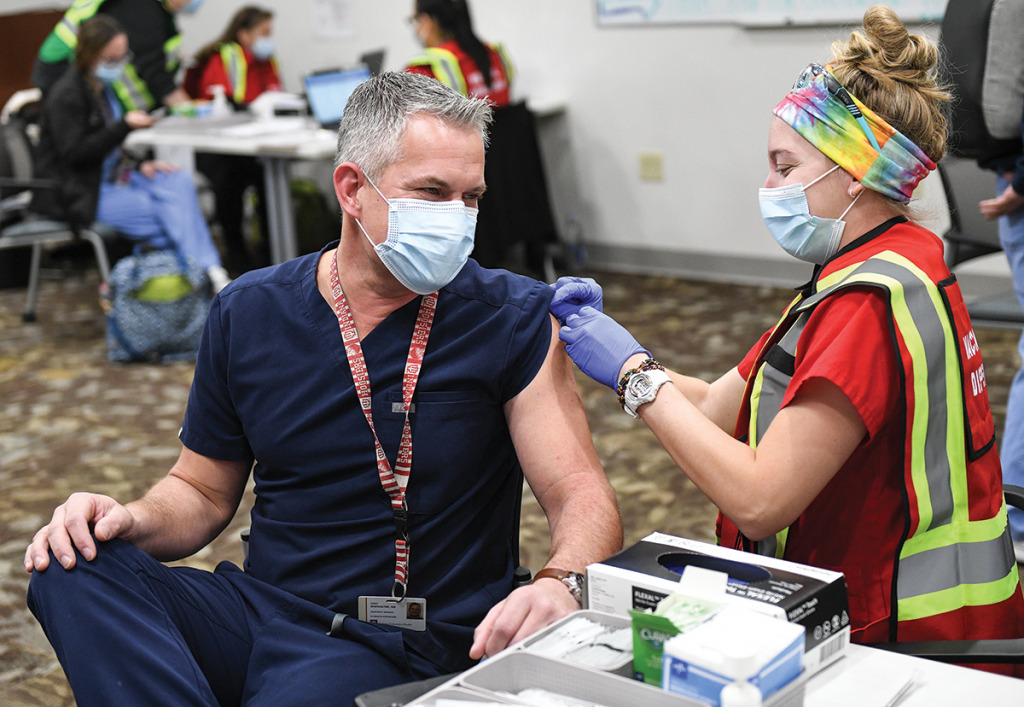 Resistance persists
Yet for some reason, a significant percentage of the health care workforce has chosen to go without a vaccination, a development that has frustrated hospital officials.
That might be puzzling, given that the Centers for Disease Control and Prevention put health care workers at the top of the list for occupations that should receive the first vaccines.
In Indiana, front-line health care workers were able to get the vaccines as soon as they were available, even as the shots were being rationed to the general public according to which age group and health condition was seen as most vulnerable.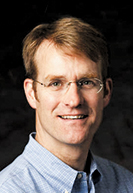 "There's been a significant subset of our workforce that's chosen not to get vaccinated for one reason or another," said Dr. Christopher Doehring, vice president of medical affairs at Franciscan Health.
The Catholic health care system, part of Mishawaka-based Franciscan Alliance, which owns 12 hospitals in Indiana and Illinois, this month said it would require all employees, including 4,100 in central Indiana, to get vaccinated—but the mandate would not take force until the U.S. Food and Drug Administration gives standard approval to the vaccines, upgrading them from emergency use.
"We're going to continue to promote and encourage vaccination," Doehring said. "We're going to make it available. But we will not move toward a mandate until the FDA has provided [standard] approval for one or more of the vaccines."
Employees at the other Catholic health system in the Indianapolis area, Ascension St. Vincent, will be required to get vaccinated by Nov. 12, according to parent Ascension Inc., based in St. Louis.
Ascension said in a statement on July 27 that tens of thousands of employees have already been vaccinated.
"But we must do more to overcome this pandemic as we provide safe environments for those we serve," the company said in a statement.
It did not say how many employees had yet to be vaccinated. The huge system employs about 160,000 nationally, including about 14,700 in Indiana.
The parent of Eskenazi Hospital announced Thursday that all 5,500 employees would be required to get fully vaccinated by Sept. 20, becoming the latest hospital system to issue a requirement. Health and Hospital Corp. of Marion County said the requirement also will cover employees of its other operations, including the Marion County Public Health Department, Indianapolis Emergency Medical Services and all nursing homes and long-term care facilities. Employees who do not comply with the requirement face termination.
"While we know the majority of our employees have already received the COVID-19 vaccine, ensuring that all staff and providers get their shot is a critical step toward protecting the safety of our workforce, our patients, and our community," said Paul Babcock, HHC President and Chief Executive Officer. "Vaccination lessens your risk of death from COVID by about 100-fold. We continue to urge everyone in our community who has not yet done so to walk-in and get your COVID-19 vaccine today."
The organization said that it will consider exemptions for health or religious reasons is available.
Several smaller hospital systems, including Hancock Regional Health in Greenfield, Johnson Memorial Health in Franklin and Riverview Health in Noblesville, said it encouraged vaccinations but stopped short of laying down a mandate.
"It's a decision we are actively considering but are awaiting FDA approval" of the vaccines, said Dr. Julia Compton, president of Hancock Physician Network, in an email to IBJ. "Once FDA approval occurs, then like many other hospitals, we will certainly consider the requirement, not dissimilarly to the flu vaccine which is also required in hospitals."
Imposing mandates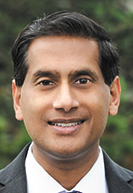 Yet some, like IU Health and Community Health Network, are laying down the law.
Community Health announced June 10 that it will require all employees to be fully vaccinated against COVID-19 by Sept. 15. The system said vendors, contractors and volunteers are included in the vaccine requirement.
"If our mission is to first do no harm, we have to make sure we don't unintentionally give the virus to our patients," said Dr. Ram Yeleti, chief physician executive at Community, which runs six hospitals and employs 16,000.
That wide range of responses from hospitals might be a reason the Indiana Hospital Association has not called for mandatory employee vaccinations.
"IHA supports its members who choose to require the COVID-19 vaccine for employees, recognizing that each hospital or health system needs to take its own approach to determine the needs of its community and the unique opportunities and challenges at stake," the association's president, Brian Tabor, said in an email to IBJ.
Likewise, the American Hospital Association, which represents nearly 5,000 hospitals, stopped short of calling for a requirement, although it did "strongly urge" the vaccination of all health care personnel in a statement July 21.
Nationally, one in four hospital workers who have direct contact with patients had not received a single dose of COVID-19 vaccine by the end of May, according to an analysis by WebMD and Medscape Medical News, using data collected by the U.S. Department of Health and Human Services from 2,500 hospitals.
Among the nation's 50 largest hospitals, the percentage of unvaccinated health care workers was even larger, one in three.
"It's a real problem that you have such high levels of unvaccinated individuals in hospitals," Lawrence Gostin, director of the O'Neill Institute for National and Global Health Law at Georgetown University, told the news organizations in a June 28 story.
"We have to protect our health workforce, and we have to protect our patients. Hospitals should be the safest places in the country, and the only way to make them safe is to have a fully vaccinated workforce," he added.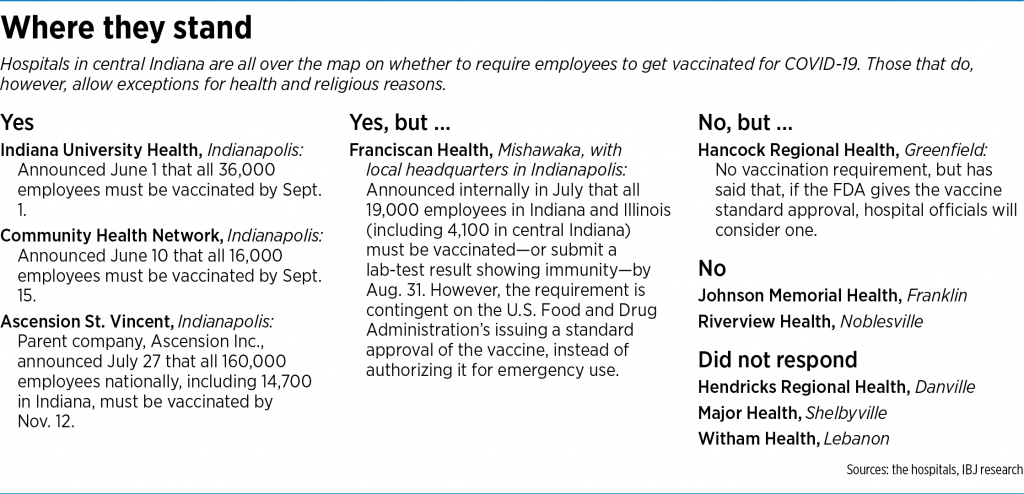 Who is resisting?
So which health care workers are resisting vaccinations? Not physicians, according to the American Medical Association, which said in June that more than 96% of surveyed U.S. physicians have been fully vaccinated.
"Practicing physicians across the country are leading by example, with an amazing uptake of COVID-19 vaccines," the association said in a June 11 statement.
A monthly survey by researchers at Carnegie Mellon University in Pittsburgh found that 12% of registered nurses and doctors admitted to being hesitant to get the shot. That's higher than 9% of pharmacists but lower than the 20% to 23% of nursing aides and emergency medical technicians.
Some hospital workers here have said it's unfair they have to get the vaccine.
"It irritates me," April Harritt, a medical assistant on the hematology/oncology floor at IU Health University Hospital told The Indiana Lawyer, a sister publication of IBJ. "They are forcing their beliefs on people and not giving them a choice. It's either get on board or get out."
But IU Health physicians and administrators say the requirement makes abundant sense, and point out there are exceptions on religious and health grounds.
"The vaccine gives us the most durable and broadest immunity over natural infection and allows us to practice the safest care that we could possibly practice," Beeler at IU Health said. "Any sort of gap or chinks in the armor is a place for the virus to get in and potentially cause an already sick patient to get a lot sicker and could actually lead to them dying."•
Please enable JavaScript to view this content.