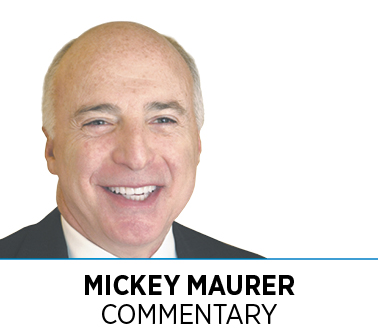 As promised, this is the last of almost 500 regularly scheduled IBJ columns. My assistant Susan and I trashed the "fat file," the one on issues and ideas we have maintained for the last 25 years.
I appreciated the access to free ink, which I applied to whatever ideas popped into my head. Politics and human rights were regular themes. Thank you, Marcia Goldstone, for being a sounding board on these complex issues. I like to think I have no enemies even among favorite targets Mike Pence, Michael Delph and Richard Mourdock. A thank you goes out to Pence who, as the story goes, when over a period of more than two months I failed to write about him, he asked our mutual friend, Tom Rose, whether I was ill. He was a good sport.
I have opined on abortion, gay marriage, death with dignity, homelessness, bigotry, recidivism, intolerance, non-inclusive prayer, gerrymandering, hate crimes, immigration, civility, smoke-free laws and more.
I covered personal items including my spouse, children and bout with cancer. Do you remember Janie's chocolate chip cookie caper? (A burned cookie cost me a fortune, Aug. 25, 2008.)
I offered puzzles, games and stock tips. If you followed my advice, you made a bushel basket on Endocyte, Emmis, Finish Line, Brightpoint and a few others.
On occasion, I tried to be funny. I teased Eli Lilly by suggesting its erectile dysfunction drug, Cialis, could benefit by plagiarizing other slogans, including:
◗ We bring good things to life (General Electric).
◗ The quicker picker upper (Bounty).
◗ Home of the Whopper (Burger King).
I recredited famous movie quotes including:
◗ "Life is a banquet, and most poor suckers are starving to death!" "Auntie Mame" (1958) UPDATE: Not Rosalind Russell but Tim Durham, convicted in the massive Fair Finance Co. fraud.
◗ "Say 'hello' to my little friend!" "Scarface" (1983) UPDATE: Not Al Pacino but President Bill Clinton to Monica Lewinsky.
I offered fake headlines, including:
◗ Average height of NBA players now 10 feet, six inches—all of which is tattooed.
◗ Bear spotted in northern Indiana, registers to vote in Lake County.
◗ Al-Qaida seizes Detroit. Promptly gives it back.
I strove to affect change, or at least raise awareness:
"Hey, fellow Hoosiers! I mean you sitting smug over there oblivious to the rantings of Louis Farrakhan, one of the nation's worst traffickers of anti-Semitic stereotypes. Farrakhan deserves to be censured along with all those who espouse the hate that separates people."
"My fellow Tea Party Republicans, I have an idea. Let's enact legislation requiring immigrants and homosexuals to wear purple hats. If we are going to treat them differently, we have to know who they are—on sight. Then we can confront someone wearing a purple hat, and if he doesn't speak English, boom, back to Mexico. Likewise, homosexuals. We do not want them here either." I stated that the Indiana Legislature had unleashed a serpent of prejudice and hatred and I implored lawmakers to take the time to overcome our ignorance and learn that those who would wear purple hats are more similar to us than we like to think.
There is much more to write about. But I have run out of time. I'll be 77 this month, and there are other things I'd like to do. Meeting a deadline for 25 years was tough. I enjoyed the labor but won't miss it. But I'll miss those of you who took the time to comment, compliment—and criticize.
Thank you for reading my column. I have enjoyed our dialogue. Make a note of my email and stay in touch.•
__________
Maurer, a shareholder in IBJ Corp., can be reached at mmaurer@ibj.com.
Please enable JavaScript to view this content.